Oden dunks in long-awaited return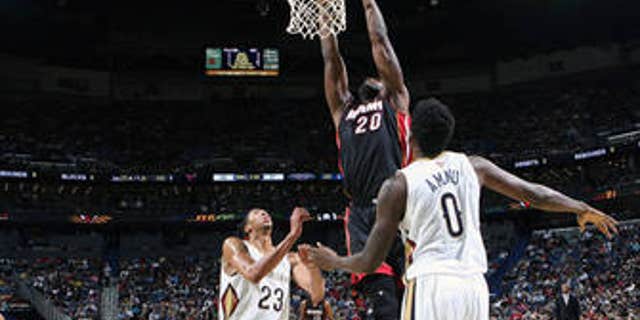 It's the most burning question in the NBA this offseason.
IS HE BACK?
And on Wednesday night, we finally got our first evidence that indeed, he is:
2 points, 2 rebounds, 2 turnovers in 4 minutes.
What? You were expecting 26-6-4 in 35 minutes?
Yeah, Derrick Rose had another solid outing as he returns from a torn ACL. But Wednesday night was all about Greg Oden, the No. 1 overall pick of the 2007 Draft who hasn't played in a regular-season game since 2009, his career derailed by knee injuries. In his first action of any kind, Oden came off the bench for the Miami Heat in the second quarter and scored two points on his only shot, this dunk that rattled the backboard:
You could see by the reaction of his teammates that his return has struck some emotional chord with the team. And here they are after the game -- a 108-95 Heat win in New Orleans -- congratulating the big man in an impromptu receiving line.
Video: Oden makes Heat debut
And after the game, the accolades kept coming.
Man I'm so happy for GO tonight! Couldn't imagine being away from the game for 3 years. Feel like a proud big brother! Determination wins
-- LeBron James (@KingJames) October 24, 2013 Welcome back, Greg Oden! http://t.co/j8yP4Kzcyx
-- NBA (@NBA) October 24, 2013 And some not-so-well-wishes were sent, too.
That weird feeling where you want Greg Oden to be healthy but you don't want Miami to have a healthy Greg Oden.
-- netw3rk (@netw3rk) October 24, 2013 nice to see Greg Oden on the court - of course now I have to root against him from now on
-- CelticsBlog (@celticsblog) October 24, 2013
Oden was a lightning rod from the moment his name was called by David Stern on June 28, 2007. The Portland Trail Blazers selected the big man out of Ohio State with the No. 1 overall selection, choosing his size over the skill of Texas' Kevin Durant. While there were plenty of people on each side of that debate, Durant has developed into perhaps the most skilled all-around scorer in the league while Oden has struggled -- immensely.
While there have been five seasons since he was drafted, Oden has played 82 games in his career, the equivalent one just one full season. He missed his entire rookie season after undergoing microfracture surgery on his right knee. In his second season in the league and first on the court, he went scoreless on opening night and left after less than 13 minutes of action with a foot injury. He missed two weeks, played only 61 games that season, and averaged 8.9 points, 7.0 rebounds and 1.1 blocks.
His second season figured to be better, his scoring, rebounding and blocks all markedly improved. But a fractured patella suffered on Dec. 5, 2009, ended his season -- and his career to this point.
Oden has undergone at least three knee surgeries since then, including another microfracture procedure, and was released by Portland in March 2012.
He signed a two-year deal with Miami worth a little more than $2 million in August.
The original article can be found at FOXSports.com: Oden dunks in long-awaited return.