Odd-man defensive fronts bedeviling Buckeyes again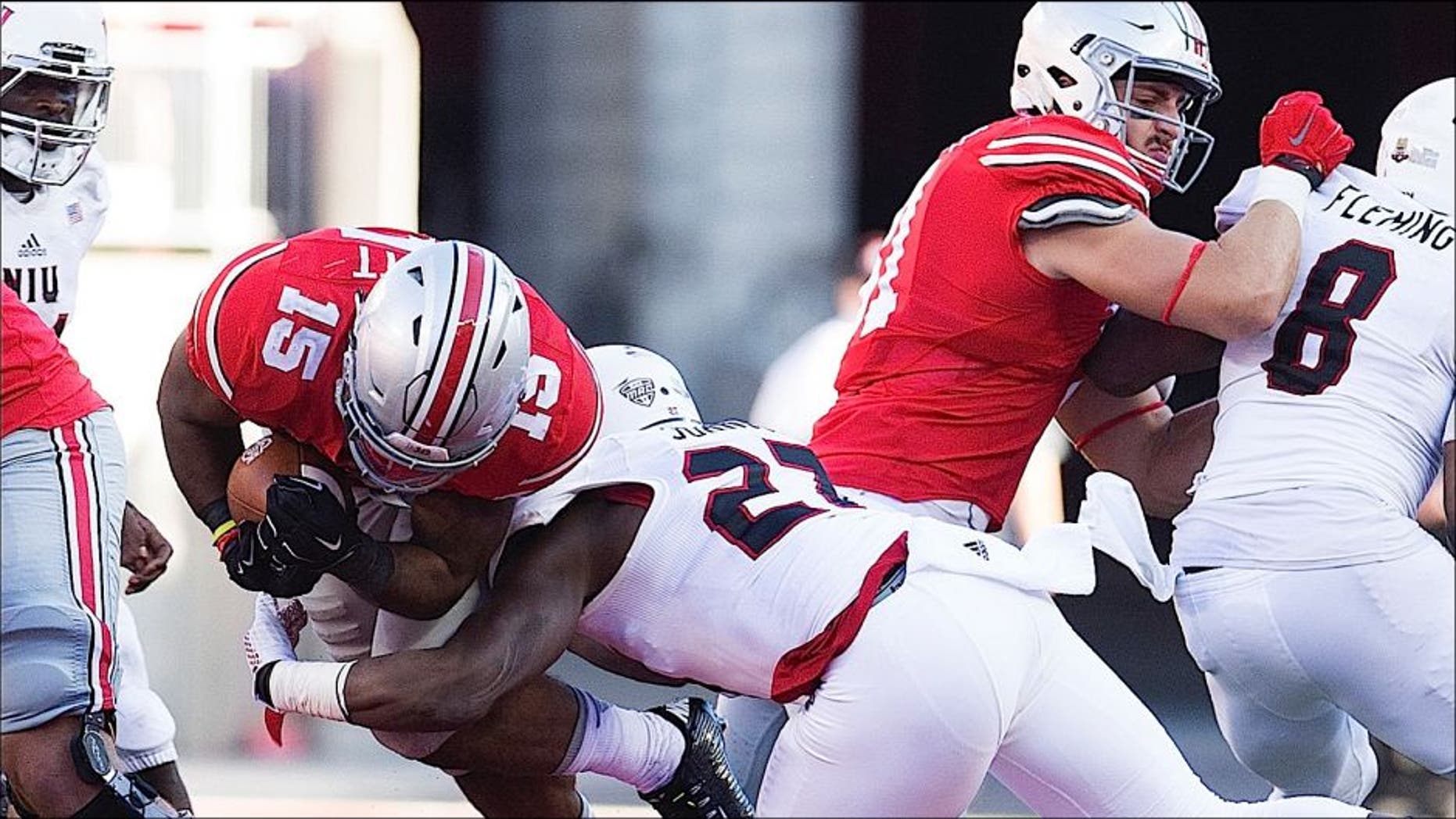 In football and in life in general there is usually a fine line between an explanation and an excuse.
Bringing up the former without it sounding like the latter can be tricky, especially for coaches and players on the No. 1 team in the country.
That's the situation Taylor Decker found himself in Saturday after a second consecutive lackluster performance by the Ohio State offense, this time a 20-13 victory over Northern Illinois that began in a light rain and ended with the sun shining on a variety of questions about why the Buckeyes have not looked like they were expected to.
While the quarterbacks have gotten most of the headlines, Ohio State's left tackle pointed out another continuing bugaboo for the Buckeyes: odd front defenses.
In the case of Northern Illinois, that meant a three-man line with four active linebackers behind it. Previous opponents -- most famously Virginia Tech -- have also attacked the Buckeyes with a "Bear" defense, which is variation of odd front that calls for the three down linemen to pinch inside.
"(Northern Illinois has) a nose, two ends and a walkup 'Buck' (linebacker) to the boundary (short side of the field) usually, and they can blitz from all over," Decker said. "They can blitz from the (wide side of the) field and disguise it really well."
That helped the Huskies attack Ohio State's favorite running plays -- inside zone and "power", both of which depend on linemen using double teams to displace the defensive front to create a crease. And once they create movement up front with a double team, linemen hope to be able to "scrape" off of the first block to pick up a linebacker or safety at the second level. Using a 3-4 creates different angles for double teams and downfield blocks than what Ohio State generally works on since the 4-3 is far more prevalent in college football, especially among power conference teams.
Compounding the problem Saturday for Ohio State was a lack of preparation for the defense the Huskies played. Decker estimated seeing NIU in a four-man line 80 percent of the time during his pregame film work, but the Huskies spent most of Saturday afternoon at Ohio Stadium in the odd front.
An exception to NIU's use of a three-man line? Decker explained it came on the Buckeyes' only touchdown drive of the day. Fort he first time, NIU came out in a 4-3 alignment, and Ohio State trapped them in it by going to their no-huddle offense."
"When we went tempo, they got stuck in four-down (alignment) and like I said, we love playing against four down," Decker said. "That's basically what happened. When we went tempo later they were not going four down because they obviously saw that we were able to move the ball against that defense and took it right down the field and scored. It was a good defensive adjustment by them, and I just know we're going to see odd from here on our every game. We just have to figure it out."
Excuse or explanation -- there might not be much difference aside from connotation -- but Decker knows the Buckeyes have to get their issues with defenses of any alignment figured out. The senior captain still sounded optimistic they will, starting up front.
"I love my guys on the offensive line, and it's just, you prepare for one defense, they come out in another one," Decker said. "Obviously everyone is going to play odd against us now. We've showed that we struggled against it. That takes away our double teams and what we like to do, run the ball up the middle. It creates problems for us. We just have it iron out those wrinkles. We just have to get better. We're not where we want to be, but we'll get this figured out. We definitely will get it figured out."
He does not have to look far for reasons to be confident he and his teammates can turn things around.
With four new starters and no one playing the same spot they had the year before, the Ohio State offensive line got off to a slow start last season. By the end, though, they looked like one of the best in the country -- even against odd front defenses from Wisconsin and Oregon in the Big Ten Championship Game and the College Football Playoff National Championship Game.