North Dakota college stands by dismissal of football player caught kissing 65-year-old man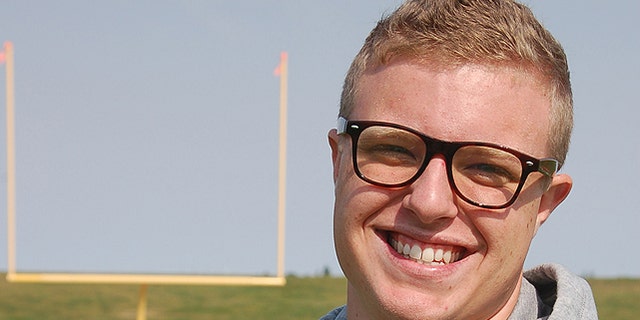 NEWYou can now listen to Fox News articles!
A North Dakota college says a former football player's sexual orientation wasn't what got him booted from the team, days after the freshman linebacker admitted he lied to a coach about kissing a 65-year-old man in the press box.
Jamie Kuntz, 18, voluntarily withdrew from North Dakota State College of Science in Wahpeton this month after his dismissal from the team following the Sept. 1 incident during a game against Snow College in Pueblo, Colo.
"All students and faculty must abide by college policies, and this one is very clear."
Kuntz, who was injured and volunteered to film the game for the Wildcats, said the team was down by more than 40 points when the "kiss just happened" as he was videotaping game action in the press box. Kuntz, who did not return several messages seeking comment, told The Associated Press he doesn't believe he was dismissed solely for lying about the incident, saying if it were a "girl in the press box or even an older woman" that he would have been congratulated by teammates.
School officials, in a press release issued Thursday, sought to clarify the incident, saying Kuntz was dismissed for a violation of team rules and not due to his sexual orientation.
"All students and faculty must abide by college policies, and this one is very clear," said John Richman, NDSCS president. "Despite how this being portrayed by some, Jamie's sexual orientation had nothing to do with his dismissal from the football team. NDSCS is a welcoming campus where individual differences are valued and respected."
Kuntz's conduct in the press box, according to school officials, was "ongoing and explicit," drawing complaints from numerous parents and players. When asked about the identity of the man and the reason for bringing him into the press box, Kuntz said the man was his grandfather.
"I lied," Kuntz told The Associated Press.
Stu Engen, the school's athletic director, told a local radio station Wednesday that Kuntz's "ongoing, graphic and explicit" behavior was a distraction to players and fans at the game.
Asked directly if Kuntz was dismissed because he is gay, Engen flatly replied: "No."
"There comes a time when we need to defend our coaching staff, the institution and the college itself," Engen told WDAY 970 AM. "We knew this would be a hot topic when Coach [Chuck] Parsons came into my office. Mr. Kuntz plainly and simply failed to perform his duties as assigned."
Engen said he agreed with the decision to dismiss Kuntz.
In a Sept. 3 dismissal letter obtained by The Associated Press, Parsons told Kuntz he was being dismissed from the team due to "conduct detrimental to the team," specifically noting the manual's section pertaining to lying to coaches, teachers or other staff.
Other violations that could lead to dismissal include fighting, repeated absences to class, insubordination or criminal charges, school officials told FoxNews.com.
Kuntz, meanwhile, said he told his mother that he was gay at the same time he told her that he was no longer a member of the team.
"I'm struggling with it," Rita Kuntz told The Associated Press. "I love Jamie and I'm proud of him, but I know what the school did was wrong."
Rita Kuntz said he has accepted that her son is gay, but thinks his boyfriend — who is more than three times his age — took advantage of him.
Jamie Kuntz said he met the man, who lives in Colorado, online more than a year ago and that they have met there a few times in recent months. He now hopes to continue his collegiate football career as a walk-on at another university outside North Dakota.
"I miss it already," he said.