No. 22 Cornhuskers open against Florida Atlantic expecting to put their words into action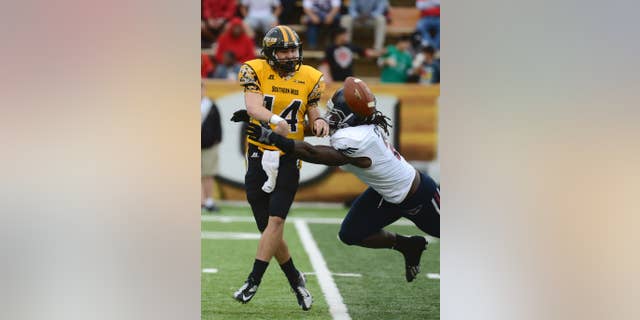 LINCOLN, Neb. – Nebraska came out of preseason practice calling its offense the "Red Storm" and confident its defense will be better than the middling unit of a year ago.
"Now the test will come," coach Bo Pelini said. "Once we get to the first game, the question will be can we apply what we've learned? Can we react with 93,000 in the stands?"
The 22nd-ranked Cornhuskers will begin to find out against Florida Atlantic on Saturday if they can match their happy talk with performance.
Talent isn't a question. They have a second-year starter in quarterback Tommy Armstrong Jr., the nation's top returning rusher in Ameer Abdullah and one of the Big Ten's best receivers in Kenny Bell. They also have what could be one of the Big Ten's most dominant defensive lines, led by projected NFL first-round pick Randy Gregory.
But the Huskers have been hamstrung in recent seasons by turnovers and penalties. They've lost four games each of Pelini's six years, and the program hasn't won a conference championship since 1999.
Cornerback Josh Mitchell said the Huskers are poised to break through.
"We've got a lot of guys that played a lot of football last year that were playing at this level for the first time," Mitchell said. "I think we're a lot farther ahead going into week one than we were last season."
For FAU, this will be the first of two straight "money" games. Next week the Owls travel to No. 2 Alabama. They're being paid $1 million for each game.
FAU played at Miami and Auburn last year, its first season in Conference USA. The Owls went to Georgia and Alabama in back-to-back weeks in 2012, and they played at Florida, Michigan State and Auburn in succession in 2011.
FAU is 1-25 all-time against teams in the Power 5 conferences, with its only win against Minnesota in 2007.
"We've been in some hostile environments," defensive tackle Brandin Bryant said. "We've played against A.J. McCarron, Tre Mason, Duke Johnson, Aaron Murray. We look at it as a challenge. We don't believe anyone can beat us if we do what we have to do. If we accomplish our goals, there's no doubt we'll be satisfied with the result."
Things to watch as Nebraska begins its 125th football season and goes for its nation-best 29th consecutive win in an opener:
PARTRIDGE'S DEBUT: Former Arkansas defensive line coach Charlie Partridge begins his first season as FAU coach. The Owls had a tumultuous 2013, with head coach Carl Pelini, Bo's brother, forced out with four games left amid allegations of drug use. Carl Pelini has denied involvement with drugs. Brian Wright won four straight as FAU's interim coach, and the Owls finished 6-6. Wright remains on staff as offensive coordinator.
HOW LONG WILL ARMSTRONG PLAY? Nebraska offensive coordinator Tim Beck says it's critical to get a backup quarterback game experience. The first two weeks — McNeese State visits next Saturday — should provide opportunities for Ryker Fyfe and Johnny Stanton if all goes as planned.
NEARING 3,000: Abdullah needs 23 yards to become the eighth player in Nebraska history to rush for 3,000 in a career. Abdullah's 1,690 yards in 2013 put him over 1,000 two years in a row. He's trying to become the first Nebraska player to have three 1,000-yard seasons.
COMPLETE RECEIVER: William Dukes has been FAU's leading receiver the past two seasons, and Partridge expects him to be even better as a senior. "I'm not always going to be a deep-ball threat like I have been," Dukes said. "I'm going to be catching short passes and taking them for 5 or 6 more yards and make people miss."
SELLOUT STREAK: Nebraska at mid-week had about 50 tickets remaining for the opener, and spokesman Chris Anderson said the nation's longest sellout streak would remain intact. Memorial Stadium has been full for all 333 games since Nov. 3, 1962.