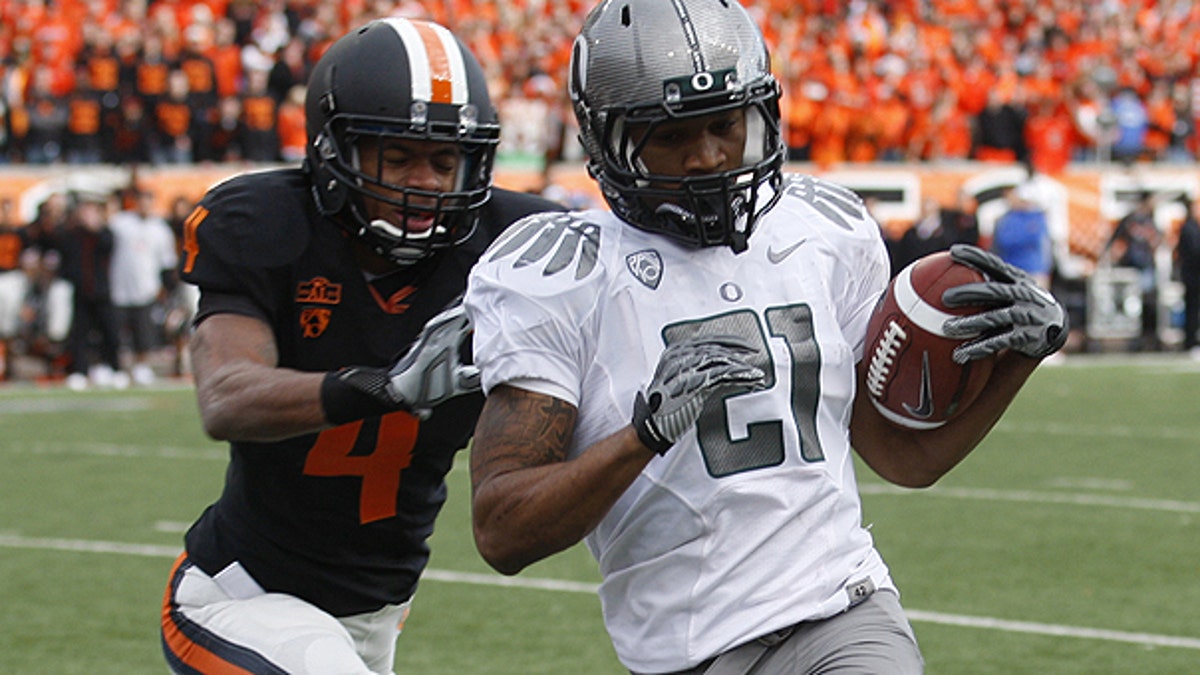 CORVALLIS, Ore. -- As the third quarter turned to the fourth and AC/DC blared in Reser Stadium, Oregon State's sideline was rocking, its players thinking they just might pull off a monster upset.
On its side, top-ranked Oregon stayed cool -- focused on winning the day.
When it was done, and a spot in the BCS national title game was secured, that's when the Ducks finally let loose.
Heisman Trophy contender LaMichael James, Kenjon Barner and the fast-paced Ducks negotiated the last speed bump on the way to Glendale, Ariz., grinding out a 37-20 victory over the Beavers in the Civil War on Saturday.
The matchup becomes official Sunday, but there will be no surprises when the final Bowl Championship Series standings come out: Oregon will play Auburn on Jan. 10 for its first national championship.
"The best part about it is ... we expected this," Ducks defensive tackle Brandon Bair said. "It's the way we prepared, the way we planned, we expected this."
James ran for 134 yards and two touchdowns while Barner had 133 yards and scored twice for the Ducks (12-0, 9-0 Pac-10), who used some stiff defense in the red zone -- led by Bair and Casey Matthews -- and three interceptions to fend off their feisty rivals.
Not until the fourth quarter did Oregon finally shake free.
Barner's 23-yard touchdown run with 12:16 d needed an upset to get to the championship game, didn't get it from the Beavers in the 114th Civil War. No. 2 Auburn, meanwhile, crushed South Carolina in the SEC championship, ending the Frogs' hopes.
Oregon State was simply looking to get to .500 and avoid sitting out the bowl season for the first time since the 2005 season. The Beavers didn't play like a three-touchdown underdog and Oregon never did unleash a wave of big plays, like those that have consumed so many other teams.
The Beavers' blitzes got to quarterback Darron Thomas and the Ducks sometimes sputtered, failing to land a knock-out shot until late.
"We understand when it's time to grind it out you've got to grind it out," receiver Jeff Maehl said. "We're not going to have those explosive plays all the time."
The Ducks' longest play of the day came from a linebacker on a fake punt in the third quarter. Michael Clay, the upback, took a snap and burst through the middle of the line, rumbling 64 yards on a fourth down deep in Oregon territory.
That set up a 19-yard touchdown pass off a screen to D.J. Davis that made it 23-7.
The Beavers inched closer with two short field goals by Justin Kahut (26 and 22 yards), and 10 seconds into the fourth quarter Oregon's lead was 23-13. It could have been 23-21 if Oregon State turned those field goals into touchdowns.
"Big time. Big time stops," Thomas said. "Most people talk about our offense, but our defense came out big time."
With the aide of a pass interference call on third down, Oregon responded after Kahut's second kick. The penalty led to Barner's 23-yard touchdown up the middle. The Ducks were finally in the clear.
Oregon State would not be giant killers this season, though they dressed in 1967 black throwback uniforms the team that beat No. 1 USC and O.J. Simpson wore.
These Beavers won't even go bowling.
"Our No. 1 goal is a bowl game and we want to try to beat Oregon ... so we failed at that," coach Mike Riley said. "But I am not disappointed in this team."
For decades, Oregon was a second-class Pac-10 team, too. But things turned in the 1990s, first under coach Rich Brooks, then Mike Bellotti.
With Knight helping to fund the cause, the Ducks have replaced Southern California at the top of the Pac-10. They went to the Rose Bowl last season, but a return trip to Pasadena, Calif., would have been a consolation prize for these Ducks.
"It's just another win," Thomas said. "We aren't there yet."
After three early turnovers (two by Oregon), the rivals traded touchdown drives in the first quarter that would typify the way each wanted to play.
Oregon State took 15 plays and a season-high 7:36 off the clock to go 62 yards for a 6-yard touchdown pass to Rodgers.
Oregon responded quickly, needing only 2:43 to go 60 yards, capped by a 3-yard TD pass from Thomas to Barner. The Ducks botched the extra point, a low snap leading to a block. Kicker Rob Beard made a 36-yard field goal in the second quarter and missed a 25-yarder on the final play of the first half.
In between, James capped a 74-yard drive that took 1:55 and included no completed passes with an 8-yard touchdown run to make it 16-7.
The Ducks were far from their best Saturday, but as the clear skies turned gray and clouds began to cover Mount Hood off in the distance, Oregon showed its resolve and toughness.
Now it's on to Arizona for the Ducks, the newest members of college football's upper crust.