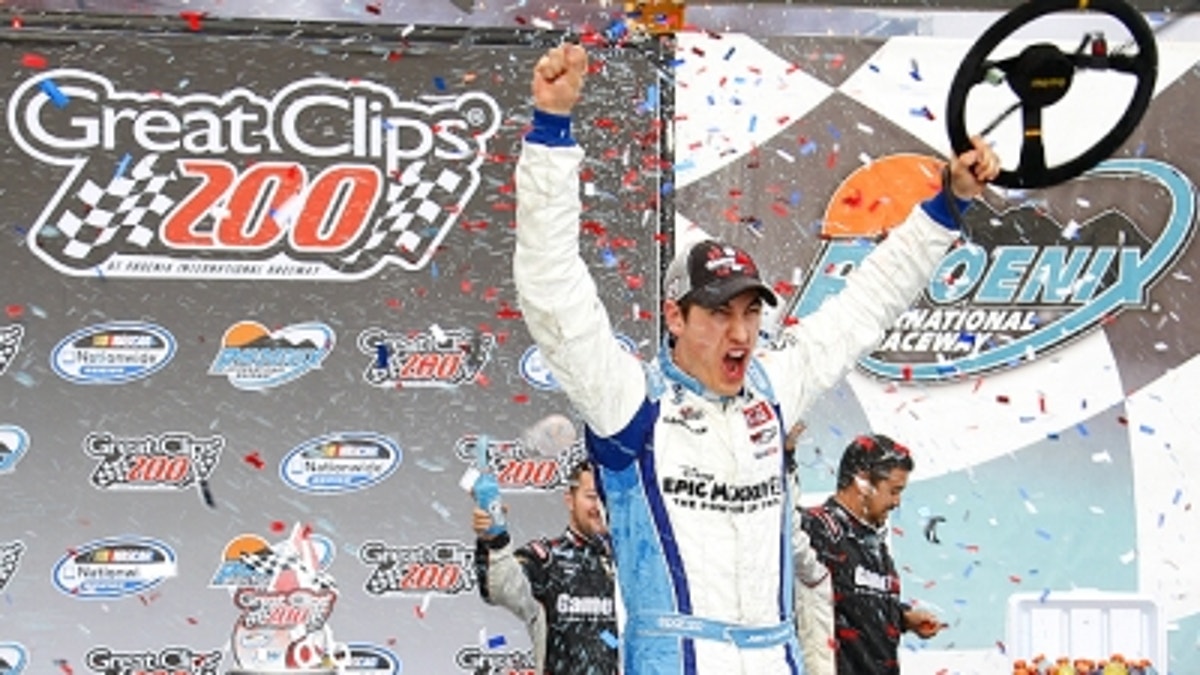 Joey Logano dominated Saturday's Great Clips 200 at Phoenix International Raceway to win his ninth NASCAR Nationwide Series race of the season.
The big story, though, was series points leader and defending champion Ricky Stenhouse Jr. finished third to open up a lead of 20 points with one race to go over Elliott Sadler.
Sadler ended his day 22nd after crashing for the second year in a row at PIR. Barring serious problems next week at Homestead-Miami Speedway, Stenhouse will win his second consecutive series championship.
Stenhouse can clinch next week by finishing 16th or better in the season-ending Ford 300.
Stenhouse and Sadler came into the race tied in points, but Sadler crashed on his second qualifying lap, which meant he had to start from the back of the field in a backup car. It would prove to be a bad omen on what would become a disastrous day.
It was a much happier story in the JGR camp.
The victory was Logano's 18th in 109 career Nationwide starts. His teammate Brian Vickers finished second, Stenhouse third and Kyle Busch fourth in his own Kyle Busch Motorsports Toyota. Kasey Kahne was fifth in the No. 38 Turner Motorsports Chevrolet.
Logano started from the pole in his No. 18 Joe Gibbs Racing Toyota, and took the lead at the start, only to see Noel Dowler spin on Lap 2 to bring out a caution flag.
The second caution came on Lap 32 after a John Blankenship spin in Turn 1. The leaders all pitted, with Logano holding onto the top spot ahead of Brad Keselowski and Austin Dillon.
At the one-quarter distance, Logano had led every lap and was 1.879 seconds ahead of a rapidly closing Kasey Kahne in the No. 38 Turner Motorsports Chevrolet.
On Lap 69, Blankenship spun again to bring out another caution just past the on-third mark of the race. Most of the leaders pitted, but Stenhouse stayed and took over the race lead on Lap 72, the first lead change of the day.
Logano was second after his pit stop, with Sadler up to eighth.
When the race restarted on Lap 75, Logano went right to the front again, as he reasserted control.
Sixteen laps later, it was Paulie Harraka who went around to bring out another yellow.
Under caution, Sadler stayed out and got up to fourth, with Stenhouse 16th. But Sadler had a terrible restart and within two laps, Stenhouse was 13th and Sadler 14th.
At the halfway mark, Logano led Keselowski by 0.796 seconds, with Kahne third. Stenhouse was eighth, six spots ahead of Sadler.
On Lap 120, Dowler brought out another yellow with a spin, and this time Keselowski took the lead under caution by getting off of pit road first on the subsequent caution.
Mike Wallace tapped Timmy Hill and sent him spinning on Lap 148, just as Logano was preparing to pass Keselowski. Under caution, Stenhouse stayed out and Sadler pitted for four tires and fuel.
Keselowski had a horrible restart, suspecting a tire was flat. That handed the lead back to Logano. But then his teammate, Sam Hornish Jr. spun after a nudge on Lap 156 from Kyle Busch, who he was racing for fourth place.
Logano led on the Lap 161 restart, with Stenhouse in second.
On Lap 178, Blankenship brought out his third caution of the day with yet another spin.
Busch passed Stenhouse for second after the restart, with Brian Vickers taking third.
With 10 to go, Dowler caused his third caution with another wall banger.
The race restarted with five to go and with three laps left, Stenhouse moved to third and Vickers went into the lead, only to be re-passed the following lap.
Then, chaos.
Sadler, Brendan Gaughan and Cole Whitt crashed on Lap 198, tearing up the No. 2 and bringing out the red flag. Sadler, who was running 12th at the time, initiated the contact and got the worst of it, initiating the contact with Whitt and causing a spin that Gaughan ran into.
Logano held on to win over his teammate in the green-white-checkered finish.
Tom Jensen is the Editor in Chief of SPEED.com, Senior NASCAR Editor at RACER and a contributing Editor for TruckSeries.com. You can follow him online at twitter.com/tomjensen100.