NFL Round Up: Romo Destroys Buffalo & Patriots Best Sanchez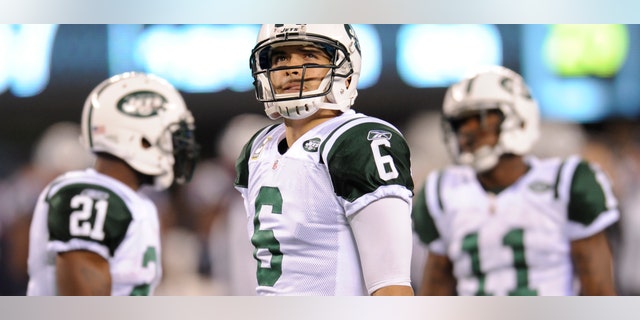 This was a big weekend for Latino players and coaches in the NFL, lets get started.
Skelton leads Arizona past Castillo's hapless Eagles
For the second straight week Arizona Cardinals backup QB John Skelton led the Cards past their opponent. This week it was in a dramatic fashion as the Philadelphia Eagles had control most of the game.
Skelton didn't have a perfect day; he threw for 315 yards with 3 touchdowns and 2 picks, but he showed composure in the last two minutes throwing a touchdown pass and giving the Cards a 21-17 victory in Philly.
The Cards are now 3-6, same as the Eagles, and now have a QB controversy on their hands. This offseason they traded for Eagles backup QB Kevin Kolb and gave him a 5-year contract worth $63 million to be their starter.
Skelton was a 2010 draft pick from Fordham, considered to a long-term project according to USA Today.
Looks like the Cards may have jumped the gun by trading for Kolb.
As for the Eagles, let's just say they're not expected to win the Super Bowl like they were picked to do in the offseason.
Don't be surprised if it gets worse this season and defensive coordinator Juan Castillo and head coach Andy Reid are "asked" to step down.
I'm expecting an Apocalypse Now! offseason in Philadelphia.
NOTE: Skelton's uncle is Houston Texans minority owner Javier Loya, CEO of an energy broker based in Houston. He was described in a press release as a first generation Mexican-American who is from the El Paso, TX where Skelton is also from.
Dallas Destroys the Bills
QB Tony Romo had 270 yards in the air and 3 touchdown passes in what can only be described as a major league ass whooping as the Dallas Cowboys beat the Buffalo Bills 44-7.
The Bills went from early surprise in the AFC East to overrated in the last 4 weeks.
The Cowboys now realize they have a weapon in rookie RB DeMarco Murray.
Both teams have a 5-4 record with one team getting better and another clearly getting worse.
The 49ers Defeat the Giants
New York Giants WR Victor Cruz had 6 receptions for 84 yards but the
8-1 San Francisco 49ers held on for 27-20 win in a back and forth game.
Both teams really showcased why they lead their division but 2 interceptions from QB Eli Manning cost them the game.
The Giants fall to 6-3 but still lead the Cowboys in the NFC East.
Falcons Lose, Gonzalez Gets Another TD
Tony Gonzalez caught 6 passes for 71 yards and a TD but the Atlanta Falcons lost to New Orleans Saints in overtime after coach Mike Smith decided to go for it on fourth and inches.
They didn't make it.
The Saints won 26-23 shortly after that wit ha field goal.
Rivera's Panthers suffer their worst loss of the season
Tennessee Titans RB Chris Johnson finally awoke from his fantasy slumber to rush for a season high 130 yards and a touchdown.
The Titans beat head coach Ron Rivera's Carolina Panthers 30-3.
Panthers QB Cam Newton was sacked 5 times.
The Charlotte Observer called the loss embarrassing.
Sanchez and the Jets fall to the Pats
QB Mark Sanchez… 309 yards passing, 1 TD, 2 interceptions.
QB Tom Brady… 329 yards, 3 TD's, NO interceptions.
You get the picture. The New England Patriots beat the New York Jets 37-16.
Pats TE Aaron Hernandez had 4 catches for 41 yards.
Let the Sanchez criticism continue. I'll be honest I'd expect him to be more consistent by now.
Other notes:
This past Thursday the Oakland Raiders with QB Carson Palmer beat the San Diego Chargers 24-17 giving the Bolts their fourth straight loss.
To make matters worse offensive lineman Louis Vasquez left the game with an ankle injury.
Chicago Bears center Roberto Garza was rewarded this week with a two-year contract extension. To celebrate the Bears beat the Detroit Lions 37-16.
Victor García is an associate producer for Fox News Channel and a regular contributor to FoxNewsLatino.com.
Follow us on twitter.com/foxnewslatino
Like us at facebook.com/foxnewslatino