NFL Round-Up: Giants' Cruz Stumbles, Al Davis, Eagles, Jets & More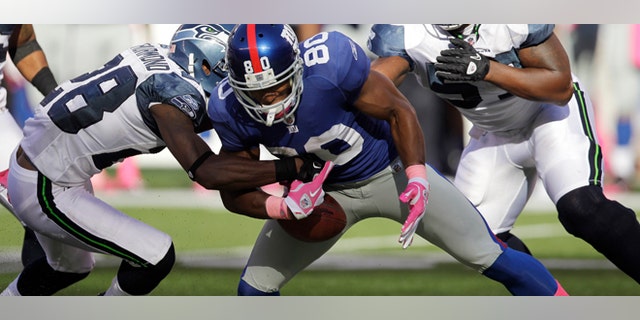 Thankfully for me this week QB Tony Romo and the Dallas Cowboys have a bye. Fortunately for my neighbors I won't be screaming at the television like I have in the past four weeks. Let's be honest… they need a break from me and I need to cut back on the volume.
Cruz Goes from Hero to Zero in Minutes
New York Giants WR Victor Cruz is becoming a league threat and legitimate play-maker, someone who is mentioned almost every week for something spectacular. However this week was mixed.
Early in the fourth quarter he scored a one handed touchdown on a tipped pass that put the Giants on top. ESPN.com described his celebration as a "salsa dance."
Minutes later 2 yards shy of a first down he scrambled for extra yardage and fumbled. The Seahawks got the ball and scored a field goal to tie the game.
To make matters worse with 1:27 to go in the game the Giants were down by three and had the ball. QB Eli Manning threw the ball to Cruz who was out of position and he accidentally deflected the ball into the hands of Seattle cornerback Brandon Browner who took it 94 yards for a touchdown for the proverbial nail in the coffin. The Seahawks beat the G-men 36-25.
As Sam Elliot's character in the movie "The Big Lebowski" said… "Sometimes you eat the bar, sometimes the bar eats you."
Things Get Worse for the Jets
Mark Sanchez threw for 166 yards and two touchdowns but that wasn't enough to stop his New York Jets from losing to the New England Patriots 30-21. The Sanchize's team has now lost three in a row and everyone is panicking.
Yikes!
The Eagles Fall to 1-3
Philadelphia Eagles defensive coordinator Juan Castillo must be somewhat worried that the once heralded "big money" Eagles, with some of the most talented players on defense (as well as offense), are looking awful right now.
In his defense (no pun intended) QB Michael Vick threw 4 interceptions and nothing seemed to go right Sunday. But Castillo's defense still gave up 24 points as the Buffalo Bills embarrassed the Eagles 31-24.
Ron Rivera May Have Cost His Panthers a Win
At the end of the first half of the Carolina Panthers vs. New Orleans Saints game things got a little interesting. The Saints didn't look like they'd be able to get their field goal unit out before time expired so luckily someone called a timeout.
Unfortunately for the Panthers it was Ron Rivera. The Saints were out of them and the Carolina Panthers coach worried that his team's field goal blocking unit would not get on the field in time so he called it with two seconds left.
According to the Charlotte Observer, if he had left his normal defense out there and had not called the timeout the Saints would not have made it in time. Instead they scored a field goal and won by the score of 30-27.
Post game Rivera admitted he "over-thought" the timeout.
Al Davis Dead at 82
This Saturday longtime Oakland Raiders owner Al Davis died at 82.
You'll probably hear from a lot of people about how instrumental he was to the NFL in being where it is today, how he was a rebel, how he was an anti-authority figure who took a losing franchise, made them "bad boy" winners and losers again from the late 60s to now.
That's all true in my opinion but I'd like to note a few specific things Davis did.
He hired the first black head coach (Art Shell), he hired the first Latino head coach (Tom Flores, former Raider QB), he promoted a woman to chief executive (Amy Trask).
He resurrected many Football players' careers and gave them the opportunity to become legends including QB Jim Plunkett.
Sure in the end he was known as the crazy old man who took his franchise down to the bottom but he should be credited for what he has done for the sport and his small but important role regarding civil rights in football.
Hell the guy wouldn't allow his team to play preseason games in the segregated south in the 1960's, that's a bold stand.
Also, let's not forget that he made being bad cool. While there are many negative connotations to Raiders gear and it may have been adapted as a uniform by gangs, silver and black has become a phenomenon that the Raiders fan base, which is comprised of many Chicano-Americans, take pride in. The fact that their owner cared about them so much gave the Raiders undying loyalty from their fans.
Odds are if you're a Latino in the west coast you're either a Raiders fan or a Cowboys fan, and usually it's Raiders.
That's me being honest.
R.I.P. Al Davis.
Victor Garcia is a freelance reporter with Fox News Latino.
Follow us on twitter.com/foxnewslatino
Like us at facebook.com/foxnewslatino