NFL Round Up: Cowboys & Giants Down, Panthers & Jets Up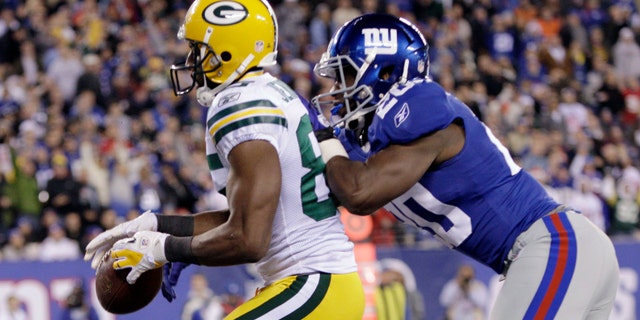 "Just when I thought I was out... they pull me back in." – Michael Corleone, The Godfather Part III (1990)

Cowboys Blow Game in OT

Why would I open up this weeks' NFL Round Up with a quote from probably the most under-whelming, and if I was Francis Ford Coppola "regrettable," sequel of all time?

Because like Michael Corleone, and Al Pacino, I was roped into something that I should have been more cautious about, something that I didn't want to feel awful about.

For Corleone it was the illegal Mafia business. For Pacino, it was a movie that tarnished two films that are arguably considered his greatest acting achievement (if GP3 didn't do that, for sure "Jack & Jill" did it this year).

For me it was thinking that the Dallas Cowboys were moving towards becoming one of the NFL's elite again.

The last few weeks had given me hope, a dream. For a few weeks I was feeling good about the post-season.

But like Twitter spam followers and Facebook dating ads, it wasn't what it seemed to be.

The Cowboys for the 3rd time in 4 years marched into the University of Phoenix Stadium in Glendale, AZ to face an Arizona Cardinals team that has under whelmed the NFL for the most part this year.

Cards QB John Skelton was benched in favor of big money off-season acquisition QB Kevin Kolb who was healthy for the first time in 5 weeks.

The Cowboys and Cardinals ended regulation tied 13-13.

To make matters worse the Boys appeared to win the game with a field goal with seconds left but for some insane illogical reason head coach Jason Garrett called a timeout.

On the next attempt Cowboys kicker Dan Bailey missed.

In OT it got worse.

Kolb threw a screen pass to RB LaRod Stephen-Howlings who ran it 52 yards for the score and the win.

The Cowboys still lead the NFC East (7-5) but have to play the New York Giants twice this season including next week. The Cards are 5-7.

Cowboys' fans continue to feel like Sophia Coppola… The Godfather III actress, not the Oscar nominated director.

G-Men Fall to Packers

They did what they could do… they even tied it up at 35 very late. But the New York Giants couldn't stop the offensive juggernaut that is the Green Bay Packers.

Kicker Mason Crosby won the game for them as time expired 38-35.

The Giants are now 6-6 and the Packers are still UNBEATEN (12-0).

Giants WR Victor Cruz had 7 catches for 119 yards.

Falcons Fall, Texans Surge

The Atlanta Falcons fell to 7-5 as the Houston Texans continue to win, even with their 3rd different starter this season.

Houston QB T.J. Yates subbed for injured Matt Schaub & Matt Leinart. He kept the team in the game and pushed them to a 17-10 win and a 9-3 record.

Future Hall of Famer, Falcons TE Tony Gonzalez had 7 catches for 100 yards.

With the New Orleans Saints surging and the Falcons faltering, it looks like Atlanta could be shut out of the postseason.

Jets Wake Up Late and Beat the Redskins

New York Jets QB Mark Sanchez continued to do what he does best... not much.

He threw for 165 yards and 1 touchdown. Mediocrity?

The Washington Redskins kept it close for 3 quarters and even had the lead in the 3rd but RB Shonn Greense had two 4th quarter TD's and 3 total to give the Jets the 34-19 win.

The Jets are 7-5 and no one cares about the Redskins.

Panthers Win big

Next year could be a big year for the Carolina Panthers and head coach Ron Rivera.

As for this year… we got yet another glimpse of what could be.

The Panthers dominated the Tampa Bay Buccaneers (who were wearing their cream-sicle uniforms) 38-19.

Panthers QB Cam Newton ran for 3 TD's, setting a record for most rushing touchdowns in a season by an NFL QB.

Both teams are now 4-8.

Eagles Virtually Guarantee Castillo & Reid Will Be Fired in the Off-Season

The Philadelphia Eagles lost to the Seattle Seahawks Thursday 31-14. 'Nuff said.

The Eagles are 4-8 and this pretty much will mean that head coach Andy Reid's long tenure with the Eagles is likely over and with him defensive coordinator Juan Castillo will also receive his walking papers.

Losing is one thing; losing to the Seahawks is another.
Victor Garcia is a Fox News Latino contributor from Fox News Channel and a Dallas Cowboys fan.
Follow us on twitter.com/foxnewslatino
Like us at facebook.com/foxnewslatino