NFL, referees reportedly close to new deal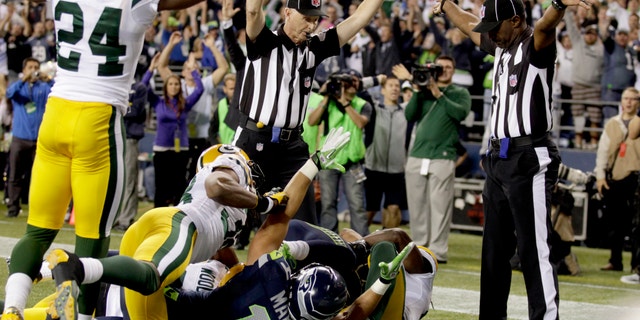 NFL referees could be back on the field as early as this weekend, according to reports that say the league and its officials are zeroing in on a labor deal.
A deal to end the three-month lockout is at hand, according to ESPN.com, which cited a source close to the negotiations. Although owners have taken a hardline against the referees' demands for an 8 percent pay raise, pressure mounted on the sides to reach a deal after Monday night's game between the Seattle Seahawks and Green Bay Packers ended on a disputed Hail Mary touchdown catch that appeared to have been an interception by Green Bay.
While league sources say it would take a week to get the locked-out officials back on the field, the NFLA has said its 121 referees have been trained on the league's new rules and have either already passed physicals or are ready to do so immediately.
Both sides have made concessions on previous sticking points such as a taxi squad of 21 new officials and pension plans that sources say the final meaningful hurdle is, as one source said, "about a little more money," ESPN.com reports.
The NFLRA is reportedly prepared to accept a new agreement primarily in the form of a "ratification bonus," which would compensate its 121-member union for concessions it is willing to make.
A source close to the negotiations told The Associated Press that the two sides resumed talks Wednesday after a marathon, 14-hour session on Tuesday extended past midnight.
The NFL referees reportedly make an average of $149,000 a year for their Sunday afternoon services, and most have other full-time jobs. The main stumbling blocks in the labor dispute are pay, retirement benefits and the NFL team owners' desire to impose new accountability standards on the referees.
On the retirement issue, refs currently have a guaranteed pension that the owners would like to convert to a market-vulnerable 401(k) plan. The owners are seeking new accountability by gaining the ability to pull poorly-performing refs and replace them from what would be a new pool of backup referees. Although this would expand the number of referee jobs, the officials are against it.
Aaron Rodgers, Green Bay's quarterback and the reigning league MVP, used his weekly radio show Tuesday to lash out at the NFL and question its priorities. And even President Obama has weighed in on the dispute, tweeting Tuesday that "NFL fans on both sides of the aisle hope the refs' lockout is settled soon."