NFL quarterback Russell Wilson reportedly spending off-season with new team: the Yankees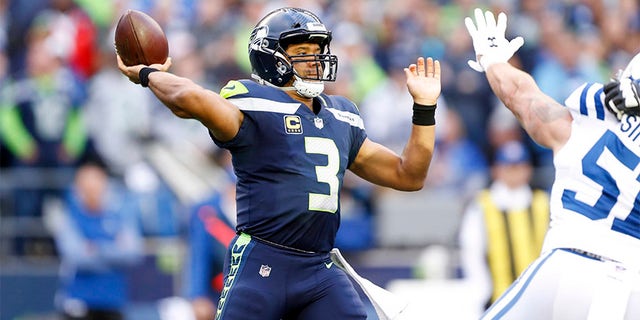 NEWYou can now listen to Fox News articles!
Seattle Seahawks quarterback Russell Wilson is reportedly headed to the Big Apple to join the ranks of the New York Yankees.
Wilson, in addition to playing for the Seahawks, has been on the roster for the Texas Rangers since 2013, according to the New York Post. His trade to the Yankees was confirmed Wednesday in social media posts by both Wilson and the Yankees.
SUPER BOWL ON NBC IS LOWEST RATED IN 8 YEARS
Wilson will reportedly be added to the team's Double-A Trenton lineup and is set to join them in Tampa for major league camp in March, the Yankees told the Post. He "will participate in pregame workouts with the club and watch games from the Yankees' dugout," Brian Cashman, the team's general manager, said in a statement to the outlet.
"After talking to a number of our players, there is a genuine excitement in having Russell join us for a short time in camp,'' Cashman said. "We are all looking forward to gaining insight into how he leads teammates toward a common goal, prepares on a daily basis for the rigors of his sport, and navigates the successes and failures of a season."
His time on the baseball diamond will not get in the way of his commitment to the Seahawks, the outlet said.
SUPER BOWL LII SNUB? PATRIOTS' TOM BRADY DID NOT SHAKE EAGLES QUARTERBACK NICK FOLES' HAND AFTER LOSS
In an online statement, Wilson thanked his former team for providing him "the chance to experience professional baseball again" and reminisced about his childhood playing sports.
"During my two springs with the Rangers, I was reminded just how much I love the game," he said. "While football is my passion and my livelihood, baseball remains a huge part of where I came from and who I am today. I've learned so much on the baseball field that translates to my game physically and mentally playing Quarterback in the NFL."
Before joining the Rangers, Wilson played in the minor leagues and was drafted to the Colorado Rockies, according to the Post.