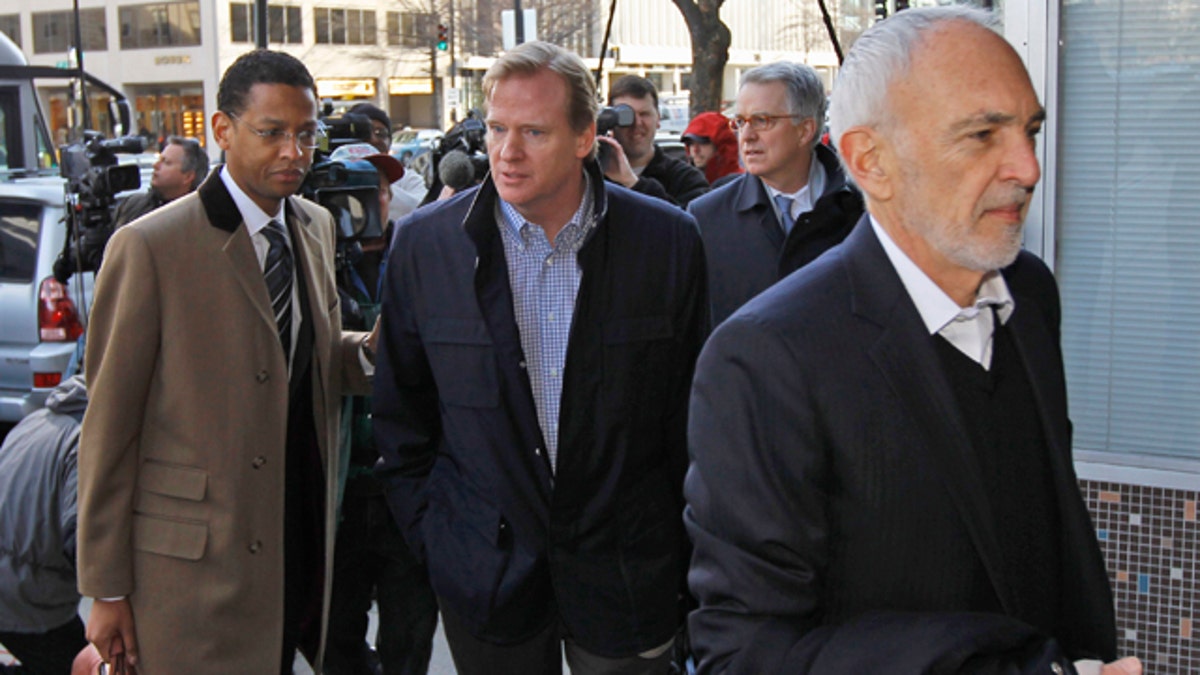 WASHINGTON -- The NFL and its players are still talking. Soon they'll need to start agreeing.
While failing to reach a deal that would keep labor peace intact for the nation's most popular sports league, the NFL and the players' union agreed Friday on a seven-day extension for their collective bargaining agreement.
It was the second time they had stopped the CBA from running out, though the two sides do not appear to be close to a new pact.
"We're obviously having a lot of dialogue," Commissioner Roger Goodell said Friday after a federal mediator announced the seven-day reprieve. "We met for a lot of days. And we are going to meet for more."
The CBA was set to run out on Thursday before a 24-hour extension was granted. Under the new arrangement, talks will resume Monday and the old deal will expire at the end of next Friday.
"We've got very serious issues," NFL lead negotiator Jeff Pash said. "We've got significant differences."
NFL Players Association executive director DeMaurice Smith noted both sides had committed to giving the talks a chance to move ahead. "We look forward to a deal coming out of that," he said.
That deal still could be a long way off. If the CBA expires the owners could lock out the players, and the union could decertify to try and prevent that through the courts -- something the NFLPA did in 1989.
"Talking is better than litigating," Goodell said.
For the moment, talking at least staves off the NFL's first work stoppage since the 1987 players' strike. It certainly indicates neither the owners nor the players are ready to make a bold move to shut down a league that rakes in $9 billion a year and is more popular than ever. The last two Super Bowls rank No. 1 and No. 2 among most-watched TV programs in U.S. history.
The extension don't mean, however, that the sides have found common ground on the key issues:
-- How to divide the league's revenues, including what cut team owners should get up front to help cover certain costs, such as stadium construction. Under the old deal, owners received about $1 billion off the top. They entered these negotiations seeking to add another $1 billion to that.
-- A rookie wage scale, and how much of the money saved by the owners under such a system would go to veteran players.
-- The owners' push to expand the regular season from 16 games to 18 while reducing the preseason by two games. The players oppose that idea, citing health factors, especially the number of injuries already sustained during a 16-game regular season.
-- Benefits for retired players.
"There's been enough serious discussion to warrant both sides taking this step," Pash said after the extension was announced. He also said he wouldn't be surprised if NFL owners were at the sessions next week, a step that would strongly indicate discussions were reaching a critical stage.
"It's time for us really to dig, to dig deep, and try to find solutions," Pash added, "and try to be creative and try to compromise in a way that will work for everybody."
The NFL said no transactions would be allowed during the seven-day extension, just as none were allowed when the two sides initially stopped the clock.
President Barack Obama urged the sides to keep talking when asked Thursday about the NFL labor dispute.
"I'm a big football fan," Obama said, "but I also think that for an industry that's making $9 billion a year in revenue, they can figure out how to divide it up in a sensible way and be true to their fans, who are the ones who obviously allow for all the money that they're making."
Smith was cautious when describing the tenor of the talks. Asked if he thinks the league has been negotiating in good faith, he said, "When you say something about trust or when you raise issues about things like confidence, none of those things are repaired quickly."
Reaction from around the league was swift and mildly upbeat.
"It's good they're talking. ... I don't know exactly what's being done or what's being said or why it's being extended, but at least they're talking," said Ravens safety Tom Zbikowski.
"Whether it's done by next week, I'm not sure about that," he said, "but at least it's moving."
Added player agent Ralph Cindrich: "Any time you have an extension in a negotiating process, it is positive. All the more so now because there is a mediator involved."
For another week, at least.