NFL national anthem flap sees Steelers coach Mike Tomlin rap Alejandro Villanueva, while his jersey sales soar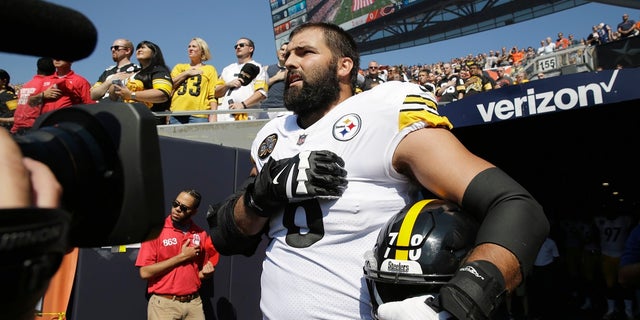 Football fans across America were clamoring for the jersey of Pittsburgh Steelers offensive tackle Alejandro Villanueva on Monday, a day after the former Army Ranger broke team orders by being the only player to come out of the locker room for the national anthem.
Villanueva, who stood alone while "The Star-Spangled Banner" was being played Sunday in Chicago, currently has the #1 selling jersey on the NFL's web store, ahead of top players including Tom Brady, Aaron Rodgers and Derek Carr.
Steelers head coach Mike Tomlin appeared to take a swipe at the Bronze Star recipient's decision in a post-game press conference. Tomlin told the media that, prior to kickoff Sunday, the Steelers held a team meeting and decided, though not unanimously, to not come out of the locker room for the national anthem.
"Like I said, I was looking for 100 percent participation, we were gonna be respectful of our football team," Tomlin said when asked about Villanueva ignoring the order and coming out for the anthem.
Tomlin added the intent was to have his team focus on the game and not President Trump's comments blasting players who chose to protest during the playing of "The Star-Spangled Banner."
"Many of them felt like something needed to be done. I asked those guys to discuss it and whatever they discussed that we have 100 percent participation or we do nothing," Tomlin said after the game. "They discussed it for an appropriate length of time and they couldn't come to an understanding, so they chose to remove themselves from it. They were not going to be disrespectful in the anthem so they chose not to participate, but at the same time many of them were not going to accept the words of the president."
Villanueva, who served three tours in Afghanistan, decided to stand his ground instead and placed his hand over his heart while the anthem played. He has not spoken publicly since Sunday's game.
One of Villanueva's teammates, Cam Heyward, said "we support our guy Al.
"He feels he had to do it. This guy served our country, and we thank him for it," Heyward told ESPN.
Tomlin said Sunday that the team is not "politicians" but "coaches and professional athletes.
"If those of us or individuals choose to participate in politics in some way I'm going to be supportive of that. But when we come out of locker rooms, we come out of locker rooms to play football games."
There appeared to be some confusion in the Steelers locker room after Villanueva came out of the tunnel for the anthem.
Offensive tackle Chris Hubbard told Penn Live that the players, by a slim majority, voted in favor of staying off the field instead of standing on the sideline holding hands.
"We thought we were all in attention with the same agreement, obviously," linebacker James Harrison told the website. "But, I guess we weren't."
Hubbard, however, said everyone in the locker room accepted that Villanueva would be exempt from the team's decision.
"Al was cool with it, with whatever we went through. He was on board. That's Al, man," Hubbard said. "He's a good guy."
Broncos defensive end Derek Wolfe also told ESPN he would be standing during the national anthem Sunday because he wanted to be "paying tribute to the men and women who have given their lives for our freedom."
"I stand because I respect the men who died in real battle so I have the freedom to battle on the field...but everyone these days likes to find a reason to protest and that's their right," Wolfe told ESPN, according to The Washington Post.
Villanueva has previously spoken out about former San Francisco 49ers quarterback Colin Kaepernick's decision to sit and kneel during the national anthem, saying his actions may "send the wrong message."
"I don't know if the most effective way is to sit down during the national anthem with a country that's providing you freedom, providing you $16 million a year...when there are black minorities that are dying in Iraq and Afghanistan for less than $20,000 a year," Villanueva told ESPN in 2016.
He added: "I will be the first one to hold hands with Colin Kaepernick and do something about the way minorities are being treated in the United States, the injustice that is happening with police brutality, the justice system, inequalities in pay. You can't do it by looking away from the people that are trying to protect our freedom and our country."
Kaepernick, whose jersey sales skyrocketed last season in wake of his protests, vowed to donate all the proceeds back into communities.