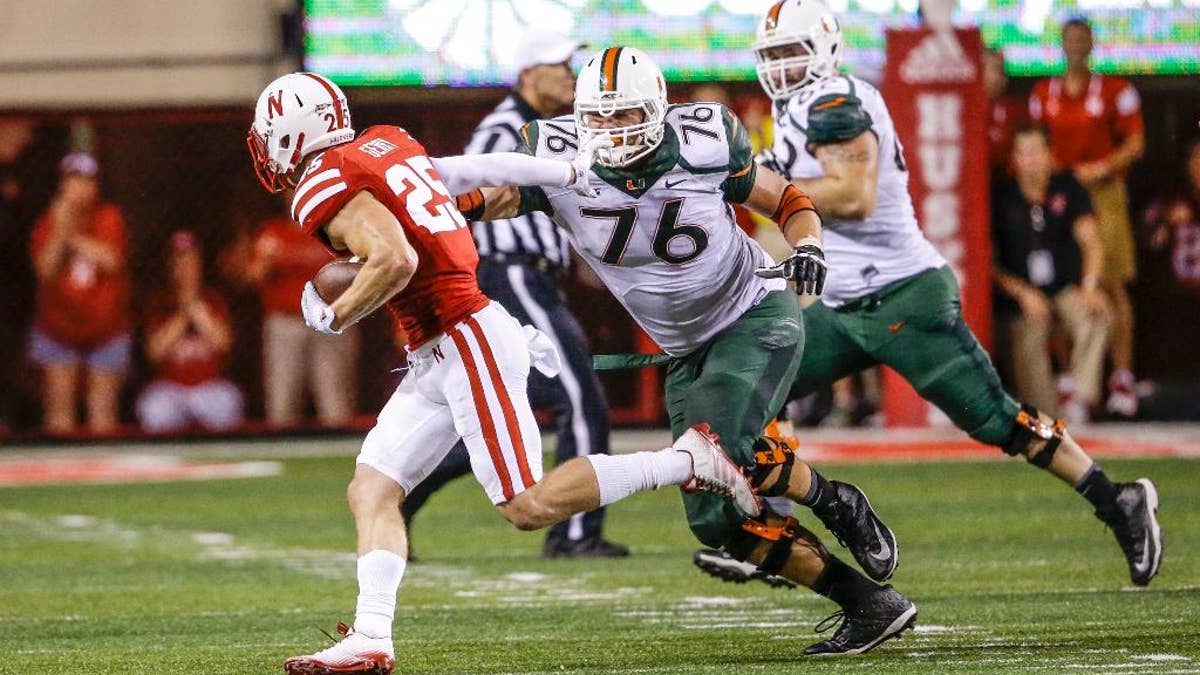 LINCOLN, Neb. – Nebraska's Nate Gerry says he doesn't like to talk about himself, so there's no use asking him his thoughts about the way he is playing this season.
Turns out Gerry's play speaks for itself.
The sophomore is performing at an All-Big Ten level at safety after spending his first season in the program at linebacker. He's intercepted a pass in three straight games and in four of the last five, and he's the Cornhuskers' second-leading tackler.
One can only assume Gerry is happy with the way things are going.
"I would like to think he's enjoying it," said Corey Cooper, who starts at the other safety spot. "He's having a good season so far. It's not a surprise because we knew how talented he was going into the year. I'm just glad that he's back there. He's making some big plays."
Gerry acknowledged he's a more contented man playing his more natural position in the secondary.
"Oh, yeah," he said. "I'm a lot happier."
Gerry, from Sioux Falls, South Dakota, was told he would return to safety this season. Last season, he was needed to bolster depth in a young linebacker corps and ended up starting three games.
Jobs opened at safety with the departures of senior starter Andrew Green and backup Harvey Jackson, who transferred to BYU in the offseason. Gerry went into preseason practice expecting to compete with LeRoy Alexander for a starting job. He won it by default when Alexander was suspended for the season.
Gerry's performance has helped the Huskers limit opponents to completing only 46.9 percent of their passes. That's the third-best mark in the country behind Wisconsin — Saturday's opponent — and Virginia Tech. The 6-foot-2, 205-pound Gerry's four interceptions are most in the Big Ten behind the five by Maryland's William Likely and Purdue's Landon Feichter.
Nebraska coach Bo Pelini said he could tell Gerry was uncomfortable as an undersized linebacker last season, though he was good enough to receive honorable mention for the Big Ten's all-freshman team.
"He was a team guy and did what we asked him to do," Pelini said. "It's a lot easier to play and play freely and do what you have to do when you have a tremendous amount of confidence. And his confidence is growing all the time. I think he has a really good handle on what we're asking him to do and how we do it. It's enabled him to play at a high level."
The interception streak started with his pick of a deep ball thrown into triple coverage in the end zone against Northwestern. He jumped a crossing route for an interception against Rutgers and ran it back 28 yards. His best play of the season might have been his diving interception in the end zone against Purdue.
"I just try to be accountable to my teammates," he said, "because I know they're counting on me to do my job. Sometimes someone gets more opportunities in a game than others, and you have to rely on your teammates to make plays."
Though Gerry likes the view from the secondary, playing 4 yards off the line of scrimmage last year gave him an opportunity to learn the inner workings of a Pelini system that's predicated on linebacker play.
"That experience of playing up there has helped him, no question in my mind," Pelini said. "You can't do that all the time because not everyone has that kind of size or skill-set to be able to play different (positions) or be able to handle it mentally. I think he's got a long way to go. Heck, he's only in his first year starting at safety. I foresee him doing some pretty special things before he's out of here."