NCAA could give replay officials ability to create targeting fouls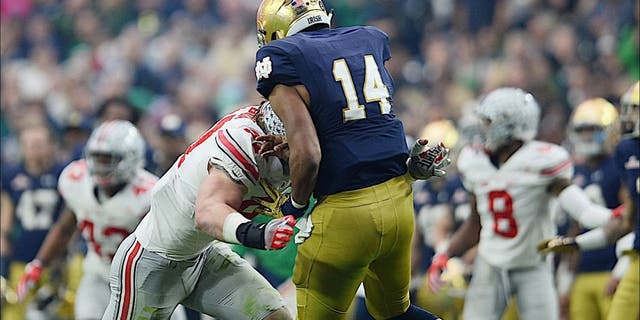 NEWYou can now listen to Fox News articles!
The NCAA announced potential football rules changes Thursday, including adjustments to the implementation and application of targeting fouls.
The Football Rules Committee suggests replay officials be given more authority to review calls on the field by "requiring them to review all aspects of targeting fouls."
In addition, the panel proposed replay officials be given the ability to stop the game and create a targeting foul if they rule one was missed by on-field officials.
While the targeting rule, if not for its existence as much as what many seem to perceive as inconsistent application, does not seem to be popular among fans or media who voice their concerns regularly on social media during games, rules committee chairman Bob Nielson indicated via a statement it is not going anywhere.
Other potential changes announced include allowing coaches to use electronic devices during games in the press box and locker room (but not on the sideline), defining players who slide to give themselves up "defenseless," banning deliberate tripping of the ball carrier and prohibiting a player who leaves the tackle box from blocking below the waist toward the initial position of the ball.
These changes are not official yet.
After a comment period for member schools, they will be forwarded to the Playing Rules Oversight Panel to be considered March 8.
If the oversight panel approves them, the rules changes would take effect this fall.
Read the full announcement here.