Nate Diaz: I knew my pay-per-view numbers vs. Conor McGregor were going to be huge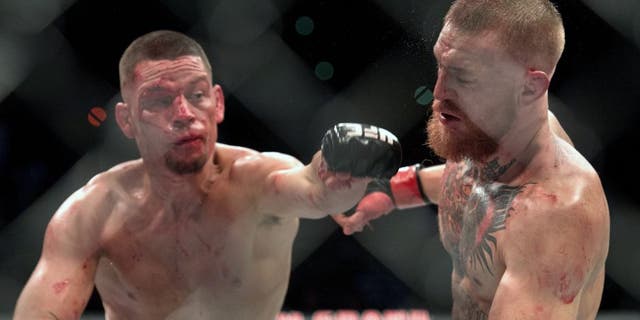 Nate Diaz wasn't surprised when he beat Conor McGregor, and he wasn't surprised when UFC president Dana White said afterwards that the pay-per-view that their main event headlined might end up being the most watched in the promotion's history.
Sure, when the UFC and Diaz were at a contract negotiation impasse, the promotion erased Diaz from their rankings and White absurdly claimed that Diaz didn't, "move the needle," when it came to getting interest from fans for his fights. Diaz knew that his FOX-televised cards had usually drawn well, however, so the UFC 196 pay-per-view numbers were personally satisfying for him.
"I knew that I brought the numbers," Diaz recently told MMAJunkie.
"When I fought on FOX it was like three, four, five million viewers every time I fight and headline these FOX shows. That's where my argument was in the first place. I was like, 'I see what's going on here.' So, when I said they were trying to hold me back and trying to say that I wasn't moving the needle or whatever, I already knew [they were trying to hold me back]. I knew the pay-per-view numbers were going to be huge."
After he beat Michael Johnson in Dec. Diaz called for a fight against McGregor. At the time, the fight seemed unlikely, and McGregor was indeed subsequently booked against lightweight champion Rafael dos Anjos for a title fight.
When dos Anjos was injured and pulled out of the UFC 196 contest with McGregor just days prior to the scheduled date, Diaz swooped in to take the big fight he'd called for. Not only did he win as he thought he could, but he proved to be a huge pay-per-view draw, along with McGregor.
"They know. Everyone knows now ... my point was proven," he continued.
"[McGregor] brings a big following and he's got good numbers, too, but that's why I was saying after my fight with Johnson, 'you want to see a fight?' No one pays attention. That's why I had to demand that [expletive] and express it and come off the way I did -- so I could try to get a fight.
"Now they can't deny it."
Still Diaz said he can't be sure that the UFC will promote him in a way that his popularity warrants. "Who knows," he admitted.
"They're promoting [McGregor] already more off this fight than they are with me. It just happened, so we'll see what happens in the next fight."