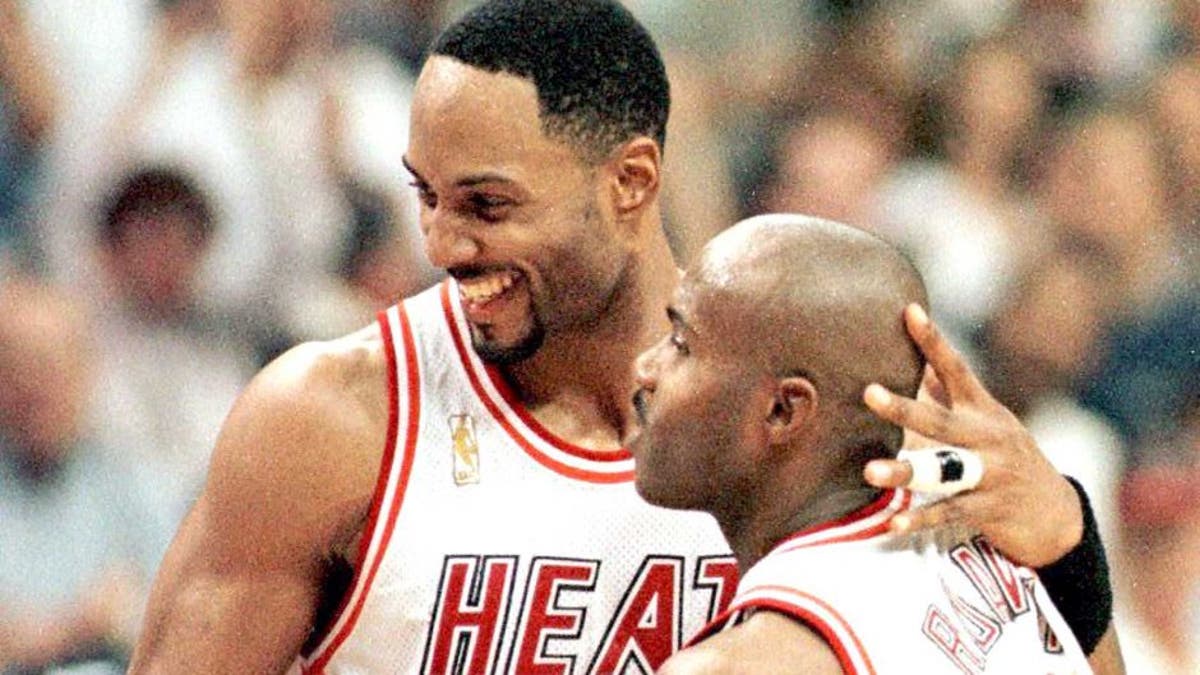 With the dregs of the NBA offseason upon us, it's a great time to make hypothetical lists and lineups that will never play out.
Over at Yahoo Sports, Kelly Dwyer is making the all-time starting fives -- with one center, two forwards and two guards, a la the All-NBA team -- for each NBA franchise.
For the Miami Heat, Dwyer chose Alonzo Mourning as his center, Chris Bosh and LeBron James as his forwards, and Dwyane Wade and Tim Hardaway as his guards.
Here is an excerpt on Bosh and Wade, the two current faces of the Heat franchise:
"F: Chris Bosh. It might seem like a stretch (no pun intended) just five years after he left Toronto for Miami, but it's hard to ignore Bosh's all-around play as both a borderline role player (with All-Star level talent, and All-Star berths to boot) and go-to scorer. Bosh had to not only take a back seat to James and Dwyane Wade in his time in Miami, but he also had to re-do his game and abandon the low post and screen and roll sets that constantly fed him in Toronto. Currently working with averages of 17.8 points and 7.3 boards as a member of the Heat.
"G: Dwyane Wade. The greatest player in Heat history, thankfully, will remain with the team for at least the next few years. Drafted by the squad in 2003, Wade helped lead the team out of the deep lottery and into the playoffs in his first year, nearly to the NBA Finals in his second, and to a championship in his third year. He's got three rings now, a litany of All-Star berths and career/Heat averages of 24.1 points, 4.9 rebounds, 5.9 assists and 2.8 combined blocks/steals."
It's tough to leave guys like Shaquille O'Neal and Glen Rice off the list, but this seems about right. What's your take? Do you agree with Dwyer? Disagree? Who did he leave off the list? What would your all-time Heat lineup look like?