Mourinho lacks imagination, finesse after Chelsea's latest calamity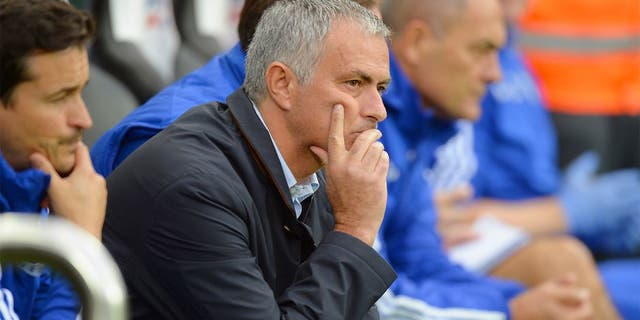 LONDON --
Amid the rubble, Jose Mourinho stands obdurate -- or at least that is the image he apparently wishes to portray. On the touchline, he had looked impotent, unable to halt a Chelsea slide that looked inevitable as soon as Southampton began to come back into the match. Post-match, eyes and jaws set, he took aim at a host of foes; referees, his players and club officials. Some perhaps will see it as magnificent defiance, but it could just as easily be seen as dangerous brinkmanship, striking at opponents real and imagined, almost challenging the Chelsea board.
This is the worst spell of his career and, with Chelsea 16th in the table having suffered more defeats in the whole of last season, the pressure is mounting, even if he did sign a contract extension before the start of the season committing him to the club until 2019. "No way I resign," he said. "No way. Why? Because Chelsea cannot have a better manager than me. There are many managers in the world that belong to my level but not better, not better."
He added: "So no chance I run away. Why? For two reasons: Because I have my professional pride and I know that I am very good at my job and secondly because I like this club very much. If that's not the case that could be different, but I want the best for my club and the best for my club is for me to stay, so I stay. When we were champions last I said I'm going to stay until the owner and the board want me to leave. No club can persuade me to leave, no financial offer."
That was clear enough. What followed seemed aimed at an audience beyond the press conference. "If the club wants to sack me, they have to sack me because I am not running away from my responsibility, my team," he went on. "I think this is a crucial moment in the history of this club. You know why? If the club sacks me, they sack the best manager this club had. And secondly, the message is again the message of bad results. The manager is guilty. This is the message, not just these players, the other ones before, they got [the message] during a decade.
"I assume my responsibilities. It's time for everyone to assume their responsibilities. When you go down, to so many individual mistakes and fear to play, they have their responsibilities. Players that are performing really, really bad individually. I cannot come here and say 'you and you and you', is not my job, but I think it's clear that we are being punished by too many individual mistakes.
"Sadness brings sadness. Bad results they attract bad results. The first mistake is just the first because after comes another one. They still need to finish the first half winning two-three nil, the fear disappears, we come into the second half and play with a free brain, a free spirit. This is what this team needs. Unfortunately for them this is not happening."
He went on, in his television interview, to criticize the referee Robert Madley, who not only denied Falcao a penalty when he tumbled over the Southampton goalkeeper Maarten Stekelenburg. "Because we are in such a bad moment, you shouldn't be afraid to be also honest," he said. "When we are in the top, I understand there is quite a big pleasure in putting us down. But when you are so down, I think it's time to be a little bit honest and to say clearly, the referees are afraid to give decisions for Chelsea."
That Mourinho didn't repeat that claim in the -- traditionally more confrontational -- press-conference with the written media suggested he knew what nonsense it was. Replays indicated Falcao had jumped into the Stekelenburg, and Southampton were denied two far more blatant penalties. Ronald Koeman, the Southampton manager, was predictably scathing. "It would have been 5-2, then," he said. "Even worse for them."
Perhaps the most worrying aspect for Mourinho was that pockets of the Stamford Bridge crowd, previously so loyal to him, jeered his two second-half substitutions -- first when Pedro came on for Willian and then when Loic Remy for Nemanja Matci, who had himself only come on at halftime. "When they booed the Willian decision if I didn't know Willian was vomiting in dressing-room in halftime." That raised it's only questions: Why play Willian at all if he was ill?
He denied he was "humiliating" Matic, who had come on, Mourinho said, for fear Ramires who had been booked, would collect a second yellow card. "I like them, I trust them, I know that they are good players but some of them are in a difficult moment," he said. "Matic is one of them, he is not playing well. He is not sharp, he is not playing well defensively, he is making mistakes."
Mourinho's problem at the moment is that a lot of Chelsea players are making mistakes and that, perhaps for the first time in his career, he seems to have little idea how to put things right. He may insist that he has seen no sign that the board has changed from the policy of stability it announced so loudly at the end of last season, but sooner or later something is going to have to give.
The recent history of football -- in general and Chelsea in particular -- suggests the easiest thing to do is change the manager.