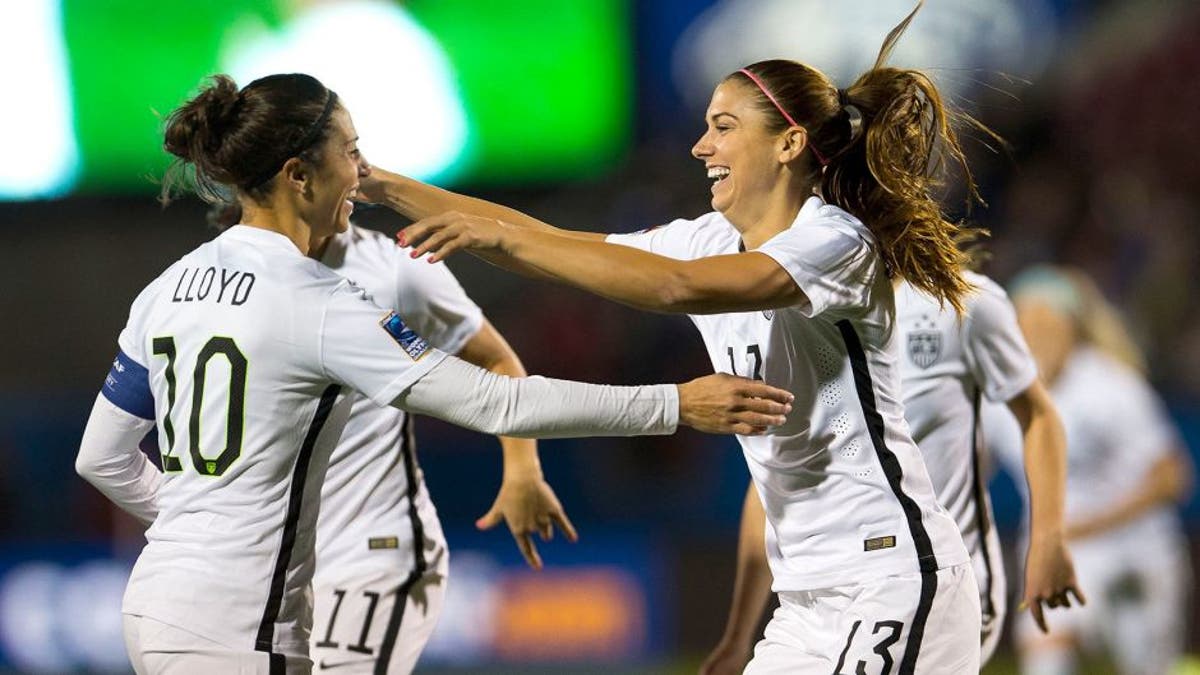 FRISCO, Texas
Fast, furious and very fun, the United States women's national soccer team came out smoking in their first Olympic qualifying match Wednesday at Toyota Stadium, drilling Costa Rica 5-0 in a terrific start in their quest to qualify for their sixth consecutive Olympics. The victorious match also was resounding confirmation that this vaunted U.S. team continues, year after year, to recreate itself in commanding form from a deep and eager pool of talent.
The U.S. was on the board in a blistering 12 seconds. And even though U.S. coach Jill Ellis suggested that the team get off to a fast start in this CONCACAF Olympic Qualifying Championship, Alex Morgan's game-opener exceeded all expectation.
It is believed to the fastest goal in the 31-year history of the U.S. women's national soccer team. It is the fastest in CONCACAF Women's Olympic Qualifying history. The previous record was held by Abby Wambach, who scored in 35 seconds vs. the Dominican Republic on Jan. 20, 2012.
"We always see it coming," Morgan said. "It always starts off right, then something goes wrong. This time, nothing went wrong."
Best of all, it took a village to create the awesome opening goal. Six U.S. players got a piece of the action. Off the opening kickoff, Crystal Dunn rolled the ball back to Morgan Brian, who knocked it over to Lindsey Horan, who launched a perfect, long serve to a sprinting Carli Lloyd, who flicked a header forward to a streaking Morgan, who took it on one bounce and booted it into the net with her right foot.
Costa Rica was stunned as the Americans huddled in mass celebration, their night off the exactly the kind of fast start coach Ellis said was needed against Costa Rica, another World Cup team that the U.S. will face in Group A play, along with Mexico.
In the ninth minute, Lloyd put the U.S. ahead 2-0. The newly-crowned FIFA Women's World Player of the Year added after Dunn was tripped for a foul just inside the box, setting up captain Lloyd's penalty kick.
In the 15th minute, Dunn -- the reigning National Women's Soccer League MVP -- showed her tenacity by knocking a rebound past Costa Rica goalkeeper Dinnia Diaz, giving the U.S. a 3-0 lead and putting the game into fast-paced cruise control for the Americans.
In the second half, Lloyd and Morgan, the new tandem at the top of the U.S. attack now, connected again on the fourth U.S. goal in the 62nd minute. From outside the right side of the box, Lloyd centered a high pass to Morgan, who rose and headed the ball past Diaz. It was Morgan's 59th goal and, if there was concern that Lloyd and Morgan would need a little time perfect their timing and chemistry, the pair of goals they teamed up for against Costa Rica should put that theory to rest. Morgan was named the player of the match for her pair of goals.
"What she does great is get in behind the back line," Lloyd said of Morgan. "Tonight was great. We had a good connection."
Christen Press, who came on as a sub for Julie Johnston in the 74th minute, proved that her new role suits her. Press collected a pass inside the box and added the fifth U.S. goal in the 83rd minute. After a tough Women's World Cup campaign that saw her minutes diminish, Press has been tapped to be an offensive spark off the bench for the U.S. This was a good showing for Press, whose game improves greatly the less tentative she is on the attack.
Coming into this Olympic qualifying tournament's opening match, Ellis left nothing to chance. Her starting lineup included nine players who started for the U.S. during its victorious 2015 Women's World Cup run: Morgan, Lloyd, Tobin Heath, Brian, Johnston, Ali Krieger, Becky Sauerbrunn and Meghan Klingenberg.
Meanwhile, the two newcomers, Dunn and Horan, may not be greatly battled tested in international competition, but they are strong, versatile players who are more than ready to step into openings left by a slew of retirements (Lauren Holiday, Wambach), pregnancies (Amy Rodriguez, Sydney Leroux) and injuries (Megan Rapinoe, Christie Rampone).
In fact, it seems that addition by subtraction has worked out well for the U.S. women. After a Victory Tour dragged on through the end of 2015, and a drawn-out process of saying goodbye to veterans who were en route to retirement, the 20 players on this Olympic qualifying roster are solid and versatile. But they also seem -- so far -- pretty well locked into positions that suit individual skills while creating very effective team movement.
Dunn has incredible speed and balance, and with a defensive background she gives Ellis insurance on the flank. Dunn has tremendous ability to read opponents' moves, make a stop and then be a reference point in attack. The Long Island native and University of North Carolina standout may have been the last one cut before the 2105 Women's World Cup, but she has proved already to be a significant contributor to this rendition of the U.S. national team.
Horan, meanwhile, is a forward who has been stationed at defensive midfield by Ellis and is able to control the pace, doing a great job linking the midfield and distributing the ball very well. The Colorado native went straight from high school to France to live out her dream as a professional soccer player, and her return home is a total boon. Without taking anything away from Holiday, who retired at the young age of 27, Horan is clearly primed to be a critical player in a key spot for the United States. Plus, it was a pretty sweet way to start this Olympic quest for Horan, whose service to Lloyd on the opening U.S. goal showed that she is a high-quality playmaker.
The U.S. women are confident that they can qualify for a sixth consecutive Olympics, but will take nothing for granted -- even after showing such solid form right off the bat here in Texas. This vaunted U.S. women's national soccer team, one of the most storied and unique teams ever in the history of sports, has adopted a mindset for this 2016 Olympic qualifying campaign that there is no margin for error. There is only one way to qualify for Rio and that is for the U.S. to get to the semifinals -- and win. The two teams that make it to the finals will qualify for Rio.
The U.S. may have momentum with the 2015 Women's World Cup title to its credit, but the veteran players are well aware that U.S. is a target. The U.S. is also in a group with two other World Cup teams in Costa Rica and Mexico, which routed the fourth team in the group, Puerto Rico, 6-0 in the opening match at Toyota Stadium.
The U.S. team will face Mexico on Saturday and close group play against Puerto Rico on Monday night.
The Associated Press contributed to this report.