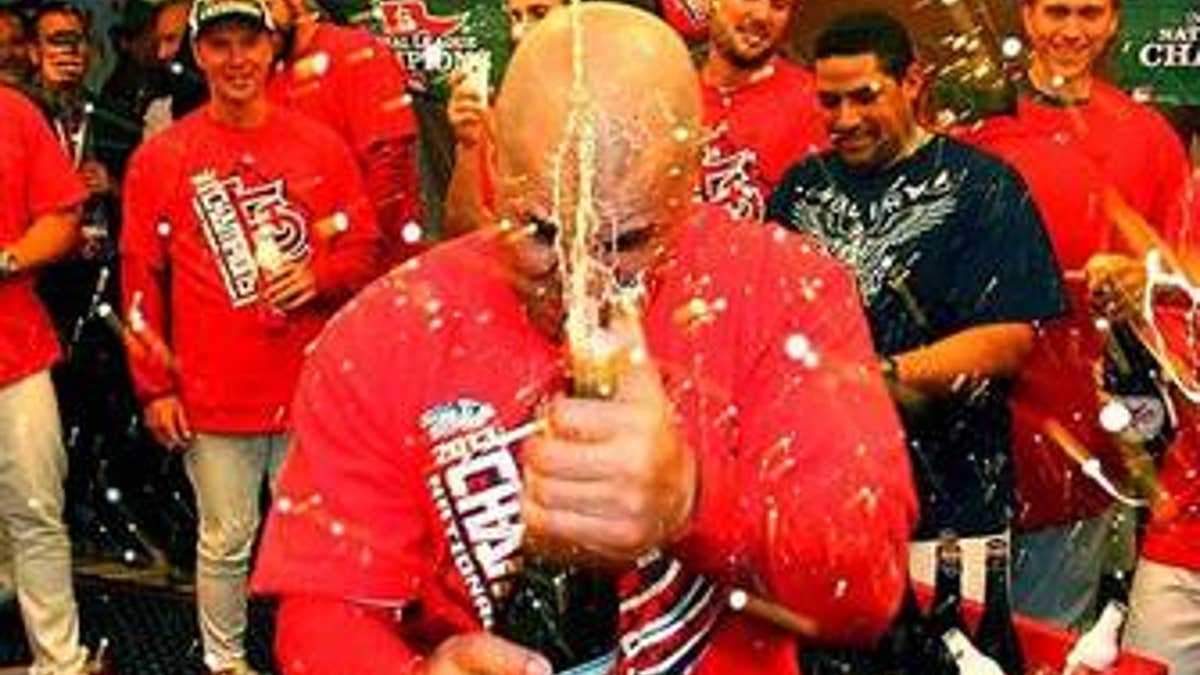 ST. LOUIS – You see Yadier Molina squeeze the strike that clinches the National League pennant. You see Adam Wainwright on the field in the midst of a celebration. You see David Freese, wearing the home jersey of the team he grew up loving, delivering two hits on a misty October night at Busch Stadium.
You see these things and assume them to be routine. The Cardinals are going to the World Series? Of course they are. This is the premier organization in baseball. They won it all in 2011. They came within one victory of making it back to the Fall Classic last year. Now they are going again, and you'd think these players must be used to this by now.
They aren't.
I could tell you the various events that led to the Cardinals clinching their 19th World Series berth with a 9-0 victory over the Los Angeles Dodgers in Game 6 of the NLCS. But I'd rather share the most remarkable statistic of all: Of the 25 players who defeated the Texas Rangers in that indelible World Series two years ago, just six were on the Cardinals' roster in this series.
Five position players remained the same: Molina, Freese, Daniel Descalso, Matt Holliday and Jon Jay. Lance Lynn was the lone holdover on the pitching staff. That's more than three-quarters turnover from a world championship team in only two years.
When I mentioned that to Freese, he almost didn't believe me.
"Is that right?!" he asked. "That's incredible. Front office. They understand what it is to be part of the Cardinal organization. It's a special thing. You can't take this for granted. You might have a larger opportunity to play in the postseason when you're a St. Louis Cardinal, but there's a reason for it. You work hard. You start in spring training. You go to work.
"Winning's great and everything, but being around these guys each and every year - even the new guys - it's special. It's all about who you do it with."
With a few exceptions, those weren't Tony La Russa's guys dancing on the field Friday night. Because of injuries, age and a rush of talent from within, general manager John Mozeliak and manager Mike Matheny have made wholesale changes to a championship team.
In a sense, that is one of the strongest demonstrations of a healthy organization. The Cardinals weren't afraid to incorporate new personnel - including six rookies on the 12-man postseason pitching staff - because they had the culture (and catcher, in Molina) to support them.
BELTRAN BUSTS THROUGH
As the Cardinals celebrated the pennant, one player after another told me how happy they were for one man: Carlos Beltran.
Beltran, 36, has reached the postseason with three different franchises. He's become one of the most productive October hitters of his generation. He impacted this series with a walk-off single in Game 1 against the Dodgers. Until Friday, though, he'd never reached a World Series. And the respect for Beltran is so immense - within the sport and especially the Cardinals organization - that his teammates held off on spraying champagne in the clubhouse until after he entered.
At that moment, they descended on Beltran and doused him with all manner of suds in a happy, jumping mob. Freese told me that aspect of the celebration was planned in advance.
"Absolutely," Freese said. "This is all about him. When we got him last year, within a day or two of spring training, we fell in love with him. Obviously, we knew he was a great talent. But he's an even better person, better friend, better teammate. Fifty years from now, if I'm still walking around, I'm going to think about Beltran getting to the World Series."
Adam McCalvy of MLB.com noted recently that Beltran had played six NLCS games in four different years - '04, '06, '12 and '13 - in which a win would have meant a World Series berth. And he was 0-for-7. After Friday, 1-for-8 never looked so good.
Beltran's wife, Jessica, had a good feeling the wait would end this year. Why? She said she awoke at 4 a.m. Friday to find her husband awake and going through the motion of his swing. She figured he'd have a big Game 6 - and she was right. Beltran finished 3-for-4 with two RBIs and made the defensive play of the night - a diving, sprawling catch in right field to deny Juan Uribe an extra-base hit when the St. Louis lead was only 4-0.
SHUFFLED STAFF
One more note on the Cardinals' roster turnover: Remarkably, their postseason rotation and closer have changed entirely since 2011.
The '11 cast: Chris Carpenter, Jaime Garcia, Kyle Lohse and Edwin Jackson; closer Jason Motte.
Now: Adam Wainwright, Joe Kelly, Michael Wacha, and Lynn; closer Trevor Rosenthal. (Carpenter, Garcia and Motte are injured but still with the organization.)
INSTANT IMPACT
I've said it before, and I'll say it again: Wacha went No. 19 overall in last year's draft. Were there really 18 players better than him in that class?
Wacha was a deserving selection as NLCS MVP after beating Dodgers ace Clayton Kershaw twice , including a 1-0 decision in Game 2 that will be remembered as one of the signature performances of this postseason.
When I asked Lynn if - before the series - he would have been surprised to see Wacha earn two wins against Kershaw, he gave me a quizzical look and asked if I'd seen Wacha pitch at all over the past month. Fair enough. Many of Wacha's teammates had the same reaction.
"This is how he pitched in spring training for us, how he pitched down the stretch," Wainwright said. "This is what we've come to expect from him."
Very soon, the American League champions will take their turn against Wacha. Good luck with that, guys.
The original article can be found at FOXSports.com: More success for model organization.