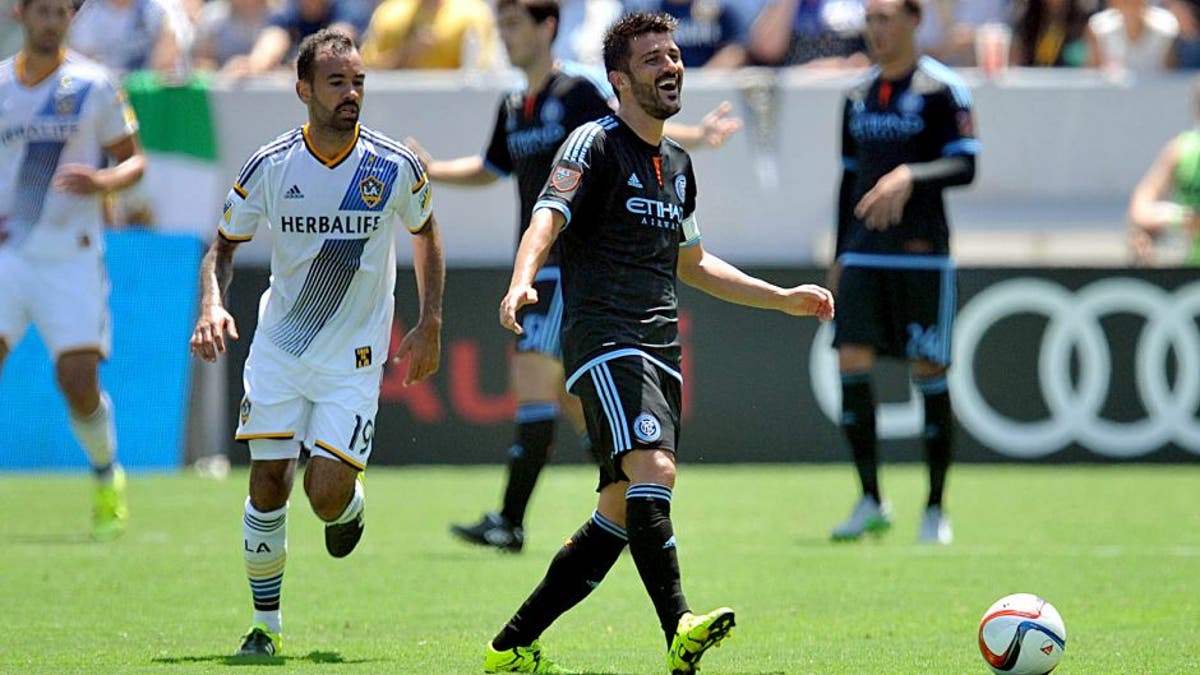 NYCFC still figuring out how to distribute the load
This latest thumping proved too much for New York City FC captain David Villa to handle. Villa huffed that he needed some help after scoring his 15th goal in NYCFC's 5-1 defeat at LA Galaxy on Sunday. His frustration is well founded: The former Spain forward leads a side with gaping holes in midfield and defense, even if Kwadwo Poku serves as an increasingly worthy foil up front. Some of the issues are endemic to an expansion team (a lack of depth and a paucity of consistent figures), but most of the concerns are down to rickety structure and poor performances. Galaxy coach Bruce Arena kindly suggested Frank Lampard might erase most of those concerns when he reaches full fitness. It won't happen unless Lampard operates in the heart of defense or transforms into a number six capable of breaking up the play. It is down to NYCFC coach Jason Kreis to manufacture some solution to close up those yawning gaps in midfield and mask the individual issues at the back to ensure Villa receives the support he deserves and needs.
Clever movement fuels Galaxy romp
Arena and his rampant Galaxy exploited NYCFC's structural concerns with their typically intelligent work off-the-ball. Giovani dos Santos and Robbie Keane cause nightmares for opposing defenses with their willingness to drop off the line to force difficult decisions. Keane punished NYCFC's poor recognition with a clever run toward the touchline on the opening goal, while the duo combined neatly on the second and third goals by dropping into awkward areas to play behind the NYCFC line. Steven Gerrard, Sebastian Lletget and Gyasi Zardes with a mixture of late runs, neat work in combination and timely surges out of midfield. The entire package proved far too much for NYCFC to manage, even with the Galaxy's first-half wastefulness. It remains to be seen whether other teams -- particularly outfits with more reliable organization in midfield -- can temper those ambitions accordingly.
RSL turn back the clock to defeat subdued Sounders
Real Salt Lake climbed to the top of MLS by creating and maintaining cadence in possession. Those principles dissipated a bit over the past few years, but they surfaced once more after a pair of early goals at Rio Tinto Stadium on Saturday. RSL spent the remaining 70 minutes knocking the ball around assuredly and managing space and tempo deftly. Seattle presented only an intermittent threat to disrupt that rhythm with the absence of Osvaldo Alonso keenly felt in midfield. It proved another disappointing and disjointed night for Sounders FC, but it also held promise for RSL. There is a need to play more directly now to showcase the talents of Sebastian Jaime and Joao Plata, but the ability to control the proceedings remains a useful tool as RSL aims to barge into the Western Conference playoff picture.
Toronto FC benefits from dismissal, tactical adjustment
TFC coach Greg Vanney made two substantial decisions in the buildup to the 5-0 victory over Orlando City on Saturday: He dropped Jozy Altidore to the bench and he switched to a 4-2-3-1 setup designed to reduce time and space in midfield. The resulting performance -- aided substantially by Rafael Ramos' dismissal before halftime -- vindicated the choice. TFC gave little away in the first half and then relied on the additional stability to free Michael Bradley to cause havoc after the interval. Bradley's continued forays into awkward spots -- particularly when he drifted to the left channel -- pulled apart the 10-man visitors. Altidore supplied a welcome exclamation point with a late double as a substitute. If Altidore can find his best form and free Sebastian Giovinco to rove menacingly, then the Reds might end up shifting away from that midfield diamond for good.
Simple steps turn San Jose into complex threat
Quincy Amarikwa and Chris Wondolowski form a rather unorthodox front two. Amarikwa offers a rather unique threat: He occupies defenders with his surprising strength and serves as a reliable touchstone in attack. His selfless work provides Wondolowski with the opportunity to combine neatly and drift further afield to search out opportunities. Both players now receive plenty of service from Cordell Cato and Shea Salinas in the wide areas. There is no muss and fuss in this team at the moment, particularly with Matias Perez Garcia on the sidelines and Fatai Alashe and Anibal Godoy holding resolutely in central midfield. These familiar principles -- get it down, get it wide, get it in the box -- engineered a startling 5-0 victory at Sporting Kansas City in midweek and laid the foundation for a 2-0 triumph at D.C. United on Saturday. The emerging question at Avaya Stadium: Do they point the way toward the postseason?