Miami's Lamar Miller making strong case during camp for starting running back job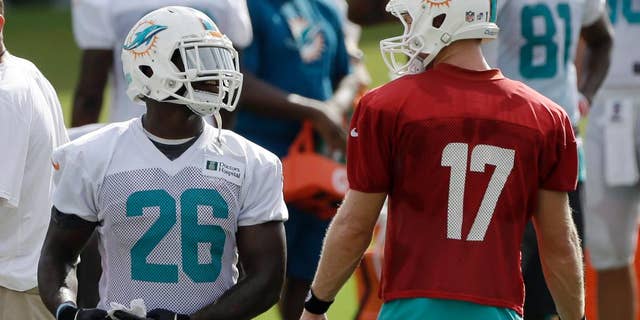 DAVIE, Fla. – Miami running back Lamar Miller plans to maximize his speed and quickness in the new offense the Dolphins are implementing.
With veteran free agent Knowshon Moreno unable to participate in camp due to a knee injury, the starting job right now is Miller's to lose. The Dolphins conducted their sixth practice of training camp Thursday and so far Miller has made a strong case in the eyes of new offensive coordinator Bill Lazor and head coach Joe Philbin.
"We're still primarily a zone-blocking team," Philbin explained. "That's still the starting point and so in the zone game if you incorporate the read aspect to it sometimes you're hoping to create a little crease and slow a little bit of the pursuit down on the backside and utilize Lamar's speed to hit that hole and go."
Miller, entering his third year in the league, led the team in rushing last season with 709 yards and two touchdowns on 177 carries. He also caught 26 passes for 170 yards, which is something that the Dolphins could do more of with the former Miami Hurricane.
The Philadelphia Eagles, where Lazor came from, had the league's leader in total yards from scrimmage last season in running back LeSean McCoy. He rushed for 1,607 yards and added 539 receiving yards for a combined 2,146 yards and Miller spoke with McCoy during the offseason to get some tips on what Lazor was bringing to Miami.
"I think Lazor is doing a great job with the offense, just opening the offense for me and the running backs to get into the open field to make big plays for this offense," Miller said. "One of my main goals was just to get bigger and stronger and I feel like this past offseason helped me out a lot.
"I want to become more of a well-rounded running back and you've got to have that mindset of just coming out here and getting better and competing."
Even though Lazor didn't coach Miller last season and only was able to watch film of him, he sees a similar skill set as McCoy and the potential of having a player capable of making some big plays.
"Lamar, I think, has a chance to be a really good player in this league because I think he has a good mix of, number one, being a space player, having the ability to use his speed," Lazor said. "In our short-yardage situations, I thought he got downhill. If he'll put those things together, I think he's got chance to be a real productive player."
Notes: The team announced that wide receiver Mike Wallace (hamstring) and center Sam Brenner (ankle) are expected to miss extended practice time. Wide receiver Damian Williams and linebacker Tariq Edwards also did not practice and defensive tackle Anthony Johnson and wide receiver Matt Hazel were injured during practice and did not return. . Thursday's practice was closed to the public, as the entire staff of the organization was invited to watch.
___
Online:
AP NFL website: www.pro32.ap.org and www.twitter.com/AP_NFL