Mets' Jacob deGrom: 'That's probably the hardest I've had to work'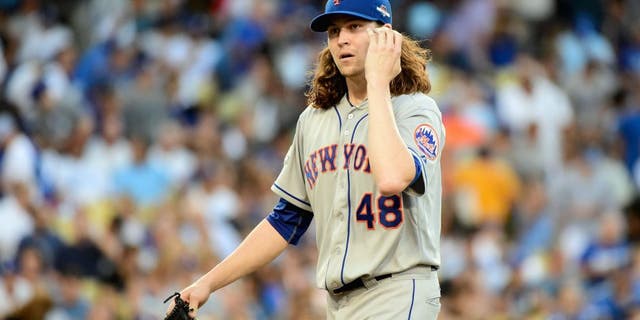 NEWYou can now listen to Fox News articles!
Jacob deGrom was not the same pitcher in Thursday's Game 5 as he was in a dominant Game 1 start. Harry How Getty Images
Unlike his dominant performance in Game 1 of the NLDS, Jacob deGrom knew he didn't have his best stuff early on in his Game 5 start against the Dodgers, and had to labor through his six innings of work on Thursday.
While he held the Dodgers scoreless in Game 1, deGrom was bopped around by Los Angeles for two runs in the bottom of the first inning. When he began to struggle in the second inning as well, manager Terry Collins immediately had rookie flame-thrower Noah Syndergaard warming up in the bullpen.
"I honestly didn't know," deGrom said of his thoughts when Collins came out to the mound in the third inning. "I knew I was struggling. He came out there and said, 'Hey, let's go one pitch at a time. They're not going to score anymore.' He had confidence in me. I'm thankful I got to stay in that game."
Despite his early struggles, the 27-year-old fended off the Dodgers, who were unable to string together runs despite hitting deGrom well.
Los Angeles didn't score another run after the first inning, and the Mets won the series-clinching game by a score of 3-2.
"I think that's probably the hardest I've had to work," deGrom said. "I knew from Inning 1 it was going to be a battle. I knew then I didn't have my best stuff. And that's a good lineup over there. It's not fun when you don't have your best stuff against them.
"The fastball was the toughest pitch I had locating, which is not normal for me. I had pretty good control of my curveball, so I went to that quite a bit. I was trying to get first-pitch strikes with that. With two strikes I was using it a lot, too."
Matt Harvey, who struggled through his Game 3 start, admired deGrom's perseverance.
"He battled through six innings. And that was enough. That was all we needed. When we have our good games, it's pretty easy for us," Harvey said. "Then we have those kind of games where we're scuffling and really dig deep and find a way to get it done."