Matt Mitrione to undergo surgery on broken orbital this week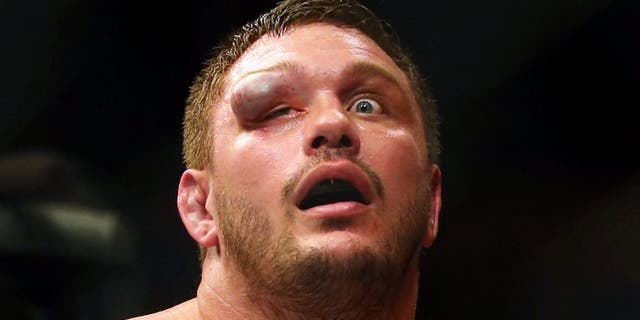 NEWYou can now listen to Fox News articles!
There's a reason why the area around UFC heavyweight Matt Mitrione's right eye looked so gross and damaged -- it was. Ariel Helwani reports that the big man's right orbital was broken in his fight against Travis Browne, and that he's having surgery to repair it early this week.
Mitrione was poked in the eye repeatedly by Browne, without the referee recognizing some of them and with him issuing no penalties for any of them. Of course, Mitrione was also punched in his eye a great deal by Browne.
The fight was a relatively close-fought one until Mitrione was poked in the eyes for the second time, however. Mitrione would go on to lose the fight -- the last on his UFC contract -- but there is some good news regarding his injury.
According to Helwani, Mitrione is happy that the injury is "non-weight bearing and (that the area) has significant blood flow." Injuries sustained in areas of the body with little blood flow like, for example, the knee, are slower to heal than those with a good supply of the stuff.
Mitrione isn't sure how long he'll be out after surgery.