Many saying Javier Baez the reason Cubs in NL Championship Series for 2nd year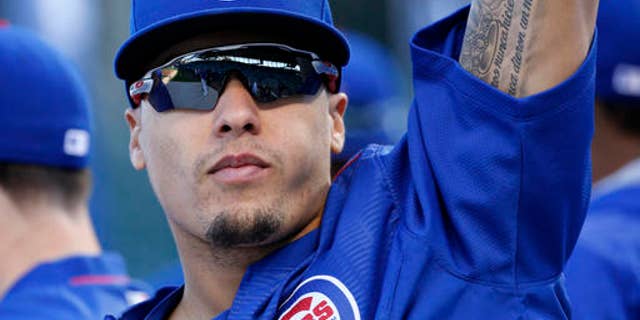 NEWYou can now listen to Fox News articles!
CHICAGO (AP) – Javier Baez is putting on quite a show for the Chicago Cubs. And he just might be turning these playoffs into his personal stage.
Whether he's hitting a game-winning home run or making some spectacular defensive play, Baez has been hard to miss in these playoffs. And he's a big reason why the Cubs are in the NL Championship Series for the second straight year.
"I've got a job to do," Baez said. "I'm not surprised. I know what I can do. I know what this team can do. I'm just having fun right now and obviously trying to win."
It must be fun to be Baez these days.
The Cubs came into the postseason with the best record in the majors and their sights set on their first championship since 1908.
They knocked out San Francisco in four games in the NL Division Series in no small part because of Baez's play at the plate and at second base. They open the NLCS against the Dodgers at Wrigley Field on Saturday, and if they take out Los Angeles, a franchise defined more by curses and heartbreak will go to the World Series for the first time since 1945.
On a team loaded with stars, Baez has been putting on quite a show in the postseason.
He hit the winning home run off Johnny Cueto in the opener against the Giants and the go-ahead single in the ninth in Game 4.
On defense, playing mostly second base, it was as if the Baez highlight reel was on a nonstop loop with no shortage of diving stops and lightning quick tags.
Even when he was chewing gum in the dugout Baez managed to amaze. Take this gem from Game 4 of the NLDS.
The gum popped out after Baez put it in his mouth, but what happened next was about as impressive as any play he made in the field. He juggled it a few times, finally snagged it with his right hand. Baez pointed at a trainer as he was about to put it back in his mouth, then looked the camera, and grinned.
"I saw the camera," Baez said. "I didn't know if he got it or not, but I caught it."
No surprise.
After all, the 23-year-old Baez has been catching just about everything that comes his way this season. And if that's not enough, he also hit .273 with 14 homers and 59 RBIs in 142 games.
That's a big jump considering he struck out 95 times in 213 at-bats .169 after he debuted for the Cubs in 2014. But his swing is more compact now. He closed his stance and cut down the big leg kick he had when he first arrived.
Now, he's looking like a breakout star.
Manager Joe Maddon noticed the potential watching Baez in winter ball in Puerto Rico, right after he was hired two years ago.
"Everybody was talking about his hitting and the fact that he needed to hit better at the plate and be more selective," he said. "And I was, 'OK, I get that.' I was impressed by everything else that he did. Sometimes we get caught up on somebody's weaknesses and don't glorify their strengths. I mean, his strengths are pretty outstanding."
Baez was taken by the Cubs with the ninth pick in the 2011 amateur draft and worked his way through the minors as a shortstop. But with Addison Russell there, he has become a super-utility player.
That could change down the line, depending on the moves the Cubs make. But they are relying on him to play multiple positions — and to play them as well as anyone.
Baez just might be the best defensive second baseman, shortstop and third baseman on the team. And considering Russell could win a Gold Glove, that's saying something.
When the Cubs believe more balls will be hit to the right side, they put Baez at second. When they think the left side is where the action will be, he might start at third. And when Russell needs a breather, well, who better than Baez to fill in at shortstop?
"You have to get used to being flexible, not knowing what the lineup's gonna look like and just jumping in there and being ready to help and do whatever you can," said Ben Zobrist, who has built his career around playing multiple positions. "And he's done a great job of that this year. There's been days he hasn't played. And there's been days he has. And there's been days he's come in mid-game or late in the game for defensive purposes. Whatever role they put him in this year, he's done really well and he's had a great attitude about it."
Like us on Facebook
Follow us on Twitter & Instagram