On tour of U.S., Cuban national baseball team suffers only one loss: a defection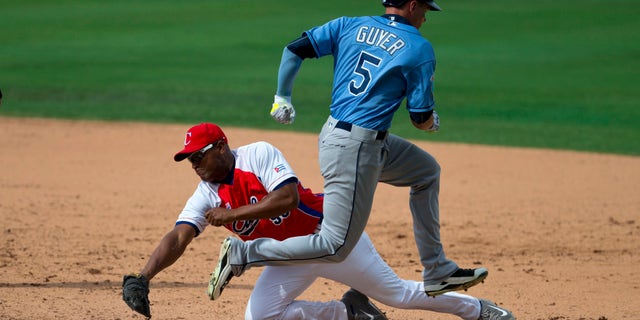 NEWYou can now listen to Fox News articles!
The Cuban national baseball team, participating in its first string of regular-season professional games in the United States since 1960, experienced one big loss even as it won all seven games it has played so far since arriving in the country.
The team, which hosted the Tampa Bay Rays in March in what was the first time a U.S. major league baseball team played on Cuban soil since 1999, on Tuesday night began a three-game series against the New Jersey Jackals, winning 9-4. Last week they played three games each against the Sussex County (N.J.) Miners and Rockland (N.Y.) Boulders, winning every one.
The Cuban's only loss, in fact, took place off the field – while on a shopping trip, 24-year-old outfielder Lazaro Ramírez disappeared. He is believed to have defected.
The New York Daily News said that Ramírez was discovered missing when the team arrived at Palisades Credit Union Park in Pomona in Rockland County, and the outfielder was not present. The Daily News said a spokesman for the Boulders confirmed that Ramírez had disappeared.
The Jackals, who play at Yogi Berra Stadium in Little Falls, Miners and Boulders are part of the Canadian American Association of Professional Baseball – or the CanAm League, as it's called informally – an independent minor league with six teams the U.S. and Canada that, this season, is hosting the Cuban national team and an all-star squad from Japan's Shikoku Island league as part of its regular season.
The Cubans will close out their 20-game tour through the league with a "home" game in Trois Riviéres, Quebec, against Shikoku Island on July 2. They played the league's Canadian teams during the first leg of their trip, going 3-7 before reeling off 7 straight win.
The tour is expected to help prepare the Cuban national team for the 2017 World Baseball Classic.
Ramírez, who was hitting .304 before he disappeared, would join a long list of Cuban baseball players who have defected in the hope of making it onto a U.S. major league team, like Yankees closer Aroldis Chapman, Chicago White Sox slugger José Abreu and New York Mets outfielder, Yoenis Céspedes.
Scouts from major league teams, including the New York Yankees, Philadelphia Phillies, St. Louis Cardinals, Colorado Rockies, Oakland A's, Cleveland Indians and Texas Rangers have been attending the games to watch the Cuban players, according to NJ.com.
Cardinals scout David Ruckert tol NJ.com that U.S. teams have their eyes on left fielder Luis Robert, 19, and center fielder Julio Martínez.
"(They're) two great outfielders, young guys – that's who everybody's looking at," Ruckert said. "We're taking a look at everybody right now. It's big competition as far as the United States, and big interest as far as them coming over here instead of us having to go to an international competition. It gives us a great look at them to see what they really have."
On Monday, the team visited the Yogi Berra Museum and Learning Center in New Jersey. The director of the Cuban Baseball Federation, Heriberto Suárez, said he was overwhelmed by the welcome the team was receiving in the United States, according to the Record of North Jersey.
Suárez told the Record that one objective of the Cuban team's visit was to "unite different countries and different people."
While the team's tour of the U.S. has been heralded as yet another sign of the thawing diplomatic relations with Cuba, remnants of the Cold War, several media reports noted, clearly were present during its visit.
The Yankees' 1990s star pitcher, Cuban exile Orlando "El Duque" Hernández, was at Rockland County to throw out the first pitch before one of the national team's games against the Boulders. He complained that he received a chilly reception from the Cuban squad when he tried to greet them.
"No one says 'Hi' to me. No one shakes hands," Hernández told reporters. "I don't understand why. I respect the national team, respect everyone. I'm a baseball player. I love Cuba. It's tough. I say, 'Good luck,' to everybody, say, 'Good luck,' to the national team of Cuba. That's it."
Like us on Facebook