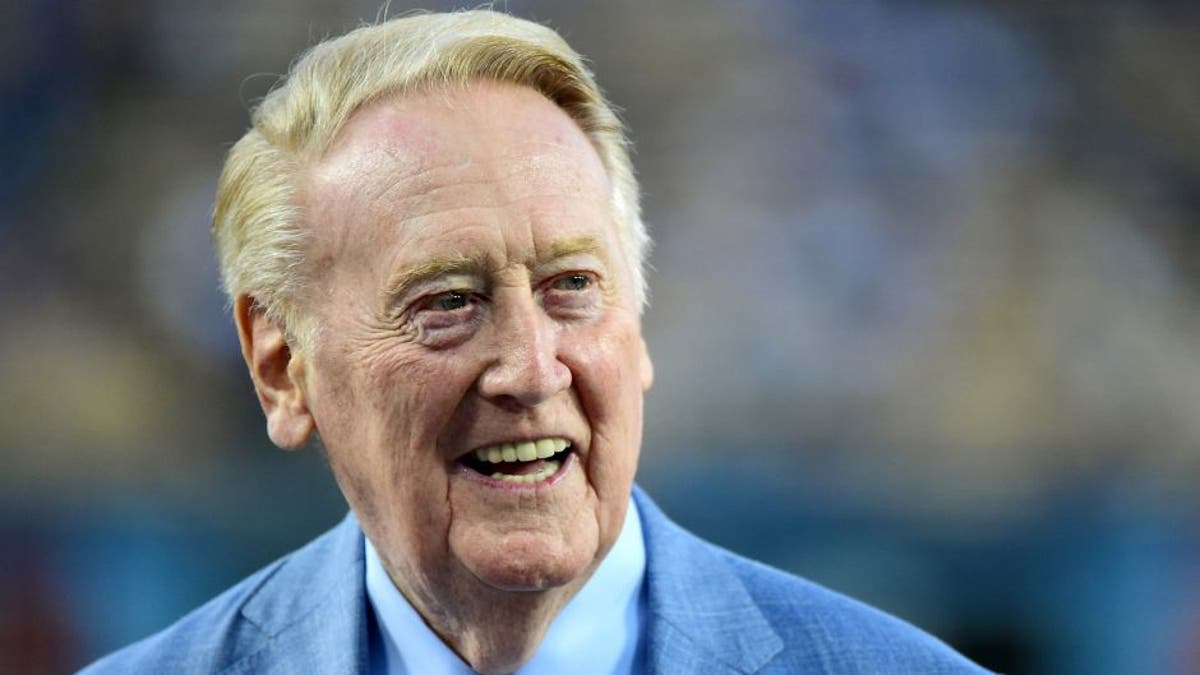 Vin Scully has seen it all in his 67 seasons as the Voice of the Dodgers -- from miracles, misery and apparently also a prescient pitcher.

During what looks like a photo shoot ahead of what will be his final home opener on Tuesday, the living legend told the folks gathered around a story about starting pitcher Carl Erskine in 1952. Watch courtesy SportsNetLA:
That game was played on June 19 at Ebbets Field against the Chicago Cubs when the Dodgers were still in Brooklyn. Erskine nearly threw a perfect game but issued one free pass.
An article by Bob Hurte for the Society for American Baseball Research sheds more light on that base-on-balls and a game of bridge the players used to kill time during a rain delay (condensed):
It was a heavy, overcast day and rain was said to be imminent. Minutes before the game Vin Scully, the young Dodger announcer, came over and sat down next to Carl, who wondered out loud, "I wonder what the little pill has in store for me today?"
Since it seemed that it would rain at any time, it was Carl's job to get the Cubs out quickly and get five innings in so the game could go into the books. Ramsdell, a notoriously weak hitter, stepped into the batter's box. For some unknown reason, Carl pitched Willard carefully and threw four successive balls to walk him.
Then the skies opened and the rains came, causing the players to retreat to the clubhouse. It was the Dodger pastime during times like that to play cards. Bridge was their game of choice. They played for 40 minutes. Carl had just made a four-heart hand, when word came out that the game was on again. Erskine changed into a dry uniform. He went on to complete the game, winning 5-0 in route to pitching a no-hitter.
If the game were played today, Erskine may have been pulled after the delay and the pitching left to a reliever. Scully has witnessed such an evolution.
Tune in for the Dodgers' home opener against the Diamondbacks at 4:10 p.m. ET on Tuesday.