Kings will try to put painful loss behind them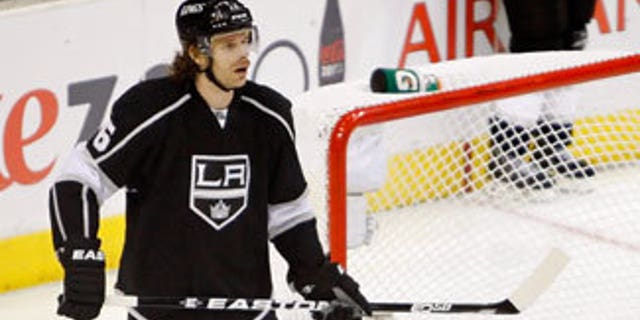 LOS ANGELES – The media scrum gathered around Jonathan Quick's locker in a profoundly sober Los Angeles Kings dressing room late on Tuesday night.
After they lost Game 3 of this Western Conference Quarterfinal in jaw-dropping fashion when they blew a four-goal lead to San Jose and fell, 6-5, in overtime, the question was obvious:
How in the world do they put one of the most painful losses in club history behind them?
"The same as if we won it OT," Quick said. "It's one game and we'll move on."
That might be easier said than done.
Seventh-seeded Los Angeles was up, 4-0, in the second period and was staring at a 2-1 series lead against a San Jose team that reached the Western Conference Finals last season.
But the Kings inexplicably couldn't maintain that energy and drive after Brad Richardson's goal just 44 seconds in the second period and seemingly fell apart to deflate the home crowd.
L.A. was outshot, 18-8, in the second as San Jose finally got its big guns going.
"We just had some breakdowns," defenseman Matt Greene said. "(We) took our foot off the gas pedal there. They made us pay, and that's it."
Patrick Marleau started the comeback and Ryane Clowe's first goal broke an 0-for-9 power-play drought for San Jose. Clowe later delivered a one-timer to pull the Sharks to 5-4 and Joe Pavelski tied it with 31 seconds remaining in the second as L.A. completely unraveled.
San Jose became the fourth team in NHL history to erase a four-goal deficit in the playoffs, and it handed Los Angeles its third straight postseason home defeat.
Kings coach Terry Murray took the first question in his postgame press conference and replied with, "I'm only going to talk about this for a very brief time here because you can go a lot of different ways with this."
Murray then detailed his team's collapse: turnovers, poor puck management and getting caught on long shifts.
"Guys were out there in the second period for two-and-half minutes where we couldn't get a line change, especially with our defensemen," Murray said. "So you're exhausted, you're rattled, you start doing things that are very uncharacteristic, obviously, and now they're playing the game the way they want. They get into a track meet, that's the game they want after getting down, 4-0, and we obliged them."
Murray said there was no excuse for what Greene and others described as backing off after taking that early lead.
"We can use whatever they talk about, but it's about making plays with the puck," Murray said. "It's about composure. If you do the right things with the puck as you get through the middle of the ice and get it in behind, like we were in the first period, then there's no let up in any areas. There's no letting your foot off the gas pedal."
If Los Angeles is going to put Game 3 behind them, it has to figure out how to deal with a San Jose team that has all the momentum after a remarkable comeback.
"We had a good first, but it's the playoffs and we didn't do the things that made us successful in the first two games and the first period," Kings captain Dustin Brown said. "We needed to get the puck deep and just move the puck and we made some good plays, but a lot of that was the result of not getting the puck deep. So we have only ourselves to blame."