Kevin Lee: Sage Northcutt is a 'rich white boy' who will crumble under adversity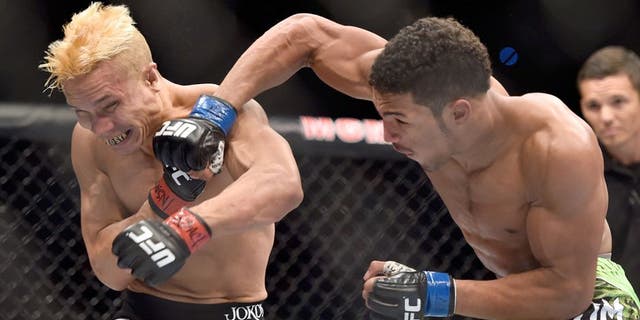 NEWYou can now listen to Fox News articles!
Lightweight Sage Northcutt has spent most of his 19 years preparing to be a star. When he hit the big stage Oct. 3 in Houston at UFC 192 in his promotional debut, he proved that he was ready for the bright lights and pressure, scoring a first-round TKO victory.
He's been celebrated roundly since then, but fellow UFC lightweight Kevin Lee isn't a fan of the future poster boy. "I just know he's a rich, privileged white boy, and as soon as he gets in there and gets hit and sees some adversity thrown into his face, I think he's going to crumble," Lee told MMA Junkie Radio, on Monday.
"I think I'm a better striker than him. I damn sure know I'm a better wrestler than him, so I think I can beat him everywhere."
Lee is so sure that he can whoop Northcutt that he called in the radio show after Northcutt was interviewed by the hosts just to call the Texas youngin' out. In fact, Lee already has a fight scheduled at UFC 194 in December against Leo Santos, but that didn't stop him from saying he'd be willing to fight Sage, instead.
"[UFC] 194, here in Vegas, biggest fight card of the year. He'll live the shortest career that the UFC has known," the 23-year-old goaded Northcutt.
Lee went on to compare Northcutt to featherweight star Conor McGregor, who got a big push from the UFC within a short period of time after making his debut, and who parties with UFC owners and brass while enjoying special favors from them. "[Northcutt] might get [a push] after two because he's going to get the Conor McGregor treatment," he said.
"[UFC president] Dana [White] is going to ride him around his Ferrari on the strip."
Before you decide that Lee is being a bit too outlandish, let's all remember how White did in fact take McGregor for an intimate joy ride in an expensive sports car in Las Vegas, early in the Irishman's run.
It turns out that UFC fighters caught on the outside, looking in, may not take too kindly to fighters like McGregor toasting victories over them backstage with expensive liquor with the presidents of the promotion. Lee says others may be afraid to speak out about their feelings but he isn't.
Now that he's anticipating Northcutt getting the classic "Great White Hope" treatment, Lee is targeting the happy go lucky rookie. "I think a lot of other fighters feel that," he continued.
"They won't say sh*t, but I will. We can settle it right now. I hope he's listening in so he can hear me -- he can hear what I'm sayin about him. I'm going to call [UFC matchmaker] Joe [Silva] as soon as I get off the phone with you guys. We can do it at [UFC] 194."