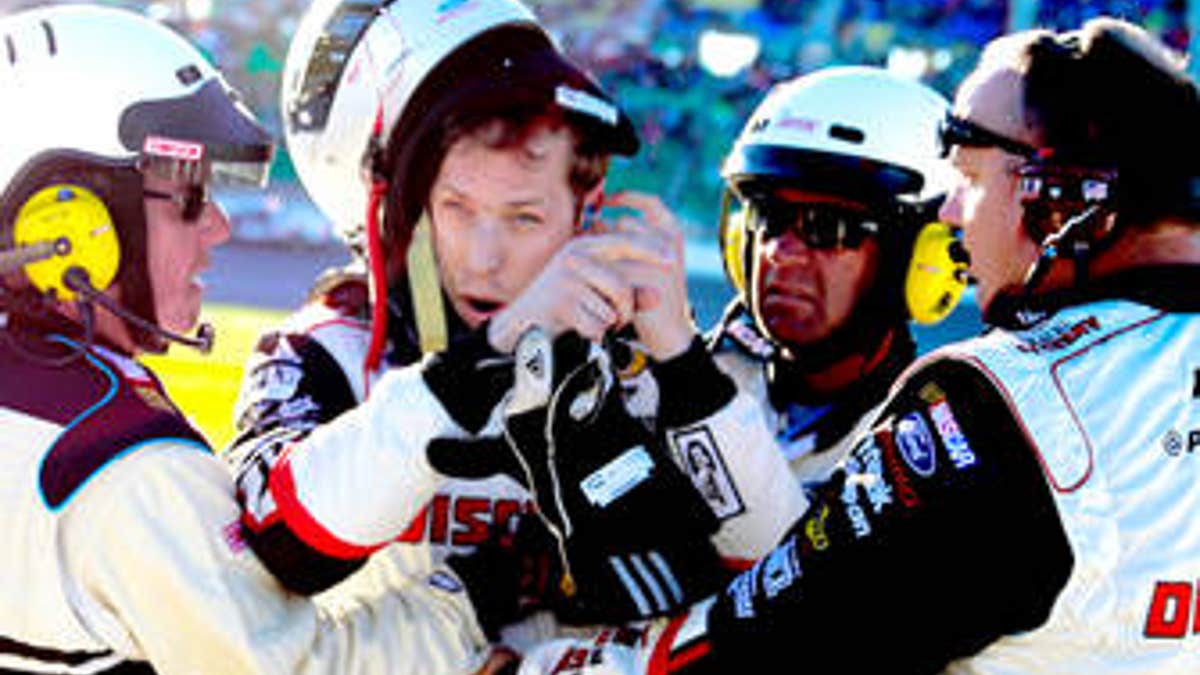 "Now, we got war," was the warning issued by Brad Keselowski after Kyle Busch dumped in the Nationwide Series race at Kansas Speedway on Saturday.
The battle between the brash 20-somethings of NASCAR was rekindled after Busch dumped Keselowski on Lap 188.
Keselowski climbed from his mangled car, motioned at his nemesis, patted his back side then sprinted to the infield care center, where he was seen and released. With less than 10 laps remaining in the race, Keselowski darted back to the NNS garage in a golf cart but didn't have enough time to return to competition and finished 28th.
"He's a dirty driver; there's no other way of putting it," Keselowski said. "He's cool with that. I've raced him real cool over the last year to try to be respectful to him and trying to repair our relationship. I've watched him wreck my trucks, cost me from winning races, put me in the fence at Chicago in the truck race. Nationwide races, he's been pulling this crap.
"It's not going to last. I can tell you that. I feel bad for the guys next to me (pointing to the No. 54 hauler). They're going to have to fix his (crap)."
Busch, who finished fourth, found Keselowski's use of "dirty driver" ironic.
"Brad Keselowski knows what dirty drivers are because he's done it plenty of times," Busch said. "I have yet to wreck a person on purpose."
Busch said he simply became tight on the race track and slid across the back of him. He wasn't sure why the No. 22 Ford "wasn't fast enough to stay away from" the No. 54 Toyota.
"I was faster than he was for as tight as I was -- and when I got underneath him a little bit there off of Turn 4, I got inside of his wake and got too close to him and it pulled me right into him," Busch said. "Once we touched, he was gone."
However, Busch believed that Keselowski was blocking him during the race Saturday.
"A prime example of that was down the front straightaway and the back straightaway a couple times," Busch said. "He came down and blocked me and actually ran into me. I didn't appreciate that very much.
"But I'm not out there to take vengeance on a Nationwide Series championship. I've got bigger fish to fry on Sundays than on Saturdays."
Although race winner Matt Kenseth was leading at the time of the duel between the Nos. 22 and 54, Keselowski said before the wreck, "it was good hard racing, it was probably going to be for the win," before the caution came out for his spin.
"It's doubtful that the 18 would have run out of gas; maybe it would," Keselowski said. "But the odds were in the favor of whoever was going to win the battle between me and Kyle. So I'm sure Kyle knew that. He didn't want me to race him hard so he just dumped me down the straightaway. I think that's pretty self-explanatory.
"And I'm not going to stand for it. He's got a lot more to lose than I do. I guess that's the only good thing about not being in the Chase."
Both Keselowski and Busch acknowledged attempts at smoothing out an ongoing feud that has spread from trucks to Nationwide and the Sprint Cup tour. Last season during Keselowski's championship run, a detente was established between the racers, but now with the tables turned and Busch in the title hunt and the champ on the outside looking in, all bets are off.
"We were good," Keselowski said. "We've had a solid year of racing each other and now we got war. He started it and he can have fun with the results."
Busch has no desire to apologize to Keselowski. He told FOXSports.com, "I don't have Brad Keselowski's phone number. Don't need it, don't want it. He didn't call me after Watkins Glen."
Busch still believes that the wreck between him and Keselowski last year on the last lap at Watkins Glen four races before the Chase started cost him a berth in the playoffs.
"I think I'm a bigger man than he is, because last year at Watkins Glen he crashed me out of a Chase spot, and ultimately I went on through the rest of the year and had some opportunities to race him hard or dirty and wreck him and get myself paid back, but I didn't," Busch said.
"I was the bigger man there and let him and Jimmie (Johnson) race it out. Texas, the last couple restarts there, I could have taken full advantage of it and didn't. It just goes to show you what kind of person Brad is."