Joseph Benavidez wins fourth in a row with decision over Ali Bagautinov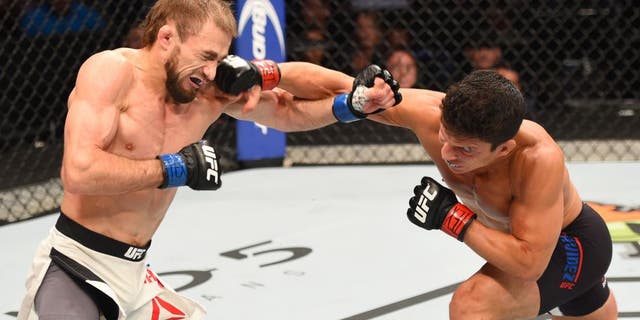 Joseph Benavidez didn't get the fight he wanted, but the No. 1-ranked flyweight contender still picked up a unanimous decision over Ali Bagautinov to get his fourth win in a row, overall.
Benavidez outworked and outhustled Bagautinov throughout three rounds, but just couldn't land a big enough combination to put the former title challenger away.
Bagautinov showed good striking in the early going with Benavidez, unleashing a nasty uppercut early and one punch that opened a cut over his opponent's eyebrow.
Benavidez stayed patient as he stalked Bagautinov across the Octagon, but couldn't find a home for a lot of his punches although he was constantly pressuring the flyweight from Dagestan.
The fighters continued to exchange on the feet in round two, with Benavidez landing his best punch about a minute in when he lunged forward and clubbed Bagautinov with a hard right hand.
Bagautinov got a rise out of the crowd when he got a body lock late in the round and took Benavidez for a ride through the air and back down again. Unfortunately, Bagautinov couldn't hold onto Benavidez, who quickly squirmed free and bounced right back to his feet.
Benavidez kept the pressure on in round three as well but Bagautinov didn't show much respect to his power whenever shots landed. Benavidez did manage a nice knee strike during a brief clinch, but Bagautinov backed out and continued to look for the perfectly timed counter strike that never came.
The fight came to an end with the Houston crowd unhappy with the performances thanks to a lot of close exchanges but no knockdowns or near finishes over three rounds.
The judges came back with scores reading 30-27, 30-27, 29-28 all in favor of Benavidez, who picks up his fourth win a row in the flyweight division.