Jose Reyes Gets Mixed Reviews at Return to Citi Field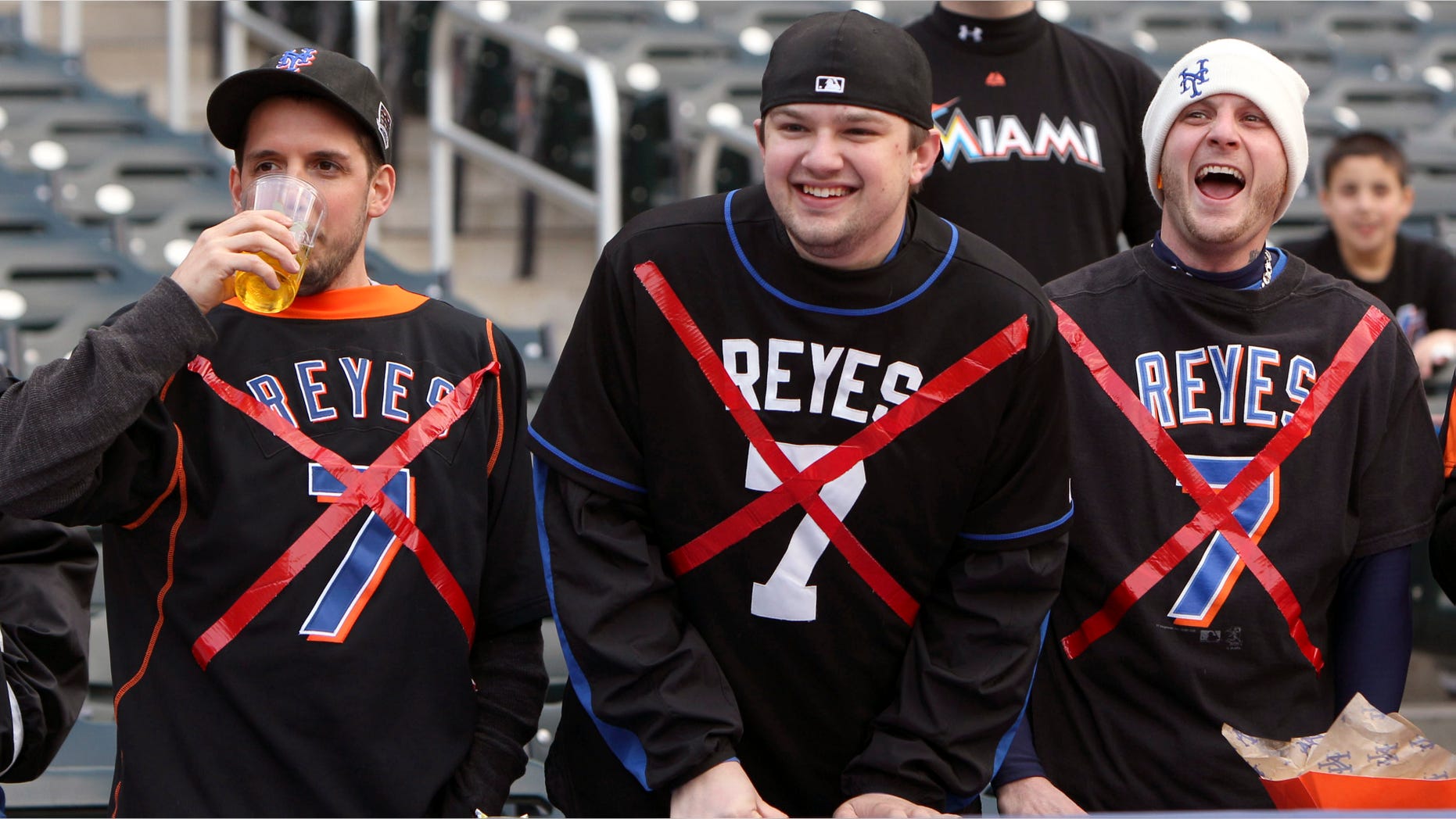 New York – Even without the dreadlocks, Mets fans still recognize José Reyes.
Back without the long locks but equipped with his signature grin, Reyes returned to Citi Field on Tuesday for the first time since leaving the New York Mets to sign with Miami.
In what he described as an exciting and emotional day, Reyes was taken aback by the media swarm waiting for him in the Marlins dugout.
Throughout the night, including during his video tribute, Reyes received a mix of cheers and boos, although the boos were louder.
"I play for another team now," Reyes said. "No hard feelings."
The speedy shortstop, who spent his first nine seasons in New York, nearly opened the three-game series with a bang when he hit a long drive to left-center leading off the first inning against Johan Santana.
Rookie center fielder Kirk Nieuwenhuis ran it down, though, and robbed Reyes of extra bases with a leaping catch at the 385-foot sign.
"I thought I had it," Reyes said. "I guess not."
He finished 0 for 4 and the Marlins were shut down by Santana in a 2-1 loss.
A homegrown star, Reyes was a fan favorite with the Mets before signing a $106 million, six-year contract with the division-rival Marlins in December. He said New York never made an effort to keep him once he became a free agent, but he has put all that behind him.
In the time since Reyes left, Mets owners Fred Wilpon and Saul Katz reached an agreement in court with the trustee for Bernard Madoff's fraud victims that gives the club more financial certainty.
Would he have stayed if the Mets had offered him the same deal the Marlins did?
"It's too late to think about that," Reyes said. "I know they have other kinds of problems there. I feel bad, I feel sorry for them. I mean, this is a business, man. ... I can't think about that (anymore). Like I said, I have a lot of respect for the owners of the New York Mets and everything and I wish all those people the best there."
Smiling and laughing on the Miami bench as he answered questions from reporters for 12½ minutes, Reyes said he couldn't wait to see the package of highlights from his tenure with the Mets that the team had planned for him.
They showed it on the big video board minutes before the first pitch and Reyes watched from the dugout. The screen then read "Thanks for the Memories!"
Reyes popped onto the field, smiled and waved quickly to a sparse crowd that was still filing in and then disappeared back underneath.
"I don't need to watch the video to know how good he was. I saw it firsthand," Mets manager Terry Collins said before the game.
Reyes wore a wireless microphone for MLB Productions during the game. Cameras clicked away as he came onto the field for batting practice and enthusiastically greeted a few former teammates.
"The funny thing is, when I got here today, I didn't even know where the visitors' clubhouse is. So I was kind of lost," Reyes said.
Not everyone at Citi Field gave him a warm greeting, though. A group of fans in left field chanted his name and held a sign thanking him. Three others perched behind the Miami dugout called Reyes a traitor and wore big, red Xs over his name and number as he played catch next to Marlins buddy Hanley Ramirez.
"Hanley, don't stand in front of Reyes. He may stab you in the back," one yelled.
The announced attendance was 20,192, the smallest of the season at Citi Field.
Based on reporting by the Associated Press.
Follow us on twitter.com/foxnewslatino
Like us at facebook.com/foxnewslatino