Jose Mourinho changes mind, says Lionel Messi is better than Cristiano Ronaldo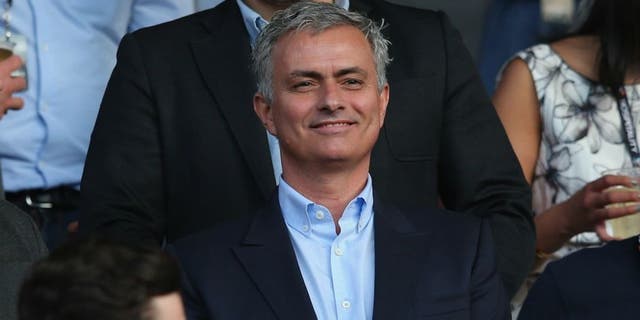 NEWYou can now listen to Fox News articles!
Manchester United boss Jose Mourinho has picked his best players of all time, listing Pele, Diego Maradona and Lionel Messi as his greats -- and seemingly throwing shade at fellow countryman Cristiano Ronaldo in the process.
"For me the top three players in history are Messi, Pele and Maradona," Mourinho said via Express.
While arguing about who is the best of all time, who belongs on soccer's "Mount Rushmore," or any number of the "best" arguments is usually a fool's errand, it nevertheless gives us something to occupy our time in the offseason.
Mourinho's admission is particularly perplexing, not only because the Portuguese spent three years managing Ronaldo at Real Madrid -- €" where the winger won the Ballon d'Or in 2013 -- €" but also because of Mourinho's comments back then.
"He is the best. The best in the world, yes. Probably the best ever," Mou extolled in 2013 about his prized Ronaldo via the Mirror. "I saw Maradona a couple of times. I never saw Pele. But Cristiano is amazing. This man is the best."
So... what changed? In the three years since Mourinho left Real Madrid and joined Manchester United, with a return to Chelsea in between, Ronaldo has won the Champions League twice and the Euros once. That's not to say that Messi doesn't belong or that Mourinho's current list is wrong. (Please refer to the aforementioned fool's errand about that discussion).
What's curious here is: Why would Mourinho go out of his way to seemingly impugn his former player? Even more so when the only rumor of Ronaldo leaving Real Madrid with even a shred of credence would be a return to Manchester United. This dig probably doesn't help those prospects, no matter how farfetched.
Perhaps his previous comments about Ronaldo were just used to protect the player he was manager of at the time. Maybe he really has seen something over the years that pushed Ronaldo all the way down in his mind. Who really knows? The only person who knows exactly what goes on in Mourinho's mind is Mourinho. We're all just spectators for The Theatre of Dreams' newest performer.
MORE FROM FOX SOCCER: