Joanna Jedrzejczyk on her intimidating face offs: 'I want to look into the soul, I want to see the fear'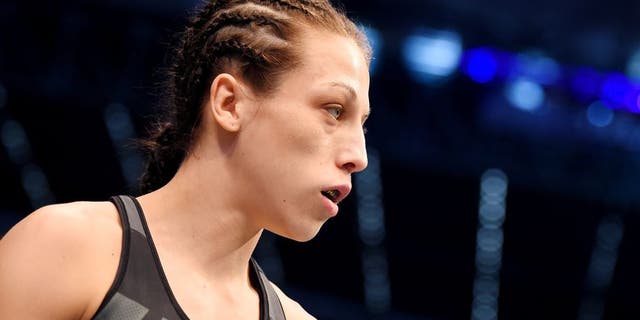 NEWYou can now listen to Fox News articles!
From the first day she arrived in the UFC, Joanna Jedrzejczyk has been known for her ferocious fighting style, but her ability to intimidate opponents actually starts long before she ever steps foot inside the Octagon.
The act of fighting usually begins weeks or even months ahead of the actual contest with hours spent on the mats or in the ring in preparation. Once fight week arrives, many competitors are just itching for the fight to begin already but that's when Jedrzejczyk really begins her mission towards victory.
One particular aspect of Jedrzejczyk's fight preparation is the moment when she locks eyes with her opponent for the first time when UFC president Dana White squares them off at a media event or eventually at the ceremonial weigh-ins.
Throughout her UFC career, Jedrzejczyk has gained a reputation for a very intimidating face off, but according to the reigning and defending strawwweight champion, there's more to it than just giving people something to talk about on social media.
Much like lightweight champion Conor McGregor has said in the past, Jedrzejczyk uses the staredown as an opportunity to see what her opponent is thinking about or feeling just hours away from stepping into the cage with her.
"Staredowns are very important. Even the media days are very important because that time we have the first chance to face our opponents during the fight week. This is what Conor [McGregor] said, we can see inside the people," Jedrzejczyk explained when speaking to FOX Sports.
"I like to look deep into my opponent's eyes, I want to look into the soul, I want to see the fear."
Josh Hedges/Zuffa LLC/Zuffa LLC via Getty Images
While some fighters just go through the routine of a face off, Jedrzejczyk uses it as another tool to not only get in her opponent's head but also as a sign that she's ready for war.
Jedrzejczyk is a consummate professional but she's also in the fight business and there's no faking the emotion or the physical harm that she's about to unleash when facing off with an opponent.
"The thing is we are not acting before the fights. It's all real," Jedrzejczyk said. "We train so hard before every fight. Every fight is different. Every opponent is different. I give 100-percent everyday. When I sleep, when I eat, when I'm relaxing and when I'm training because this is what makes me a better fighter, a better champion."
"The thing is there is no option that you're going to step back or you're going to show the fear. There is no chance and no time for it. You must show to your opponents that you are the toughest chick or guy on the planet. You must show there is no more playing. We throw hard cards and we're going to play a hard game tomorrow after the weigh-ins at the day of the fight.
As ferocious as Jedrzejczyk might be during those tense few seconds staring down with an opponent, she's only doing it as part of her job to ensure that she walks out of the Octagon the following night as champion.
It's part of what has made Jedrzejczyk the second longest reigning champion on the current UFC roster and she has no plans of relinquishing that title when she returns to action against Jessica Andrade on May 13 in Dallas.
"I like the staredowns. I never plan it but I know people like it and I like to share with my fans. Sometimes they ask why I didn't go down in my last staredown or I didn't do this or that but like I said, it's all about this day," Jedrzejczyk said. "Everyday is different.
"I know that people see me as a bully person sometimes but I'm not a bully person. But I take my business very serious and I am a hard worker and that's why I'm so tough during the fight week or the fight. This is me, Joanna the champion."
Mark J. Rebilas | Mark J. Rebilas-USA TODAY Sports