Jets OLB Quinton Coples excited for switch from coverage to pass rush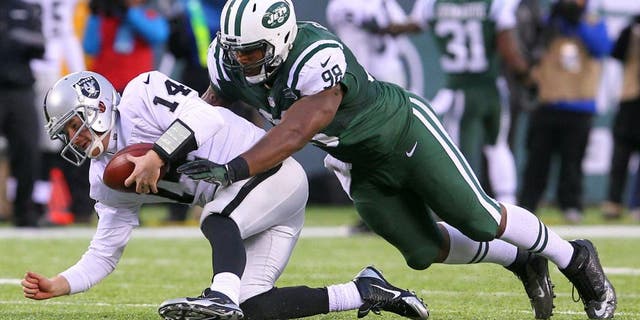 The New York Jets will no longer field a Rex Ryan-led defense as they transition to new head coach Todd Bowles' system. Most of the same players are still in place, but some will see new roles in Bowles' and defensive coordinator Kacy Rodgers' defense.
One of those players is outside linebacker Quinton Coples, who was used more in coverage than pass rushing under Ryan. For Bowles and Rodgers, Coples is returning to his roots as a pass rusher. Needless to say, the return "home" has Coples excited and flooded with confidence.
"It's great. I think it's a new opportunity to rush the passer, something I'm passionate about," Coples said, via Zach Braziller of the New York Post. "I'm pretty happy with the role I've got and the position I play on this defense."
Coples has recorded just 16.5 sacks in three seasons, although that number isn't terrible seeing as he was used more often in coverage. But with the transition to a primary pass rusher, Coples is expecting big things -- and big numbers.
"Ten [sacks] isn't good enough," he said. "Got to keep going, the highest of the highest. Whatever number is possible. Sky is the limit."
Given the talent along the Jets' defensive line, it wouldn't be surprising to see Coples top double-digit sacks this season. He'll likely have plenty of one-on-one matchups against offensive tackles, with guys like Muhammad Wilkerson, Sheldon Richardson (after his suspension), and Leonard Williams getting a lot of attention.
Coples will need a big year if he hopes to remain with the Jets after three disappointing season. He's entering the second-to-last year of his rookie contract, with the Jets having the option to cut him without taking on any dead money.
"I understand the business side," he said. "If that day comes, you make the adjustments."
(h/t New York Post)