Jason Garrett defends questionable decision to spike the ball on first down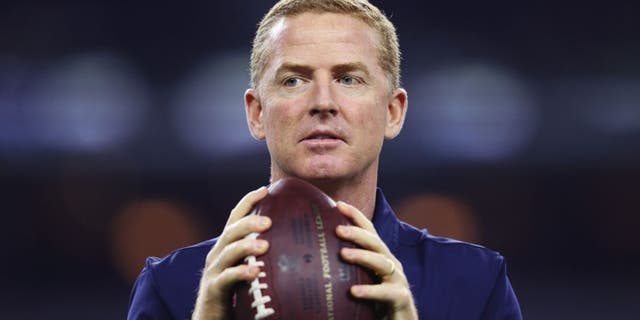 NEWYou can now listen to Fox News articles!
Sunday's loss to the Green Bay Packers yielded plenty of questionable decisions by the Dallas Cowboys -- namely Jason Garrett and Scott Linehan. From declining a free 72-yard kick at the end of the first half, to Garrett's late-game clock management, there was a list of errors that may have cost the Cowboys a win.
One of the most highly criticized calls for Garrett was his decision to spike the ball on first down with 48 seconds remaining and the Cowboys trailing by three. Dallas had a timeout in their pocket, but never wound up using it on the drive after gaining just seven more yards to set up Dan Bailey's 52-yard field goal.
Garrett explained his questionable decision after the game, and it won't make Cowboys fans feel any better.
"Just felt like that was the right thing to do at the time," Garrett said, via ESPN. "Keeping the timeout to be able to kick a field goal is really important if you can do it. So in those situations when you make a first down, we believe you clock it there so you keep that timeout in your back pocket. Obviously in that situation we're trying to go down and score a touchdown so you want to keep as much time on the clock as you can. If the clock is going and you need a timeout to get yourself in field goal range you have that one still available to you."
It's completely understandable that the Cowboys wanted to preserve their timeout in the event that they get a deep completion in the middle of the field. However, it limited them to just two plays to get 10 yards. They used those plays on a quick 7-yard pass to Cole Beasley on the sideline, followed by a batted pass at the line of scrimmage.
Considering where Dak Prescott was going with the ball on third-and-3 -- the middle of the field to Dez Bryant -- the Cowboys would have had to use that timeout. At that point, the Cowboys would have been left with under 40 seconds to play at the 25-yard line or so -- assuming Bryant makes the grab on the slant.
That's certainly more than enough time to run a few plays and take a couple of shots at the end zone, but that doesn't make the decision to spike it any better. The Cowboys had Green Bay on its heels after completing two straight passes for 24 yards and 11 yards, respectively. The Packers clearly didn't have an answer for Dallas with that personnel on the field, and spiking the ball only allowed them to make the necessary substitutions and defensive play call on first down.
Garrett didn't have a great game on Sunday, and this was just one of his mistakes. He can defend it until he's blue in the face, but spiking it on first down may have cost the Cowboys a chance to win the game. If nothing else, it gave Dallas too much time, which then allowed Aaron Rodgers to orchestrate his game-winning drive.