James Ihedigbo: Officials aren't held to a high enough standard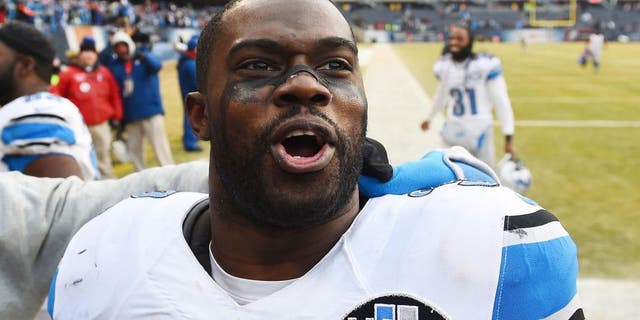 NEWYou can now listen to Fox News articles!
Safety James Ihedigbo, like most of his Detroit Lions teammates and fans alike, are incensed about the controversial non-call on what appeared to be an illegal bat that cost his team a victory on Monday night. The officiating crew's seemingly deliberate decision not to throw the flag allowed the Seattle Seahawks to escape with a 13-10 win and dropped the Lions to 0-4 on the season.
Ihedigbo's outrage over the decision won't be quelled by an apology from the NFL, either. The 31-year-old veteran of the league is calling for higher standards for referees.
Ihedigbo said the following, via Kyle Meinke of MLive.com:
It's not going to change it to a win," he said. "I mean, it's just unfortunate. I mean, they got to be held accountable, just as players are in terms of equipment violations, whatever it might be. There's a standard that players are held to on the field, there's a standard that coaches are held to on the field, there's a standard that teams are held to on the field and there has to be a standard that officials are held to as well. You can't just apologize.
Fearing a fine, Ihedigbo stopped short of saying anything else, according to MLive.com.
FOX Sports rules expert Mike Pereira, formerly the NFL's Vice President of Officiating, joined Colin Cowherd on "The Herd" and shared a similar sentiment on Tuesday.
"If they didn't know the rule, I'd be considering suspension," Pereira said. "I don't think it's something worth firing. It's a little bit of an unusual play."
Pereira went on to clarify, saying that he believes the officials knew the illegal-bat rule but improperly judged the intentionality of the play in question.
"They knew the rule but they got caught up in the intentional aspect of it," Pereira said. "They made the wrong judgment decision."
The NFL has not admitted that an officiating mistake was made. And even if it did, an apology would do nothing to solve Detroit's compounding issues.
"It's costing wins and losses," Ihedigbo said, via MLive.com. "A simple, 'Sorry, we made a mistake' doesn't suffice."
MORE NEWS: Want stories delivered to you? Sign up for our NFL newsletters.