It's time for NYCFC to bench Andrea Pirlo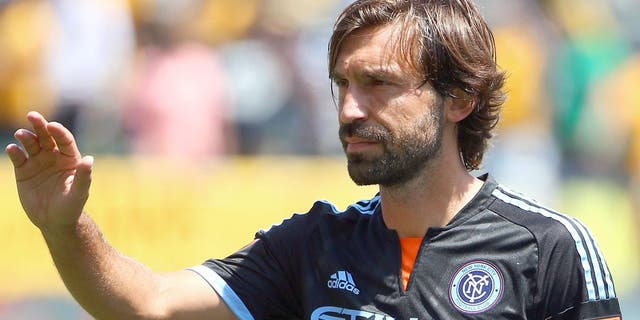 NEWYou can now listen to Fox News articles!
It wouldnt be out of line to call Andrea Pirlo one of the best midfielders ever. The Italian put the deep-lying playmaker position on the map -- his field vision and distribution from the back of the midfield was responsible for orchestrating some of Europes best attacks. The problem is, he hasnt done that enough New York City FC these days. If anything, the 37-year-old seems to be holding NYCFC back.
While Pirlo still brings a special ability in moving the ball around and creating space for the attack, defensively he looks like a bigger liability for NYCFC with each passing week. He gives the ball away too easily, attackers can coast right through his space and NYCFC generally look more solid when he isnt on the field.
It was his mistake and lack of defensive input that gifted the San Jose Earthquakes a goal at Yankee Stadium earlier this month. Pirlo was openly mocked by blogs for his poor back pass to goalkeeper Sean Johnson and his half-hearted attempt to try to win the ball back on the goal. But while that was the most glaring example of his defensive deficiencies, it hasnt been his only one.
When D.C. United scored a goal that would turn out to be the game-winner, it started by running through Pirlo. DCU, the worst attacking team in MLS so far this season, managed to score twice against NYCFC earlier this month and a large part of their strategy was targeting Pirlo. That was half of DCUs goal haul this season theyve only scored four times in six matches.
Pirlo, even at the height of his career, was never a player known for covering a lot of ground. The Italian has worked best in a setup where he can orchestrate the attack from a deep position while other midfield pieces are the shuttlers, pressuring from the front and tracking back.
In his final years at Juventus, his central midfield partners were Paul Pogba and Arturo Vidal. Aside from being technically gifted players who could turn Pirlo's efforts into tangible end product, they also did all the two-way work in the midfield so Pirlo didn't need to. Pirlo was more mobile then than he is now, but Pogba and Vidal ran for him thenand they covered up the weaknesses in his game -- and they aren't the kind of players any MLS team can sign. They are legitimately two of the best midfielders in the world.
Alexander Ring and Maxi Moralez arent capable of shielding Pirlo in the same way, even as they put in good work rates in the midfield. Coach Patrick Vieira could look for upgrades, but adding new central midfield pieces for the sake of a 37-year-old player who doesnt have much left in the tank doesnt make much sense. NYCFC must use the roster they have, more or less, and if no one is able to cut out the defensive openings that Pirlo leaves behind, the trade-off of starting Pirlo looks very one-sided for a player that, despite Pirlos quality, has no assists this season, secondary or primary.
Now, the situation may start to get even worse. Vieira seems sold on organizing NYCFC in a version of a 3-4-3 formation and, if he commits to it, it may put even more pressure on an NYCFC team that is already trying to compensate for Pirlos lack of defending. If NYCFC will continue using the three-back system, they cant really afford to be overrun in the central midfield easily.
Pirlo was a liability for NYCFC before, but Pirlo looks even less mobile this year than he did last year and he has less help from NYCFC's roster. Experienced right back Andoni Iraola, asked by Vieira to play as a holding midfielder, was crucial in cleaning up messes last year and protecting the back line so thatPirlo was free tofacilitate and Frank Lampard could push forward. Federico Bravo was also very good marauding the midfield and breaking up plays. Those players aren't coming back.
The question now is, would Vieira be willing to start his high-priced star Designated Player on the bench? Unless NYCFC are willing re-build their team around the way Pirlo plays, it might be necessary. It seems like Vieira could be building toward it: For NYCFC's last three matches, Vieira's first midfield substitution has been Pirlo.
Regardless of the system NYCFC uses, Vieira seems to want to build out the back, so is there a Pirlo replacement who can do that and offer defensive cover? Probably not, and thats probably at least part of why Vieira has been hesitant to change things up. (Another part is probably Pirlos $5 million salary.)
But Tommy McNamara made a case for himself when he replaced Pirlo in the aforementioned San Jose match. NYCFC played better with McNamara on the field and McNamara was relentless with his hustle and efforts to try to make something happen. He scored the game-winner too, which is just about the exact opposite of Pirlos contributions in that match.
A longer term solution could be grooming rookie Yangel Herrera to take over the deeper midfield spot. The 19-year-old Venezuelan is a typical defensive midfielder the sort of player that normally occupies that space where Pirlo operates and his two appearances for NYCFC have been promising. He has good passing range and while he wont orchestrate from the back the way Pirlo does few in the world ever could he might be a better fit for NYCFCs system. Mikey Lopez, another defensive midfielder, filled in a handful of times last season and did a decent enough job that he could be an option too.
Or maybe NYCFC will want to bring someone else in during the summer transfer window, but whoever it is, he probably wont be a Pirlo-type player. That would be a good thing though NYCFC dont have the personnel to accommodate a player like him and, increasingly, the teams tactics are making it even harder.
Theres no denying Pirlos magic, but all the same, it looks like its time for NYCFC to move on anyway.
MORE FROM FOX SOCCER