Holly Holm will defend her title before Ronda Rousey rematch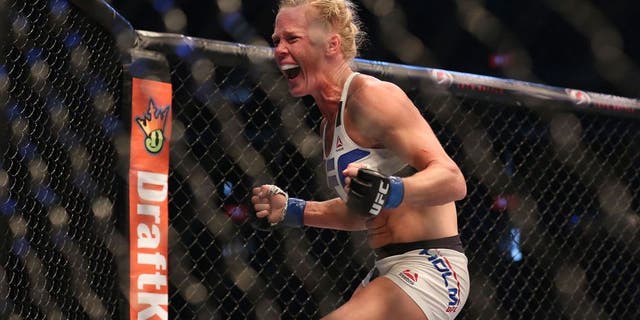 NEWYou can now listen to Fox News articles!
UFC women's bantamweight champion Holly Holm will defend her title before facing Ronda Rousey in a rematch.
UFC president Dana White made the announcement while appearing on "UFC Tonight" on Wednesday.
"Holly Holm will fight before she fights Ronda," White said.
Holm just recently signed a new multi-fight contract with the UFC following her second-round knockout over Rousey this past November. The win moved Holm to 3-0 in her UFC career while becoming only the second ever women's bantamweight champion alongside Rousey.
Following the fight, White stated that he was definitely targeting a rematch between Holm and Rousey, most likely at UFC 200 in July, but it appears those plans have changed.
Holm has been anxious to get back in action ever since her win in November, and she's stated numerous times that she hoped to fight again before July.
Now it appears she will get her wish. Although White didn't announce when or where Holm will fight next, the most likely opponent for her first title defense is former Strikeforce champion Miesha Tate.
Tate is riding a four fight win streak and was actually promised a title shot against Rousey before the UFC opted to place Holm in the fight instead.
As far as Rousey goes, White promises that she is going to return to fight again but there's no exact date for her next bout. Rousey has two films that she's shooting in the first half of 2016 and that would obviously take away valuable time for training ahead of a potential rematch with Holm.
"You will see Ronda Rousey fight again," White said. "Ronda has dedicated the last three-plus years to working hard here. Not just fighting, but promoting and taking the sport and the UFC to a whole other level. Ronda has some well-deserved time off but she will fight this year."