Heres why the Panthers are reducing Pro Bowl LB Thomas Davis snaps in 2017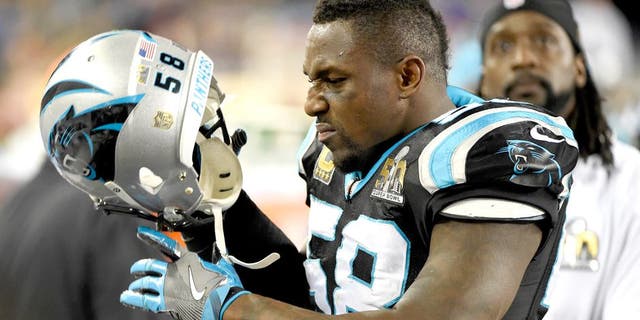 The Carolina Panthers have had one of the best linebacker duos in the NFL the past two years with both Thomas Davis and Luke Keuchly making the Pro Bowl each season. Theyre both great in coverage and play aggressive defense when coming downhill, making them three-down players in the middle of the field.
Thatll change this season, however. Davis, whos 34 years old, will have his snaps reduced in 2017 to preserve his health and stamina.
With Thomas Davis getting up there in age and years, we've got to cut down on his reps, defensive coordinator Steve Wilks said, via the teams official site. So there will be times where Shaq (Thompson) is going to be in, and we're going to try to relieve Thomas to give him some rest.
Fortunately for the Panthers, Thompson is a very capable third linebacker. Having played safety in college, Thompson is solid in coverage and brings another level of athleticism to the linebacking core.
His range and speed going sideline to sideline is among the best in the league, and its a reason he saw his snaps dramatically increase in 2016. Theyll only continue to rise this season with Wilks saying the Panthers have got to create more packages for him.
As for Davis, his reduction in playing time isnt a knock on his ability. Its simply a matter of trying to not only keep him healthy but fresh for the long haul. Wilks doesnt foresee any problems stemmingfrom this news.
Thomas is a team player, and he understands the long season and the wear and tear on his body over the years. It's just a benefit for him, Wilks said.
In Carolinas base defense, itll likely be Thompson, Davis and Keuchly all on the field. On third down and obvious passing situations, you can probably expect to see Davis come off with Keuchly and Thompson staying on the field as nickel linebackers.