GT upset: Nick Tandy takes overall win in rain-shortened Petit Le Mans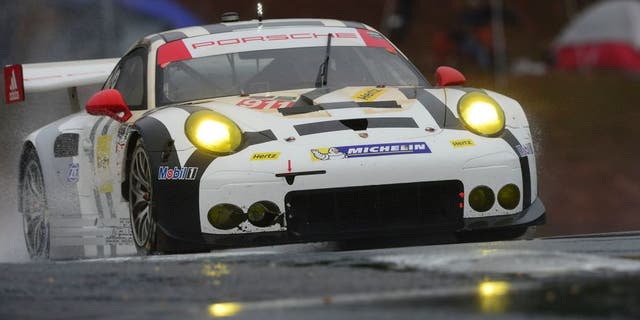 NEWYou can now listen to Fox News articles!
Nick Tandy and Patrick Pilet have won overall in this year's Petit Le Mans powered by Mazda for Porsche North America in GT Le Mans, following a late decision by IMSA to throw the checkered flag just before the eight-hour mark of the 10-hour race.
This also means Pilet has captured the GTLM class championship.
The race was under its 10th and latest full-course caution occurred after two separate Prototype Challenge cars had two separate incidents.
Bruno Junqueira crashed the No. 11 RSR Racing Oreca FLM09, which was already over 100 laps down, on a straight.
Meanwhile, Alex Popow spun from the class lead in the No. 8 Starworks Motorsport Oreca FLM09 at Turns 10A and B, and Tom Kimber-Smith had to take the No. 52 PR1/Mathiasen Motorsports Oreca FLM09 into the grass to avoid hitting the stranded Starworks machine. Popow did resume.
But the star, meanwhile, of the eighth hour as well as the race itself was Tandy.
The Englishman stormed past Eric Curran's No. 31 Action Express Racing Corvette DP at the seven-hour, 24-minute mark for the overall lead on Lap 188, and promptly pulled away anywhere from three to six seconds per lap in the GT Le Mans class No. 911 Porsche 911 RSR.
Tandy led the field home to the finish under the checkered flag over the No. 24 BMW Z4 GTE of John Edwards, Lucas Luhr and Jens Klingmann and the No. 4 Corvette C7.R of Oliver Gavin and Tommy Milner. The No. 24 BMW finished second overall and the No. 4 Corvette finished seventh.
Tandy's win capped off a race where the No. 911 Porsche led overall five different times.
In GT Daytona, Scuderia Corsa has captured the championship with Townsend Bell and Bill Sweedler. The two combined with Jeff Segal to finish fourth unofficially, driving the No. 63 Ferrari 458 Italia.
Bell and Segal drove nearly the entire race, while Sweedler completed one lap in a strong strategic play by the team.
The No. 007 TRG-AMR Aston Martin V12 Vantage GT3 and No. 48 Paul Miller Racing Audi R8 LMS finished ninth and 10th in class, which cost Christina Nielsen (TRG-AMR) and Dion von Moltke and Christopher Haase (Miller) a shot at the titles.
Park Place Motorsports took the race win with Spencer Pumpelly, Patrick Lindsey and Madison Snow in their No. 73 Porsche 911 GT America. It's the team's second this season, and first since Mazda Raceway Laguna Seca in May.
Pumpelly passed Andy Lally for the lead on Lap 182 of the race.
The No. 44 Magnus Racing Porsche 911 GT America of Lally, John Potter and Robert Renauer and the No. 93 Riley Motorsports Dodge Viper GT3-R of Marc Goossens, Cameron Lawrence and Al Carter completed the podium.
Action Express Racing has claimed back-to-back TUDOR United SportsCar Championship titles, following a Prototype class victory in Saturday's rain-shortened Petit Le Mans powered by Mazda.
The No. 5 Corvette DP of Joao Barbosa, Christian Fittipaldi and Sebastien Bourdais finished third overall, behind the historic 1-2 overall finish for the Porsche and BMW GT Le Mans cars.
It was enough for the class win and championship for Barbosa and Fittipaldi, their and the team's second consecutive. Additionally, the team claimed Tequila Patron North American Endurance Cup honors.
Barbosa took over the class lead in the eighth hour following a routine pit stop for their sister No. 31 Corvette DP of Eric Curran, who had relinquished the overall lead to Nick Tandy.
An accident for the No. 11 RSR Racing Oreca FLM09 of Bruno Junqueira brought out the 10th and final full-course caution of the race, which also featured a 1 hour and 5 minute red flag for rain.
The checkered flag flew 20 minutes later, due to track conditions, ending the race some two hours early, and coming as a surprise to teams.
The No. 01 Chip Ganassi Racing Riley-Ford of Scott Pruett, Joey Hand and Scott Dixon finished second in class and fourth overall, after starting from the pit lane due to alternator issues in warmup.
Cameron and Curran ended up third in class in their Whelen-backed Corvette DP, ahead of the Wayne Taylor Racing Corvette DP, which faded late.
It was a race to forget for VisitFlorida.com Racing, which headed into the weekend as P class championship leaders but lost out on the title after a pair of costly mistakes.
Both Michael Valiante and Mike Rockenfeller had separate offs in Turn 12 in the third hour, costing the No. 90 Corvette DP two laps. They, along with pole-sitter Richard Westbrook finished 12th overall and fifth in class.
PR1/Mathiasen Motorsports completed the endurance trifecta with a commanding class victory in Prototype Challenge, thanks to a near-flawless run by Tom Kimber-Smith, Andrew Palmer and Mike Guasch.
However, it was CORE autosport that took home the class title, its fifth consecutive teams' championship and back-to-back for drivers Colin Braun and Jon Bennett.
Kimber-Smith finished ahead of Alex Popow for top class honors, despite an impressive late charge by the Silver-rated Venezuelan, who passed Kimber-Smith, but then spun his No. 8 Starworks Motorsport entry, just as the final yellow came out.
Popow and co-drivers Renger van der Zande, Mike Hedlund and Mirco Schultis were second, with the No. 16 BAR1 Motorsports car completing the top-three in class.
It marked another major triumph for the Bobby Oergel-led PR1 squad, which scored class wins at this year's Rolex 24 at Daytona, Twelve Hours of Sebring and also took home the Patron Endurance Cup as well.