Gordon offers advice to Stewart on how to handle final season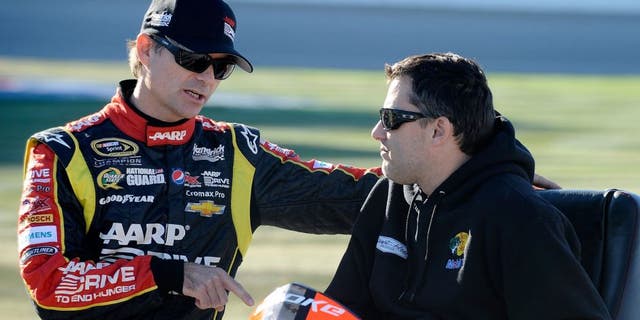 NEWYou can now listen to Fox News articles!
With Wednesday's announcement that Tony Stewart will retire as a Sprint Cup Series driver at the end of 2016, several of the three-time champion's fiercest competitors weighed in on his decision at Dover International Speedway on Friday.
Among those who discussed Stewart was four-time Sprint Cup champion Jeff Gordon, who revealed prior to this season that it would be his last in NASCAR's top series.
Now that Stewart is following Gordon into retirement from Cup -- albeit a year later -- what is Gordon's advice for his fellow champion on how to approach his final season?
"My advice to him is to just enjoy every moment because it goes by really fast," Gordon said on Friday at Dover, one of numerous tracks to honor the Hendrick Motorsports driver this year for his contributions to the sport.
"Have fun with it and celebrate it. I think that is the thing that is just like me in that he has a career that has the ability to be celebrated," Gordon said of Stewart. "He is going to get a lot of accolades and support from the fans, the tracks, and the media because of what he has done over the years. But he should enjoy it because it has been a heck of a ride and he deserves it."
As for his own personal feelings on Stewart's decision to hang it up from the Sprint Cup Series, Gordon called it, "A tough one."
"You know, I am torn on that one because I love Tony, I love seeing him out there," Gordon said. "Not only because he is one of the greatest competitors I have raced against, but as a fan I always love seeing him out there on the track. He always keeps it exciting, interesting, and with his talent you never know when Tony is going to come out of nowhere and win the race.
"You can never count him out and you never know when he is going to go on a roll and win the championship when you least expect it. That is just the kind of competitor that he is, and he is a great personality as well."
Here's what a few other drivers had to say on Friday about Stewart's retirement:
Jimmie Johnson, six-time Sprint Cup Series champion
"I know Tony well and spent a lot of time with him over the years and kind of sensed something was going to change, something was coming. I'm really happy for him. I think the thought that he has put into this, the way he is going about it, I'm excited for him because he's excited about what's next. It's very similar with Jeff (Gordon). It's so hard to watch somebody you have looked up to and idolized step down or decide that it's time to do something different. But personally, I look at them and I listen to them, and their excitement makes me excited for them. At least we get another year with him next year, and I certainly hope he gets the wins that he is looking for and leaves with a huge smile on his face."
Clint Bowyer, Stewart's replacement in the No. 14 Chevy in 2017
"That was a hard thing for me. It's obviously a once-in-a-lifetime opportunity (to replace Stewart), but with that opportunity you lose one of the boys, like I said Wednesday. That is a champion of the sport, a guy that I've always enjoyed just because of our backgrounds."
Matt Kenseth, 2003 Sprint Cup Series champion
"Tony is one of the most, if not the most-talented race car driver I think you could ever see, so he's a guy that can win anywhere and certainly has had a very successful and colorful and fun career to watch -- a lot going on. So anyway, I think whenever you have a legend that ends up retiring and he's a driver as popular as Jeff (Gordon) and Tony and things like that, you always start thinking about all the things you watched or maybe raced against him, some of the things he's done, and certainly I think the sport will miss him."