Giants' Dwayne Harris getting more comfortable at WR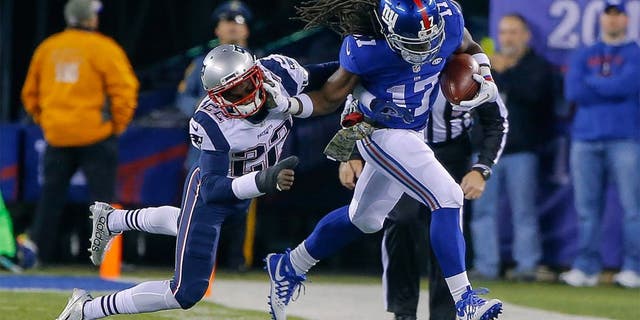 Giants coaches are excited about Dwayne Harris and his potential to get even better. Jim O'Connor USA TODAY Sports
New York Giants wide receiver Dwayne Harris was signed to a five-year deal this offseason because of what the team saw on tape, and on tape, Harris was primarily an ace special teams player. From the very start, the Giants saw something his former team the Dallas Cowboys did not, so his emergence as Eli Manning's second-most productive option in the passing game comes as no surprise to Giants coaches.
"The more he plays, the more comfortable he gets in the role," wide receivers coach Sean Ryan said to reporters Monday, per Giants.com.
"Especially inside in the slot, it takes a little bit just kind of seeing things because they happen a little bit quicker for you inside there. The more you play, the more comfortable you get --- I think that is very evident with him."
Harris had arguably his best receiving game of his career in Week 10 when he finished with 82 yards and a touchdown on six receptions. He saw the second-most targets (9) on the team and has become a fixture on almost every offensive snap. Harris will need to play an even bigger role over the Giants' final six games now that Victor Cruz has been placed on injured reserve.