Gasol, Lakers Win as Trade Rumors Continue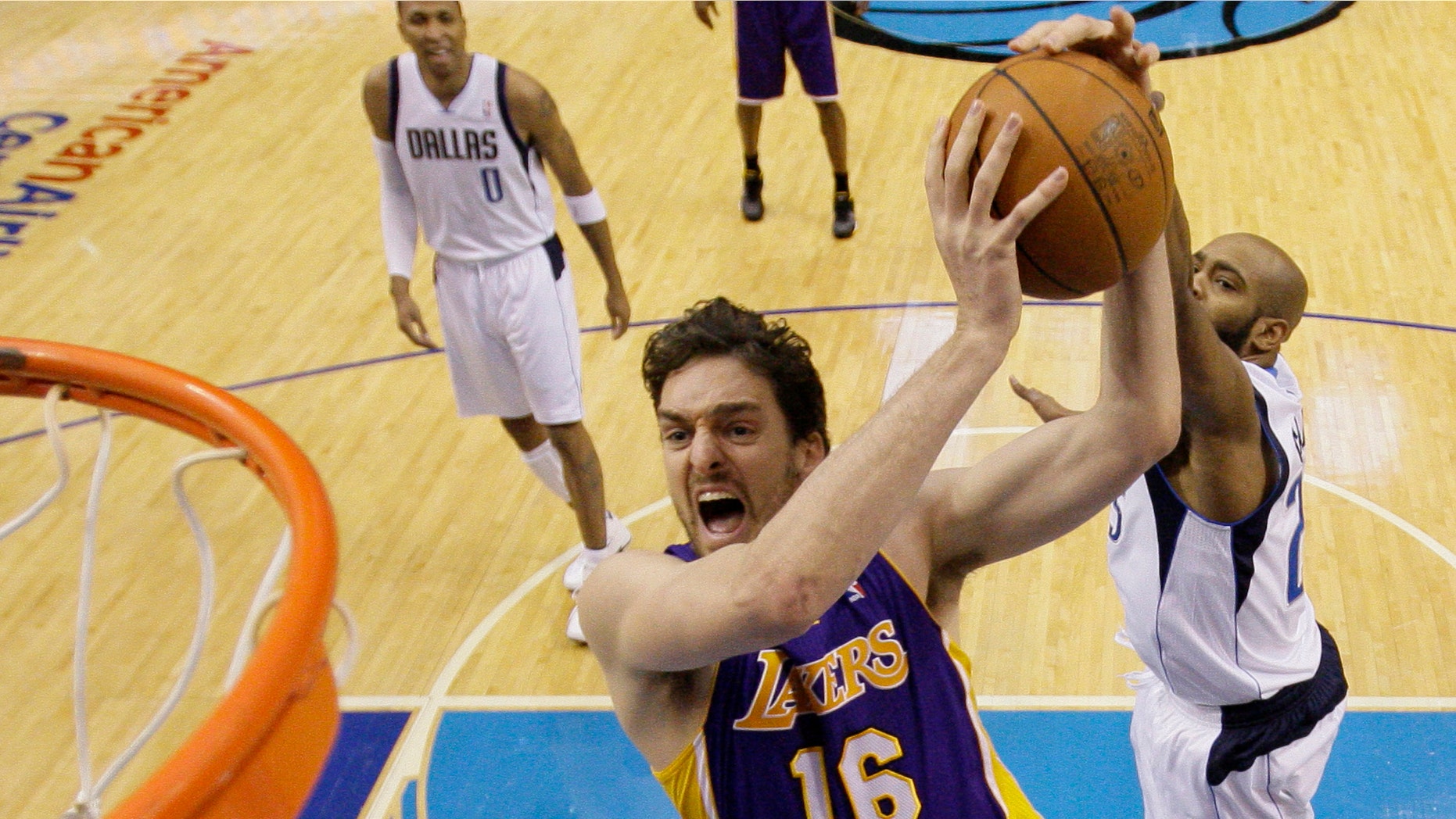 – Pau Gasol had 24 points for the Los Angeles Lakers on Wednesday night leading LA to a 96-91 win against the defending NBA champion Dallas Mavericks.
Gasol's latest performance comes as trade rumors buzzed about a possible trade to the Chicago Bulls. Reports said Derrick Rose was urging management to push for a trade to land the LA forward. But Rose denies he's pushing for a trade.
"I heard about it after (Monday's) game," Rose said, according to ESPN. "That's something I wouldn't say to anyone, that I need someone to come to this team or I'm trying to get rid of someone on this team. It was all false and that's something I would never do."
The rumored trade details had Carlos Boozer and C.J. Watson going to Los Angeles for Gasol. Rose made it clear he isn't comfortable recruiting players, and spoke to Boozer to clear things up.
Even, Earvin Magic Johnson went on to address rumors that Kobe Bryant was challenging management to either trade Pau Gasol or publicly remove him from the trading block so he could just concentrate on playing.
"It's great to see Kobe support his teammate," Johnson said. "I think what Kobe really wants is just to be informed -- as a leader and a future Hall of Famer, and as a guy who's brought five championships to the Lakers and the fans of Los Angeles. He probably wants just to have more communication, like he did when Phil Jackson was there, and he worked well with Mitch."
In addition to Bryant issuing his demand on behalf of Gasol, there have been two players-only meetings after recent games.
The Los Angeles Times reported that Kobe Bryant and Derek Fisher implored the players to forget about everything on the outside -- including complaints about coach Mike Brown's fondness for long workouts -- and just focus on winning.
Lakers vs Mavericks Game
"I was aggressive in the beginning. I was able to knock down some shots and make plays," Gasol said. "(This win) shows we're on the same page and we've got a lot of character."
Gasol wasn't alone though in last night's game. Andrew Bynum had 19 points and 14 rebounds, including several big plays in the final 5½ minutes, as the Lakers hit the halfway point of their season. Bryant and Fisher each had 15 points.
"Andrew was great," coach Mike Brown said.
The free throws by Bynum broke an 82-all tie with 5:29 left and put the Lakers (20-13) ahead to stay after 13 ties and 10 lead changes.
"We got swept last year, and it was on our minds," Bynum said.
There was also Bynum's alley-oop dunk from Bryant with 1:05 left that stretched the lead to 93-86. The Lakers then held on despite missing six consecutive free throws after that.
Bryant missed two free throws with 37 seconds left. After Dirk Nowitzki's tip-in got Dallas within 93-91,  Gasol was fouled and missed both of his free throws with 20 seconds left.
"I'm a little overweight, I'm too young to have a heart attack," Brown said after watching all those misses.
But Matt Barnes grabbed the rebound after Gasol's second miss and was quickly fouled himself. He ended the Lakers' charity-line slump with two free throws.
"That was big," Fisher said. "The way last season ended, this game was big for a lot of us."
Nowitzki had 25 points and 12 rebounds to lead the Mavericks (21-13), who played their final game before the All-Star break after winning seven of their previous eight games. Vince Carter had 20.
"I'm disappointing tonight, I'm not dismayed," coach Rick Carlisle said. "Our effort was there, we just didn't make enough plays at both ends. ... The break's coming at a good time."
The Lakers have one more game before the All-Star break. They play Thursday night at Oklahoma City.
Lamar Odom missed the game for the Mavericks against his former team. Odom was the NBA's Sixth Man of the Year for the Lakers last season and won three NBA championship rings in seven years in Los Angeles.
"It just seemed like we'd get a little momentum and then we had trouble sustaining," Carlisle said. "Tough game, but you've got to give them credit."
Contains some reporting from Newscore.
Notes: All the Mavericks except Nowitzki, who will make his 11th consecutive All-Star appearance, have the next four days off. They play nine games in 12 days, starting with Tuesday's home game against New Jersey. ... Texas Rangers designated hitter/first baseman Michael Young was shown on the overhead video board before the start of the fourth quarter. Young is a big Lakers fan. Rangers position players don't have to report to training camp in Arizona until Saturday. .... The Lakers jumped out to a 12-3 lead in the first 4 minutes, and Carlisle used two timeouts in that span.
Follow us on twitter.com/foxnewslatino
Like us at facebook.com/foxnewslatino