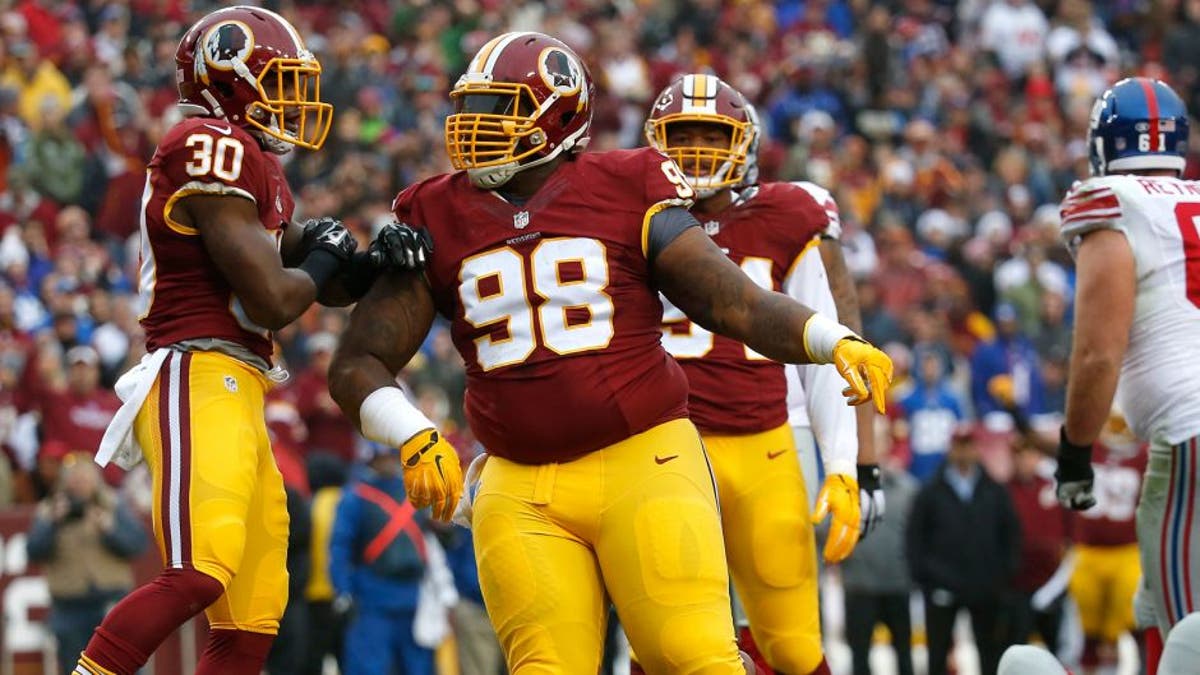 Yes, Washington Redskins nose tackle Terrance Knighton has been on a treadmill before.
We're not just talking about his part in a popular Bridgestone Tire commercial either.
Knighton felt like he was running in place waiting for a big-money contract that never came the past two times he became an unrestricted free agent. Knighton says he won't make the same mistake again as he heads back into the marketplace with an uncertain NFL future.
"I'm not going to let it overwhelm me or get upset because I was definitely very upset with the way things worked out the last time around," Knighton told co-host Vic Carucci and me Tuesday night on SiriusXM NFL Radio.
Knighton had hoped to re-sign last year with Denver after two solid seasons. The Broncos, though, had different plans with 2013 first-round pick Sylvester Williams waiting in the wings to man the nose tackle position in the 3-4 defense that new coordinator Wade Phillips was installing.
"I was praying on that and talking it up all the time because I felt in my heart that's somewhere I was going to be," said Knighton, who had reinvented himself with the Broncos after spending four bumpy seasons in Jacksonville. "My emotions got caught up onto it. This time around, I understand it's a business."
Knighton ultimately scored a one-year, $4.45 million contract from the Redskins. Knighton is now seeking a longer deal that would potentially provide more job security once the free-agent signing period begins March 9.
Knighton, 29, described his time in Washington as a "good experience" but also said he hasn't from team management about re-signing. The Redskins might be seeking a younger nose tackle, and Knighton's weight remains an ongoing issue. Knighton was fined $300,000 during his time with the Broncos for tipping the scales heavier than his target weight. The 6-foot-3 Knighton is officially listed at 354 pounds but appeared to play heavier than that with the Redskins.
Knight also admits he initially might not have been an ideal fit in the type of 3-4 scheme installed by Redskins defensive coordinator Joe Barry, who wants the nose tackle active in trying to make plays in the backfield.
"It was definitely a change," Knighton said. "It was more of an attacking 3-4. Where I'm usually occupying blocks and controlling the line of scrimmage, this was more of an up-field defense. Maybe that's where the disconnect is right now as far as bringing me back.
"But as the year went on, I got better. I got more familiar with the defense and began dominating at the end of the season when we were making our playoff run."
The Redskins surrendered 100 rushing yards or fewer in five of their final six regular-season games en route to winning the NFC East. Knighton started 15 games and finished with 29 tackles and 1.5 sacks playing exclusively in base and run-stuffing packages.
Even if 2015 marks his only season in Washington, Knighton looks back at his time there as a "good experience." He reached the playoffs for a third straight year on a Redskins squad that he admits entered the season with "very low expectations" from fans and media. Knighton lived a lifelong dream by getting to play on the same team as Redskins defensive end Chris Baker, who was his childhood best friend. Knighton also believes he earned the respect of his teammates for the grunt work he provided.
"A lot of people get caught up in the stats and things like that but it was my presence," Knighton said. "You can ask all the linebackers I play with. They know who they want in front of them. I consider myself a locker-room leader so I bring a lot to a team.
"I'm one of those run-stuffing guys ... really, the last of a dying breed. It's a passing league now so we're not really in high demand as much."
And the treadmill keeps rolling.