For the Great Mariano Rivera, 602 is Nothing But a Number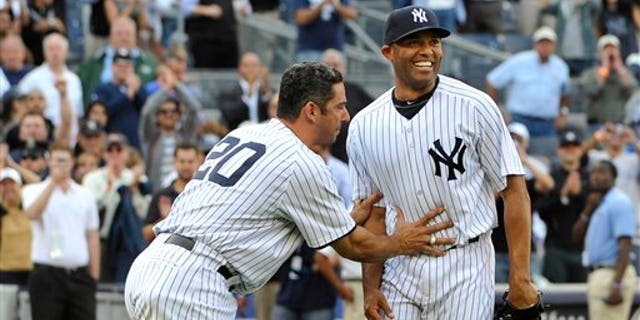 When the San Diego Padres celebrated the career of Trevor Hoffman, the team's radio announcer Ted Leitner proclaimed the legendary reliever as "the greatest closer in the history of Major League Baseball."
Did he conveniently forget another closer, one who's been hurling a killer cutter since the late 1990s?
Perhaps an introduction is in order: Mr. Leitner, meet Mariano Rivera, Major League Baseball's all-time saves leader. He is, Mr. Leitner, the consensus greatest closer in the history, long before a saves record made it so.
Despite five World Series championships in 17 seasons with the New York Yankees, Rivera has never come to enjoy individual attention.
"You know me, I'm not like that," Rivera said. "I like to be under the radar, do my job."
There was no chance of that Monday afternoon, when the smallest crowd in the three-year history of Yankee Stadium nearly drowned out Metallica's "Enter Sandman" as Rivera came in for the ninth inning.
Like a majority of his previous 601 saves, Rivera made it look easy in the ninth inning. He relied on 13 pitches and got the last out with his famous cutter by striking out a kid named Chris Parmalee looking on a pitch.
Plate umpire John Hirschbeck rung him up, and catcher Russell Martin came out to the mound, gently placed the ball in Rivera's glove, then gave him a big hug.
Rivera stayed and accepted congratulations — Alex Rodriguez, Mark Teixeira and finally Derek Jeter came over before the bullpen and bench got there. The Twins watched from their dugout.
Rivera tried to walk off the field with the rest of the Yankees, but longtime teammate Jorge Posada pushed him, laughing, onto the mound, where fans cheered him once again.
Never comfortable in the spotlight, Rivera didn't know quite what to do.
He proved equal to the moment yet again. Rivera smiled, blew a kiss to the crowd, and then doffed his cap as cheers washed over him.
"For the first time in my career, I'm on the mound alone," Rivera said. "It was priceless. I didn't know it could be like that."
Rivera has been doing this for a while now during the regular season and, rightfully so, could be called Mr. October for his postseason success.
He has been almost flat out perfect in the playoffs with an 8-1 record and an astonishing record of 42 saves, a 0.71 ERA in 94 games over 31 playoff series.
But Rivera, ever modest, won't be one of the people calling himself the best.
"I don't consider myself the greatest. I consider myself blessed," Rivera told the YES Network.
Rivera, who turns 42 in November, is a first ballot Hall of Famer and will be the second Panamanian to be enshrined in Cooperstown alongside Rod Carew.
But despite his storybook career jam-packed with dominance, Rivera, who's healthy and in top physical shape, can go a few more years if he chooses.
It makes you think that another number might be within reach – 700 saves.
But it's not like he needs it.
Adry Torres, who has covered MLB, NFL, NBA and NCAA basketball games and related events, is a regular contributor to Fox News Latino. He can be reached at elpiloto137@gmail.com or follow him on Twitter: @adrytorresnyc.
The Associated Press contributed to this report.
Follow us on twitter.com/foxnewslatino
Like us at facebook.com/foxnewslatino