Five clubs that should join Price-Greinke sweepstakes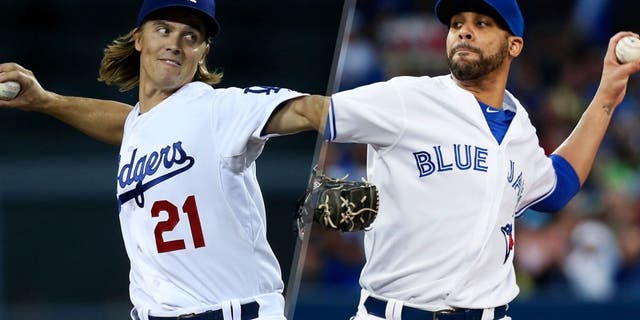 We know the obvious suitors for free-agent aces David Price and Zack Greinke -- the Dodgers, Giants and Cubs; Cardinals, Red Sox and Blue Jays (at least for Price).
I can think of five other teams that also should be in the mix -- teams with expiring contracts, teams that should not wait until next offseason, when the free-agent pitching class (Stephen Strasburg, Andrew Cashner, etc.) will be much weaker.
The 2017-18 class could be stronger (Clayton Kershaw if he opts out, Yu Darvish, Tyson Ross, etc.). But who wants to wait two years and bank on the possibility that all will be healthy and available?
I am not suggesting that one of the teams below will sign Price, 30, or Greinke, 32 -- if I had to bet, I would bet on Price to the Cubs and Greinke to the Giants. But all of them should at least explore the possibility.
Nationals
First, some background.
The Nationals attempted to acquire Greinke in Dec. 2010, when he went from the Royals to the Brewers. But Greinke rejected a proposed trade and reported $100 million extension because he believed that the Nats were not ready to win, and that they would be giving up too much to get him.
Jordan Zimmermann, Drew Storen and Danny Espinosa were among the names in play during the Royals' talks with the Nationals. Not that the Royals suffered -- they ultimately acquired Alcides Escobar, Lorenzo Cain and Jake Odorizzi in a deal that helped set up their future success.
"What got us talking seriously was the fact that their owner wants to win really, really bad," Greinke told the Washington Post in March of 2011, referring to Nats owner Ted Lerner, with whom he had met secretly during the winter meetings.
"They convinced me they were really trying, and I believe them. My whole family liked the possibility of going there. I respect everything about the Nationals. And I'm not a guy who goes around saying that about every team."
It stands to reason, then, that Greinke would entertain signing with the Nationals, and the same goes for Price. The question is whether the Nats, after signing free-agent right-hander Max Scherzer to a seven-year, $210 million contract last offseason, would want to add another pitcher at a steep price.
Well, the Nats are about to lose Zimmermann and Doug Fister on the open market. Strasburg, a free agent after the coming season, is another likely goner.
The Nats should be fine short term and maybe even long term -- Scherzer, Strasburg, Gonzalez, Tanner Roark and Joe Ross figure to form the '16 rotation, and top prospect Lucas Giolito is coming quickly. But remember, it was only a year ago that the Nats added Scherzer to a seemingly complete group.
The problem: If the Nationals signed Greinke or Price, they might rob themselves of the flexibility needed to keep right fielder Bryce Harper, who is a free agent after '18. But should the Nats even be worried about that?
Harper, like Strasburg, Scherzer and a number of other Nationals, is represented by Scott Boras, who generally prefers his clients to establish their values on the open market.
Angels
Starting pitching is not their biggest current need, not when their current depth chart includes Kyle Kubitza and Kaleb Cowart at third base, Carlos Perez and Jett Bandy at catcher and Todd Cunningham and Collin Cowgill in left field.
Seriously.
Still, the Angels just traded their two best pitching prospects, Sean Newcomb and Chris Ellis, while their two most experienced starters, Jered Weaver and C.J. Wilson, are entering the final years of contracts.
Signing Price or Greinke might put the Angels over the luxury-tax threshold, especially when they must address so many other needs. Both pitchers also are believed to prefer the National League, creating another potential obstacle. But money -- more money -- is the way to make any and all obstacles disappear.
Angels owner Arte Moreno blew it when he signed Josh Hamilton instead of Greinke after the 2012 season. Now would be a good time to correct that mistake.
Yankees
Burned by the long-term deals they awarded CC Sabathia and Masahiro Tanaka, the Yankees suddenly are wary of major investments in starting pitchers, especially those in their 30s (Tanaka is still only 27). Of course, the Red Sox took the same approach last offseason, and -- surprise! -- they already are on the verge of abandoning it.
The reluctance of the two AL East powers to incur risk is understandable. But other than developing a Luis Severino or trading for an Eduardo Rodriguez, how else can teams access elite pitching? More to the point: What will the Yankees' rotation look like in 2018 if they fail to address it significantly this offseason?
Ivan Nova is a free agent after '16. Tanaka, Nathan Eovaldi and Michael Pineda all can become free agents after '17, Tanaka through an opt-out clause. Sabathia also is likely to be under contract for that long.
Severino looks like a future ace, but the Yankees sure will need somebody to join him. Maybe two somebodies. This is a team that hasn't won a postseason game since 2012. And to repeat: The free-agent class next offseason is awfully thin.
Tigers
General manager Al Avila has said he wants to add two starters through free agency or trade, but the general perception is that the Tigers are more focused on adding a second-tier type such as Jeff Samardzija or Wei-Yin Chen than Price or Greinke.
Samardzija, in particular, would be helpful short term, providing that the Tigers also fixed their bullpen and found a left fielder. But Anibal Sanchez has averaged only 142 innings the past two seasons, leaving Justin Verlander as the team's only trustworthy returning starter.
Verlander is under club control through '20, Sanchez through '18 (though at this rate, the Tigers might not want to exercise his $16 million option for that season). Perhaps a younger starter such as Daniel Norris will develop into a top-of-the-rotation type. But the best way for the Tigers to replicate their rotation strength of recent seasons would be to re-sign Price.
Rangers
Huh? The team that traded for Cole Hamels only last July?
At first glance, the Rangers' position is less urgent than the team listed above. Still, the defending AL West champions are not exactly secure: Darvish is coming off Tommy John surgery, and under contract for only two more seasons.
As it stands, the Rangers want to add one starter, either by re-signing free agent Yovani Gallardo or by finding someone to replace him. To go bigger, the Rangers probably would need to reallocate their resources, perhaps by trading right fielder Shin-Soo Choo.
I don't expect the Rangers to actually pursue Price or Greinke, not when they're counting on Darvish to re-emerge and Derek Holland and Martin Perez to return healthy and productive. But GM Jon Daniels was pro-active in acquiring Hamels; why not employ the same strategy again?
Price and Greinke make sense not just for the obvious suitors, but also for the not-so-obvious. I'm guessing more teams are in the mix than we know, more than we even imagine.