Finally: Braves' Miller ends 24-start winless drought against Cards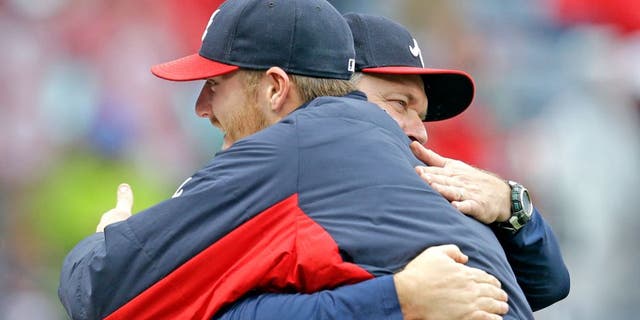 NEWYou can now listen to Fox News articles!
ATLANTA -- Shelby Miller's drought-breaking win made the fourth-place Braves feel like celebrating.
Miller ended his 24-start winless streak, holding his former Cardinals teammates to three hits through eight scoreless innings and leading the Atlanta Braves over St. Louis 6-0 in Sunday's doubleheader opener.
''As a team, we haven't been this excited in a long time,'' Braves manager Fredi Gonzalez said.
Miller's drought was the longest in the majors since Chris Volstad's 24-game streak from July 17, 2011 to Aug. 19, 2012. It was the longest streak by a Braves starting pitcher since the team moved to Atlanta in 1966.
Miller lost 16 consecutive decisions during the streak before finishing with one of the best starts of his season.
''You don't expect to go out there and finish that well,'' Miller said, adding he couldn't avoid talk of his streak.
''You obviously know what's going on. ... It's fine to put that behind us, absolutely. I'm glad I got a win today and glad we got a win.''
Miller (6-17) struck out seven and walked three. He had been 0-16 since winning at Miami on May 17 despite a 3.83 ERA in that span. He finished with a 3.02 ERA, best among Atlanta starters, and topped 200 innings for the first time.
''He's pitched some of the best baseball I've ever seen pitched and not get credit for it,'' Gonzalez said. ''We got him the win today and he doesn't have to worry about answering all these questions in spring training.''
Miller, who had a 7.11 ERA in five September starts, was acquired from the Cardinals in a December deal that sent outfielder Jason Heyward to St. Louis.
Adonis Garcia hit two homers and Andrelton Simmons added a two-run drive. Atlanta has 100 homers this season, fewest in the majors.
St. Louis, which won its third straight NL Central title, opens the Division Series at home Friday against the Chicago Cubs or Pittsburgh.
John Lackey (13-10) allowed three runs over four innings in a postseason tuneup.
St. Louis started its normal lineup, but manager Mike Matheny replaced four starters - Matt Carpenter, Matt Holliday, Jhonny Peralta and Jason Heyward - by the sixth inning.
''I think we got the guys tuned up that we wanted to get tuned up,'' Matheny said. ''Got the feel of the game and that's what we were hoping for.''
Adam Wainwright pitched a scoreless eighth inning, giving up a walk. Matheny said before the game he wanted to use Wainwright in the opener because rain was forecast for the second game. Rain began to fall in the ninth inning.
Despite the loss, the Cardinals (100-61) have their first 100-win season since 2005, when they finished 100-62. They won 105 games in 2004.
REMEMBERING 1990
Atlanta will finish with fewer than 70 wins in a full season for the first time since 1990, when it was 65-97. The Braves were 68-46 in the strike-shortened 1994 season.
TRAINER'S ROOM
Cardinals: RF Stephen Piscotty was 0 for 4 in his return to the lineup six days after he sustained a concussion in an outfield collision with teammate Peter Bourjos.
ON DECK
RHP Lance Lynn (12-10) was to start the second game of the doubleheader against Braves rookie RHP Matt Wisler (7-8).