Fighter & budding business tycoon James Krause balancing a lot, heading into bout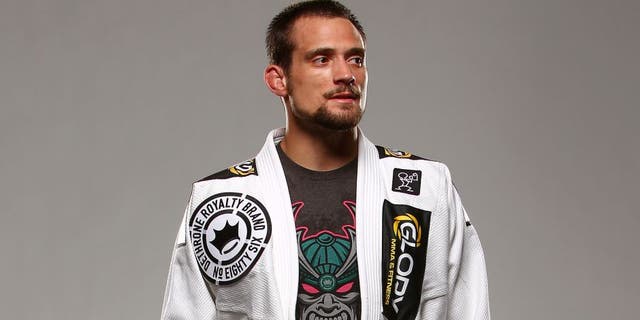 In July, James Krause snapped a two fight losing streak with an impressive submission win over Daron Cruickshank. A third straight loss could have put Krause at risk for being released from the UFC, limited drastically how much money he made in 2015, and just generally felt bad.
Despite that, the Kansas fighter insists that what he felt after getting his hand raised, once again, was not relief, per se. "It was good to get a win, it always is. But, I wasn't relieved," he told FOX Sports.
"I don't really worry about losing or the possibility of getting cut. I don't really care. My only concern is going out and winning every time. If I put the work in that I should, the results follow. In my mind, I was supposed to win. I'm always supposed to win. You try to make adjustments and fix mistakes after every fight, win or lose. I try to go out there and finish every second of every fight."
Krause didn't always have such a philosophical, and effective, mindset. The 29-year-old is a true veteran of fighting, and told us that he honed his psyche over time through trial and error.
"I wish I could say I always felt this way, but no way. I've been in this game for a long time. I'm only 29 years old, but I have almost 50 fights. So, I kinda consider myself a veteran. I've been through a lot of highs and lows," he explained.
"If you put a lot of emotional stock into those highs and lows, you're not going to have fun in the game. Now, my mindset is my main advantage in fights."
Being the owner of multiple businesses outside of his own fighting career also gives Krause more peace of mind than most on the UFC roster when it comes to financial matters.
Krause has an ownership stake in two cell phone stores, runs a local MMA promotion (Kansas City Fighting Alliance) that has done 18 events, to date, and also owns two martial arts academies, which he says has 600 students split between them.
Krause didn't want to be dependent on the still relatively low pay of professional MMA fighting, so he's steadily added to his portfolio and created additional revenue streams for he and his family to live off.
He went from working at a cell phone store to investing some money in a new one, when his boss wanted to start another one. "It went well, so we opened another one," he remembered.
Having his own gyms also allows him to get training in while teaching others and making a living doing so. "I thought to myself, 'How can I make MMA my life and be paid to do this?" he explained.
"This all allows me to train and not rely on other stuff all the time."
Krause sees other fighters struggling, and knows they have reason to complain, at times. "I hear the stories, and I hear the complaints about how much fighters make. And, we're not making enough money. I'll put an asterisk on that and say that I am in now way complaining about my pay, because I've never made this much money in my entire life, before," he said.
"But fighters are sick of what other professional sports are making, compared to us. We put in the work like ball-players do. I think we're in a building-phase in MMA. It will come, I think. I think it will start coming in five to 10 years. But, there is already more money on the table to give up to fighters."
As busy as he is with his family, and multiple businesses, Krause insists that "everything else plays second-fiddle to training," in his life. That's good, because the tough fights keep coming for Krause. He faces Shane Campbell on Sunday's FS1 UFC Fight Night card in Pittsburgh.
Krause admits that it is a dangerous fight for him, but is confident that he'll have major advantages in areas of the contest. "I think he brings danger to the table and has an ability to finish the fight with his knees," he acknowledged.
"At the same time, he doesn't finish a ton of fights. I'm not really concerned anywhere with where he's going to go. The biggest difference between us would be on the ground. When we hit the ground, he'll feel a big difference. I've fought a lot better people than him."