Female kicker makes extra point for Kent State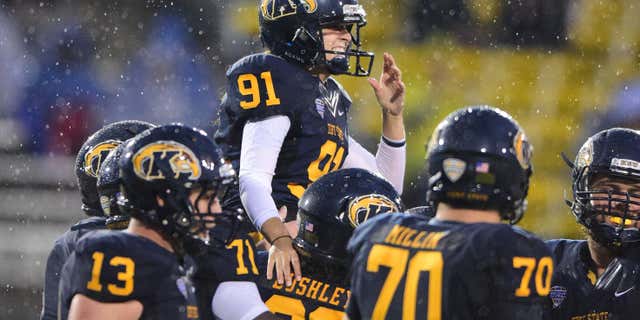 A Kent State kicker made history Saturday night in the team's 45-13 over Delaware State.
April Goss, a fifth-year senior, narrowly made an extra point field goal after a Golden Flash touchdown to put the team up 29-6. Goss became the second woman to score in a major college football game with the made kick. Kent State head coach Paul Haynes initially was going to go with Shane Hynes to kick the extra point, but called a timeout to put in Goss.
Her kick wasn't perfect. It veered slightly to the right. Goss admitted that it gave her a moment of panic for a short moment, but it did end up clearing the crossbar and went through the uprights.
As the officials signaled that her kick was good, her teammates mobbed her. Once Goss got to the sideline, she shared hugs with all of Kent State's coaches and was congratulated by university president Dr. Beverly Warren.
"I was a little disappointed I didn't make a better kick," she told The Associated Press. "I was sure it was going right, but it did go through. I'll probably beat myself up for that for a little while, but it was awesome."
Former New Mexico kicker Kate Hinda kicked a pair of extra points for the Lobos in 2003. Goss is currently the lone woman currently on a Division I roster, according to STATS LLC.
Haynes had been trying to get Goss in the game for the past two seasons. Before her historic kick, the closest she was making the game-winning extra point in the 2014 spring game.
Goss had a feeling that she was going to get a chance to step on the field against Delaware State, a Football Championship Subdivision (FCS) school. She didn't have time to get nervous when she went on the field, and other than her kick angling to the right, it was a moment she'll never forget.
"I knew this was a possibility tonight," said Goss after the game. "I've been waiting for this moment for an awfully long time. I felt like I blacked out a little bit when I kicked it. It wasn't the cleanest hit…but it went through, and that's all that matters."
Earlier in the week, Haynes had high praise for Goss.
She works her tail off. She's the first one out there in practice and the last one off the field," he said. "Every time someone gets up and talks, one of our players gets up and talks, they always talk about they've got brothers, and a sister."
Now that she's made her extra point, Goss hopes to get another try but understands that might not happen.
"I would love another chance," she said. "But what I'd like more is for us to make it to a bowl game and win, that would be more special."
Click for more from KentStateSports.com
The Associated Press contributed to this report.